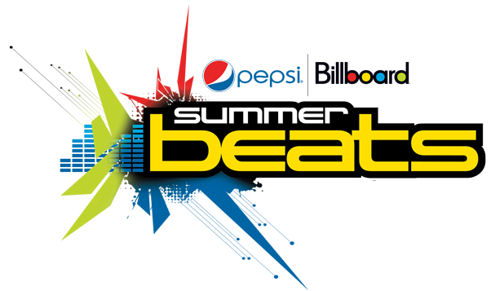 NOTE: The following are interviews conducted at The Cannery, July 30th, 2012, during Pepsi/Billboard's Summer Beats Concert Series event in Nashville, Tennessee.
A Conversation With Pepsico's Shiv Singh
Mike Ragogna: Shiv, you're the global head of digital for Pepsico. Can you tell me what that involves?
Shiv Singh: I'm responsible for digital marketing of Pepsico bevarages. I have strategic global responsibility, which is our global digital strategy, and then operational US responsibility, and this includes everything across a digital media, web experiences and social media and the tools included for us, mobile and tablet experiences.
MR: The Pepsico Billboard Summer Beats Concert Series kicked off with Katy Perry, and now we have a continuation of the series with a concert here in Nashville featuring Glorianna, Randy Houser, Jerrod Neimann, Jada, and Easton Corbin. How did this particular concert come about?
SS: This began through a deep partnership that we established with Twitter, originally. It's Twitter's biggest brand partnership, to date and it's all about bringing music experiences to our consumers around the country. It has three programs: We publish trending videos every week, we give away music downloads by a Twitter account, and we livestream and bought estate in these Twitter-enabled Pepsi Summer Beach concerts. With this particular one in Nashville, we have a very large base of consumers who are interested in country music and in bands like Gloriana, so it just made perfect sense to partner with Gloriana to do this, to livestream it on Twitter and on Pepsi.com and do it in a way so that not only the people who are at the physical concert but literally hundreds of thousands of people around the world and especially across America can participate in the concert by watching it on our Pepsi website, by influencing the production on Twitter, et cetera.
MR: And I believe that this is one of the first times Twitter is delivering live performances, right?
SS: Yes. I mean, the first time was with Katy Perry, but the first time was with us, yes.
MR: So this series represents the first time that Twitter has done simultaneous broadcasting.
MR: I also wanted to ask you about other facets of this particular Summer Beats Concert Series installment. There are a couple of unique things going on, for instance, fans will be able to Twitter-in questions to their favorite artist when they're performing?
SS: That's right. Fans can tweet questions using #SummerBeats and if they're lucky, the artist will answer them during a special video. There's been a ticket giveaway challenge via Twitter itself to get free tickets to the concert, and there's what we call Twitterstakes, a Twitter Sweepstakes to receive a signed copy of Gloriana's new album. All of these pieces come together and it's all anchored in this Twitter relationship.
MR: This also comes under the umbrella of the Live For Now, five-year approach Pepsi is taking.
SS: Yes. At the most strategic level, it made Pepsi launch new global positioning. This is very much a piece of activating that global positioning, which is about Live For Now, maximize your life, grab it by the horns, get the most out of it. One critical way of doing that is inspiring and inviting our consumers to get the most out of life, and a key part of that is these Twitter-influenced concerts.
MR: This Summer Beats Concert Series is in association with Billboard. How did the association come about?
SS: Billboard has been a partner with us for a long time and we've done a lot of different things with them. Given their deep credibility in the music space and the way they connect not just with the music industry, but also the hardcore music fans, it just made a perfect fit to partner with them for this.
MR: Do you feel that these series--the Live For Now initiative and the Summer Beats Concert Series, are helping to change or reshape the landscape of how interactive music delivery within the concert experience is going to be in the future?
SS: I'm really glad you asked that, because I think there's no question about it. The reason why I say that is, even if you look at the past week, with what happened with the Olympic opening ceremonies where there's a time delay for the broadcast airing on NBC, it was a disappointment because a lot of people already knew what was going on just by looking at their Twitter stream. And in fact, there were a few stories in the press about it, about how this is from another era, the way that was managed. But with this Twitter live stream event, what we're doing is we're truly connecting physical world activity to the digital ecosystem, giving it a lot more scale by streaming a concert online, giving consumers the ability to participate in the concert even if they can't be physically there and it's all happening in real time. There's no such thing as a time delay or anything like that. I would say yes, absolutely, this is the future of entertainment experiences, where you mix and match the physical and the digital worlds, and even the TV world. Gloriana was on Good Morning America talking about what's happening. You make each piece work with the others.
MR: So everything is synchronized in order for this to be a complete experience for the fans.
MR: Even though you can't predict what the future is going to be as far as social media or where Twitter is headed as its next level, are you poised to be able to immediately jump into whatever the next movement is within the changes of social media and technology? In the very least, are you aware of the concept and you're on top of it?
SS: Absolutely. And to make sure we're on top of it and connected with the startup community and broad social media trends, we have a very powerful digital labs initiative where we connect with entrepreneurs, with startups that basically help us see what's coming down the road, give us the finger on the pulse of what's happening and continually keep us in shape for this evolving media system. So yes, it's very much top-of-mind, we pay a lot of attention to it. In fact, we have a partnership with WeWork Labs, which is a startup co-location space where we spend time with these startups. So, no question, there's a variety of things we do to stay connected.
MR: Will there be a proliferation of the platforms? In other words, right now, it's with Twitter. Do you see an expansion of where the series might end up, other than an RSS feed grabbing it?
SS: I would say absolutely. Our philosophy is that we want to be where our consumers are, and we want to give them unique experiences that make sense for our brand, make sense for them, and make sense for platforms. It can definitely grow and appear in other platforms, but what I'd say is that as it does, you'll see that it gets customized to the trends of that platform, and the way people participate in experiences on those. So it isn't a case of just taking one formula and pushing it out everywhere. You can't do a Twitter-influenced concert in the same way if you're doing something on Facebook, or elsewhere.
Transcribed by Galen Hawthorne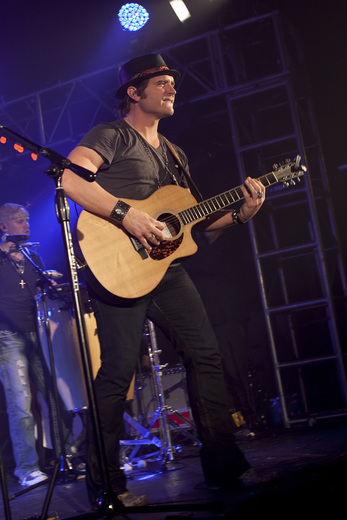 Photo: Sara Kauss/Getty Images for PEPSI
A Conversation With Jerrod Niemann
Mike Ragogna: Here we are at the Pepsi/Billboard Summer Beats Concert Series. What do you make of all this?
Jerrod Niemann: It's good to see it actually happen, 'cause when you hear about it, it's exciting. I know it's taken place in New York and LA, so I'm glad they brought it to Twangtown. I'm ready to rock.
MR: This is the second installment, this one featuring you, Gloriana, Randy Houser and couple of other folks. But it's also exciting because this serves as a bit of a launch for your new album coming out in October, right?
JN: October 2nd, yes. It's called Free The Music, so this is a perfect opportunity to showcase some of that new music and hopefully play a couple of songs off our last record that everybody knows.
MR: That album was a number one record, had a great title...
JN: ...Judge Jerrod And The Hung Jury. Da-na-na...cue the thunder and lightning!
MR: (laughs) Love it. So what was that a reference to, oh by the way?
JN: Well, the guys in our band actually played on the record. I didn't have a record deal at the time, so we were cruising around the country in this creepy white van we used to ride around in, and it was the middle of the night and I asked the guys to play on this album. We were bouncing around ideas and we got conflicting ideas for the album, and one of the guys in the band said, "Man, we can't decide on anything; we're just a hung jury." So about a year later, once we did the album, we had twelve actual songs and eight interstitials or skits in-between some of the songs, so it was unconventional. When we got done, I looked at the guys and I said, "You know, if anybody ever hears this album they're going to judge me and you for making it." So it was Judge Jerrod And the Hung Jury.
MR: Cool. So, new album title, Free The Music. Free the Music?
JN: Yeah, we tried to free the music ourselves on the first one, just kind of getting in the state of mind to be creative and different in the studio. Country music fans were kind enough to embrace it, so that brings us to our sophomore record. I wanted to go in and challenge myself and the guys in the band, since we still get to play on this particular record, and see what we could come up with. So it was not only digging in as a songwriter, but I wanted to dig in as a producer, clear back through the history of country music. We actually honored the sounds and instrumentation that go clear back to the twenties, recorded right here in Nashville, Tennessee.
MR: And you recorded this with a custom-built acoustic guitar featuring a B-Bender.
JN: A B-Bender, or any sort of bender that is in a guitar, is set up to emulate the steel guitar sound. It's located in the guitar strap and the guitarist can actually pull down on the neck and it pulls a lever and bends the string and it sounds like a steel guitar. We used that on our first album and our guitar player was really unique and really great at it, so we thought, "Why not put it in an acoustic?" So we looked around and looked around and finally found a Washburn acoustic guitar that could withstand the operation. When you hear the album, any steel guitar part is done by an acoustic guitar, and it sounds really cool, it's different.
MR: Your single "Shining On Me" is in the Top Thirty right now, and it's bound to be another Top Ten record for you. When you look back at your first big hit "Lover, Lover" and those days, what do you think has been the major change for you?
JN: I think with "Lover, Lover," you didn't know what to expect. It's your first single and it happened so quickly and it was so exciting. But now, once the dust has settled, you realize that you're in a group, you're a musician on a label, and you have things going on, momentum that you want. For me, it's to keep it fresh and challenge myself. Really, that's one thing that I focus on and what's changed for me is realizing not getting lost in the traveling stuff and realizing that it is music and not to forget about the music.
MR: Also, great things that you've done in your career were with Garth Brooks. I guess you were asked to come up with a few songs for one of his projects, which resulted in three songs, one being your Chris LeDoux tribute, "Good Ride Cowboy."
JN: Yeah. Garth is, as we all know, an amazing person. He reached out nearly a decade ago just to write. He'd heard some songs and, like you'd hear some crazy stories, he'd pick up the phone and call me and my buddy and we hit it off. He's been sort of a mentor in many ways to me and many other people as a musician, a friend, and just a man. So having that experience to be able to go to Oklahoma and work with someone like that, and to write "Good Ride Cowboy" with him, as you mentioned, a tribute to both of our hero Chris LeDoux is just amazing. I'm very grateful for that experience.
MR: So you have your own personal relationship with the late Chris LeDoux and his music.
JN: Yeah, and I think that's one of the reasons me and my buddy Richie popped into Garth's mind when he was going to write this song, because he knew that we'd had previous conversations about Chris LeDoux and we'd sit down and say, "Hey, we've got a guy from Kansas, a guy from Texas, and a guy from Oklahoma. If we can't come up with a song about Chris LeDoux then who can?"
MR: He was amazing, and it's great you did that. Anyway, getting back to the Pepsi Billboard Summer Beats Concert Series, what's your set going to cover and how will it work?
JN: We get thirty minutes, so we've definitely trimmed out a lot of the old stuff, and we're going to load it up with as much new stuff as possible and try to hopefully showcase some of the hard work that we've put into the music on the new album.
MR: And Colbie Caillat is on the new one.
JN: We didn't have any guest vocalists on the record and there was a song that really, really was crying for a female vocalist, and I wanted to step outside of Nashville. My management said, "Hey, if you could pick anybody, no matter how far-fetched it may seem, who would you pick?" and I said, "Probably Colbie Caillat. She's amazing. I doubt she would do it, I don't really know her," but they reached out to her and she heard the song and she was gracious enough to come to Nashville. I didn't get to see her when she was here, but she did an amazing job and really brought it to life.
MR: All right, the traditional question: What advice do you have for new artists?
JN: You know, I think just to realize that all of your heroes are wrapped in together to make you. And there's no reason to try to sound or be like anybody else, because at the end of the day, you do have to be somebody, so you might as well just be yourself.
MR: One last question about the Pepsi/Billboard event. What is your interaction with your fans through social media and maybe even with tonight's event?
JN: Well, I was actually glad we were doing this with Twitter, because I've actually spent a lot of time over the last year. Blake Shelton started it. He got me on Twitter. He was teasing me back and forth when we were on tour together, so that kind of got me hooked. So over the last year, I've really enjoyed interacting with all these different country music fans and getting to know them. So it's neat whenever we can all come together and promote a great event like this, and the fact that they're supportive and sending questions. I love how everybody's connected now. Literally, at the drop of a hat, you can talk to anybody in the world.
MR: And is this something you're going to continue? Have you taken a few cues from tonight's events that you're going to bring into the future?
JN: You know, we haven't gotten that far just yet, but I'm always up to steal a couple of dance moves from my buddies up on stage, just in case I ever take up dancing.
Transcribed by Galen Hawthorne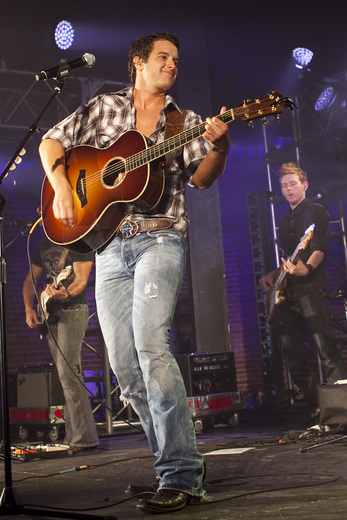 Photo: Sara Kauss/Getty Image for PEPSI
A Conversation With Easton Corbin
Mike Ragogna: Are you excited about this Pepsi/Billboard event?
Easton Corbin: I am, man! It's a great opportunity to get out here and work with some great people and, of course, we get to play out here in Nashville, which we don't get to do very often.
MR: Let's go into your history a little. You came to Nashville as an Ace Hardware store worker.
EC: I did. After I graduated college, I came up here. I was very fortunate to get a job with Ace Hardware here in Nashville.
MR: How did your career progress? How did you get into country music?
EC: I have always loved country music. I have always been around it, so it was just something that has always spoken to me and it's just kind of a natural thing for me to come up here and try it. I was surrounded by a lot of great people that helped me out and got me where I'm at today.
EC: I'm from Gilchrist County, Florida.
MR: And you went to University of Florida, right?
MR: (laughs) Easton, what did you study?
EC: I studied agricultural business.
MR: What got you into country music as far as influences?
EC: I love Merle Haggard, Keith Whitley, George Jones, and I think when you listen to my music, you can see that. It's definitely a down the middle of the road traditional thing.
MR: What is it about Twitter's element of interaction with your fans that intrigues you the most?
EC: It's a cool way to interact with your fans. It used to be you had fan mail and stuff like that, but now you have an instant way to communicate with them, and for them to communicate with you. It's especially important when you've got a record coming out; it's like, "Hey, September 18th, got a new record coming out!" and they can communicate with you. It's just a great platform.
MR: What's the name of the new album?
MR: And your single's got, oh, some "fun" associated with it.
EC: Yeah, it's "Loving You is Fun."
MR: What are you looking at as far as your future?
EC: I just want to keep on making music that I love and gain as many fans as we can.
MR: As far as this event, and focusing on social networks and Twitter, how do you see that interacting with your career?
EC: It's very important. I'd say it's the wave of the future, you know? It's getting more and more instant. You've got to be able to communicate with your fans as much as you can.
MR: Is that part of your routine, spending some of the day returning Tweets?
EC: Absolutely. I've got to make time for that every day because if it weren't for those fans doing that, I wouldn't be out here.
MR: Easton, what advice do you have for new artists?
EC: Get out there, be true to yourself, and meet good people. Good people...keyword.
Transcribed by Galen Hawthorne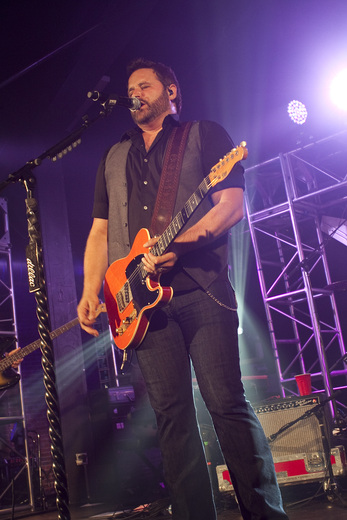 Photo: Sara Kauss/Getty Images for PEPSI
A Conversation With Randy Houser
Mike Ragogna: Randy, playing off your hit song, is "this" truly how country feels?
Randy Houser: Well, it's not very country, we're at the Cannery Ballroom in downtown Nashville, but it will tonight when we get all that music in here!
MR: Nice. Now, you're associated with the Pepsi/Billboard Summer Beats Concert Series featuring you and Gloriana and others. How did that come about?
RH: You know, it actually just came to me through my management company. I was asked if I would be willing to be a part of it, and I said, "Absolutely!" I think it's a huge deal for all of these artists playing today. It's also something just to be recognized by the people at Billboard, Pepsi, everybody involved.
MR: And I imagine it's nice to have the fans be able to interact with you. One part of the deal is that they're going to shoot you some questions and actually be able to witness some of the events through Twitter. Randy, how do you use social media?
RH: I use it pretty much all the time. I'm not one of those people that tweet every time I go to the restroom or I'm at Wal-Mart or whatever, but to me, it's the closest we can come to getting one-on-one with a lot of our fans. Any time somebody tweets me and says they love a song, we re-Tweet them, or if they have a birthday, we say happy birthday. It's just an easy way to make someone's day. It's simple for us and it's a way that we can interact with our fans on a level that's never happened before.
MR: Now, you've had some hits, "...Boots," and "...Badonkadonk" with Trace Atkins. When you look back at where you came from and where we are now, do you notice--even from a technology perspective--do you notice the big changes over the last few years, or as an artist, do you think "Well that's just another aspect of what I do"?
RH: I think that it definitely has been an improvement, and definitely something that we use, and I have noticed a difference in the fans and how they actually feel that they know you a bit more. When I started out, it was basically MySpace. It was before Facebook had come around, and it was a way to stay in touch with people, but it was nothing like being able to stay up to the minute like with Twitter and things like that. And everything is all linked now; Facebook fans and Twitter fans get information at the same time, and I think it's cool to give fans fresh content and let them know what you're up to. I do trust a pretty good part of that.
MR: "Fresh content." That's the bottom line, it's always about creativity, isn't it.
RH: Absolutely. Bad content, it IS content, but I see sometimes, there's just too much. People want to put anything out there, and then it's like, "What?" If something fun's going on, we try to always have a camera around or something.
MR: Now you as an artist, from your first album to this latest one, what do you think is the major growth for you?
RH: I think it's mostly the creative process. That's been what I've had to adjust to. I think sometimes as artists, we can get in our own bubble too far, musically, and kind of leave the fans behind a little bit, and I think it's important for it to be something that's viable for fans to get and not something that's too deep.
MR: Randy, what advice do you have for new artists?
RH: Well, you know, depending on what kind of music you're wanting to do, get the best at it you can before you move to the place where you're going to get noticed. In Nashville, it's almost a "you must be present to win" kind of thing. It definitely helps, but another thing is, always be trying to build your fan base, use your social networking, develop your skills. Get in a bar somewhere or whatever your venue is, and learn how to entertain people and have fun with them. That's the most important thing and the rest will come.
MR: With the Pepsi/Billboard Summer Beats Concert Series and the Twitter experience that's happening out of this, do you feel like you'll be taking some of that with you for the future? Are there lessons and things that you've learned from this that will be in your sphere from now on?
RH: I think we'll definitely take something from it, and that's the way that it's fed to Twitter and up to the minute, where people are tweeting what's going on and things like that. I think that's something we can definitely incorporate in whatever we do.
Transcribed by Galen Hawthorne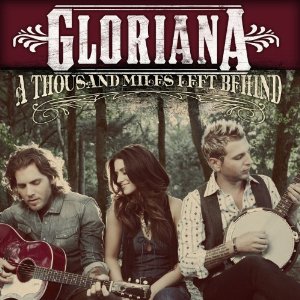 A Conversation With Gloriana's Mike Gossin
Mike Ragogna: Mike!

Mike Gossin: Hello, hello, how are ya?

MR: I'm fine, how are you doing sir?
MG: I'm doing great, thanks for having me on the show. I appreciate it.
MR: Before we start getting into the music, what's the origin story of Gloriana? Why, might it have something to do with a couple of brothers growing up in New York and learning how to play music in every genre.
MG: (laughs) Yes, Tom and I were brothers and we grew up near the Canadian border in a small town called Marks, New York, and our father was actually a DJ himself. He was also a truck driver for about 30 years and he just loved music. It was a major part of our lives growing up. He always had music playing on his stereo at all times...dinner...it was the soundtrack to our lives, basically. We started playing music really young and left home when we were sixteen years old to move to Wilmington, North Carolina. We spent about ten years playing music there, but we really knew that we had to move to Nashville to really get things going. So we packed up a couple suitcases, a couple guitars, and headed to Nashville with really nothing. From there, we started to look for people to start a band. We were out at a songwriter night and heard Rachel [Reinert] singing. We said that we have to find out who this girl is and how to contact her, see if she'd be interested in starting a group. So we found her, actually, on MySpace; she had a music MySpace page up with like four songs on it and we sent her a message basically saying, "Hey, we're new in town, we're looking to start a group." She responded reluctantly and said, "Yeah, Okay," like, "Who are these creepy guys?" But, you know, she took a chance and the three of us got together and tried to write, jam and whatnot. We knew that we had something special. It was one of those goosebumps moments where you go, "Wow, this could be really great." We told her that we didn't have a place to stay and we thought, "You know what? We're going to have to move in with you!" and she was cool enough to let us move in with her in her apartment in Nashville. That's how Gloriana started. It was a crazy, long journey and, you know, when you know it's right, it's right. It was just one of those feelings and we were lucky that all three of us were able to meet up at that time.
MR: You also had Cheyenne Kimball with you for a while, right?
MG: Yeah, that was a year later. Rachel, Tom and I started playing around in Nashville for about a year and then Cheyenne joined the group after that.
MR: Right. OK, so eventually, you get signed to a label. What was that story?
MG: Well, we're playing around town, and Tom and I had a connection with a good friend out of Wilmington, North Carolina, who knew some music managers in Nashville. There were a couple of guys in LA he had connections with too, and he pulled a favor and just said, "Hey, I want you guys to listen to these guys. You know, they've been bustin' their butts for ten years trying to make it in the music business. I think they deserve a shot." We started playing around town and made the connection with Emblem Records. They basically said, "Write some songs and lets see what you got." We spent a lot of time writing and playing gigs, so finally, they said that they decided they wanted to do a development deal. Almost for the better part of the first year was really just them testing us out to see what we had, and see what other people's reactions would be to the band. After that first year, they said, "You know, you guys work hard, we like what you're coming up with, we think you've got something good here, we're going to offer you a record deal."
MR: Hard work wins again. Then, of course, out comes your self-titled, Gloriana album, which features "Wild At Heart," and the single goes Top Fifteen, making your first single off your debut album a hit. What was that like?
MG: It was that moment you always dream of. We were pinching ourselves; after ten years of playing bars and restaurants you kind of get discouraged, man, and you start going, "Is this ever going to happen?" We made the first record with that record deal and that song just took off, man. The people were really connecting with it. The timing had a lot to do with it, too. It had this great summer vibe; it became this sort of anthem for the summer. It's still great to see people tweeting about it on Twitter and we still play shows and people go crazy for that for that song. It's like a dream come true, finally.
MR: And you won the American Music Award's (AMA) Breakthrough Artist Award in 2009.
MG: Yeah, we were not expecting to win that one. We were the only country artist in that category. I think they had Lady Gaga and a couple of other pop people in there, but we were proud to represent country music because it was a fan voted award. That was a pretty big moment for us. We were proud of that.
MR: Plus you toured with Taylor Swift.
MG: Yeah, "Wild At Heart" came out and we were looking to get on a big tour because we were still new at that point. She called us up and we were touring in a van in the Southeast. We were playing at a place called, Wild Wing Café; it's a chicken wing sports bar. We're sleeping in a van doing that whole thing and we play a show, we get back to the van and the record label says, "There's someone on the phone who wants to talk to you." This girl gets on the phone and says, "Hey, this is Taylor Swift," and we are sitting there saying, "Ha, ha, funny prank, yeah right." We thought the label was pullin' one on us, but it was really her! She said, "Listen, I heard 'Wild At Heart.' I am going on tour and I'd love for you guys to open up for me." Kellie Pickler was also on that tour too. It was a great chance for us to get some good exposure in front of a lot of fans--really jammin' at a professional level. Here's 20,000 people, you better bring it.
MR: It resulted in your debut album charting #3 in Billboard.
MG: Yeah, it was unreal, man. You work so hard for something your whole life and in this business, there are so many ups and downs. You get let down a lot. There are always a lot of "no"s. You just wait for those couple of "Yes"s to align the stars and put you in a good spot. We are firm believers of, you know, if you don't give up and you really chase your dreams, it could really happen.
MR: Yeah, yeah, it's true. What is your creative process when you are writing songs. Do you create material focused on an album or are you constantly writing. What is the process when you sit down to write?
MG: That's a really good question. For us, we had gone on the Taylor Swift tour, we had gone to Australia, we had gone over to the Middle East to play for the military, we had toured the US time and time again. This was the first time for us being away from home in three years and just working really hard. You go from the normal life to, "Okay, everything around us has changed, but at the core, we are still the same people." Anyway, we went through all these life experiences and really had a lot to talk about. A lot has changed in our personal lives with loved ones or with each other, or really cool things have happened on the road. So we sat down and wrote for the new record, A Thousand Miles Left Behind, and it is basically the story of the last three years of our lives. And like you said, with "(Kissed You) Good Night"--that's a song we wrote with our buddy Josh Grier in Nashville. I think the lyrical content, not only in the song, but on the whole record...there's an honesty to it. From the heart, it's all real stories that have happened to us. We're seeing with this song that honesty and that story telling element is what people are really connecting with.
MR: "Wanna Take You Home" was your previous single, right?
MG: Yeah, that's a fun one. We usually close the set with that one. We love that one a lot.
MR: I also want to ask you about an anthem on the album, "Solider Song," one of the songs you wrote. What inspired it?
MG: We spent two weeks overseas. We went to Europe, we went to the Middle East, we were in the Persian Gulf. We landed on two different aircraft carriers that I believe had five to seven thousand people on them. They were currently serving in the military in war. So they are launching airplanes 24/7. It was a crazy experience throughout. We really wanted to give back because of everything that was going on with the Middle East and whatnot. We spent some time over there; we lived the soldiers. We saw their life, we lived their life. There were no hotels, nice hotels. We wanted to do it like they did it. It was totally an eye-opening experience for us. The amount of hard work and dedication and the positiveness they keep the whole entire time. I mean, it was 130 degrees out there in the desert. There wasn't one person complaining out there. You know, they're away from home for six months to a year at a time. There are no weekends, they work seven days a week so we were so moved by that experience. We came back and we were writing for the record and Tom and I, both of our grandparents were in WWII and we have a cousin who is currently serving in Afghanistan and Iraq. We wrote that with Matt Serletic, our producer, and his father was also in the military. He flew Apache helicopters. It comes from an honest spot in our hearts and we wanted to write a song, like you said, an anthem, not a slower, sadder song. It captured that positive energy that whole time we were over there.
MR: Beautiful, nicely said. What is your observation of the troops over there? What is their morale like and what did you come away with in addition to feeling bonded?
MG: I felt really proud and honored. There were a couple times where, to be honest with you, I was chocked up, hearing their stories. Their morale was so awesome, so positive, and they are amazing people, they really are. I wished the media told a little bit more about how awesome those people really are, man. It's really moving. Really moving. I'd go back over there in a second. I would play for them again if the opportunity would arise.
MR: I would agree with you. So I was on my way to the Midwest for a Christmas trip three years ago, and as you know, I contribute to The Huffington Post, that has a reputation for leaning left. Winter storms prevented me from getting to my destination, and as I traveled back, all the flights were filled with all the troops going home. I hung out and bonded with a bunch of soldiers and it resulted in a HuffPost Christmas piece, which I wrote about all these guys from these small towns and what they were going home to. It had no political agenda or bent, it was just an appreciation of the men and women who were serving in the Armed Forces. It was a thank you.
MG: And I think with the "Solider Song," it is not a political stance in any way. It's just completely separate from politics and it's us saying, "These are good people, no matter what your political beliefs are. These are Americans, these are cousins, wives, brothers, sisters and, you know, they're doing a hell of a job out there and risking their lives. They keep up a great energy and it's just really amazing."
MR: Yes sir, it's really amazing. Okay, the new album's title, A Thousand Miles Left Behind is about the band's journey?
MG: The title is representative of the journey that we've been on. We've had some ups and downs in this band and, you know, throughout it all, this is about finding out...this is our first record where we feel like we really found our place. We feel great about it. We're looking back from everything we've been through and looking forward in a positive way. Yeah, it's about the journey.
MR: Let's get to a couple more songs, for instance, "Gold Rush," that starts the album. . You're basically saying, "Goodbye City of Angels, I left my angel back at home."
MR: Even though you didn't write that one, what else is going on in that?
MG: Yeah, basically this song, which Tom wrote, is about the Gold Rush back in the day when everybody rushed out to California to find gold, compared to today, people rushing to California for fame. Really, at the end of the day, what matters most is not the fame or the gold. It's the one you love. That's what "Gold Rush" is about.
MR: And there's another "Wild At Heart"-themed song, you might say (laughs), "Sunset Loving," where it's just literally sunset loving in a parking lot.
MG: Yeah, this is one of those feel good songs, ya know? I wrote this song with our producer Matt Serletic and a good friend of ours, Hillary Lindsay in Nashville, Tenessee. Basically, we were doing a lot of fairs and festivals last year. We were at this one in particular and there were about 30,000 people there. It was huge. They've got these two-mile campgrounds, and I got a little stir crazy on the road. So I decided to steal a golf cart and go check out what these festivals' vibes are all about. I take this golf cart and I go all about a mile and a half. I meet these people on the campsite. It's pretty crazy out there. You've got these people running around nuts! So I'm out there and the golf cart dies. I have no cell phone on me so I just hunker down until someone comes out here and finds me. In the meantime, all hell is breaking loose around me. There are people drunk falling around me and whatnot. But on this campsite, there's this guy and girl sitting in this car and they were kissing and they were totally oblivious to everything that was going on around. So I wrote this song about that moment, really, in a very easy going way of the two of them being so lost in that moment that they were so oblivious to everything around them. It's called "Sunset Loving," and what I was going for was the "Wild At Heart" Part 2, but from the girl's perspective. Whereas with "Wild At Heart," Tom sings the first verse, you know, and then we all came in the chorus. Rachel sings the first verse... It still has that rhrythmic element that we like to do.
MR: Dude, now that you have a thousand miles left behind, so to speak, what is your advice for new artists?
MG: New artists. Gosh, that's a good question. I am trying to make it a good one. I would say make sure you surround yourself with not only good business people, but people that you can trust, people that have a good certification, a past history in the business, because the music business is tough, man. You can get yourself in some situations where you sign your name on the dotted line, you know, six months later you go, "Ugh, I wish I didn't do that." You've got to be sure about the people you surround yourself with. Number two, never give up. Like I said, we fought and fought and fought and...(it was) blood, sweat and tears to get where we are today. We're very proud of that. We're strong believers in hard work. If you really chase that dream, I know a lot of people say that's cheesy, but really, if you really chase that dream, you honestly believe you can do it, it is possible. It definitely is possible.
MR: Again, hard work being what makes the difference. What does the immediate future hold for Gloriana?
MG: Lots of touring. We're gonna support the heck out of this record. We love playing live, we love playing on the road, so all of our tour dates are on https://www.Gloriana.com, we've got some really cool tv appearances coming up...yep, that's about it. We're just gonna get out there and show people these songs live and try and put some smiles on peoples' faces.
MR: I'm sure you will. I wish you the best, and it's been really fun to watch your climb to the success.
MG: I really appreciate that's awesome. We'll see you on the road.
Tracks:
1. Gold Rush
2. Sunset Lovin'
3. Wanna Take You Home
4. (Kissed You) Good Night
5. Carolina Rose
6. Go On...Miss Me
7. Can't Shake You
8. Soldier Song
9. Turn My World Around
10. Doin' It Our Way
11. Where My Heart Belongs

Photo: Sara Kauss/Getty Image for PEPSI