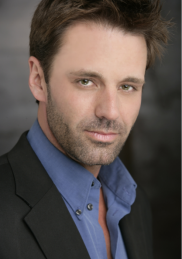 Photo Credit: Bobby Quillard at Quillard Inc. Photography
A Conversation with Illusion Industries' Todd Tucker
Mike Ragogna: Todd, how are you?
Todd Tucker: I'm good, how are you?
MR: Ya, I'm pretty good, thanks. Kickoff question. Tell us about Todd Tucker.

TT: [laughs] Well, my name is Todd Tucker and I am the president of Illusion Industries, which is a special effects make-up company. We do prosthetic make-ups and puppets for studio films, television commercials, and we also have an in-house production company where I'm a DGA director and we produce our own in-house films.
MR: What are some of the films that you've worked on?
TT: We worked on The Smurfs 2, we just did G.I. Joe: Retaliation, a film called The Iceman, Fright Night 2... These are all films that are coming out this year. I started Illusion Industries two and a half years ago, and all the projects that we've been working on--seven different films--are coming out this year.
MR: What got you into special effects?
TT: When I was a kid, I loved fantasy and horror and Star Wars and all those kinds of films, so they really affected me and drove me to want to do this as an adult. I was in high school and I started learning how to sculpt and paint and create masks and puppets and make-ups, and then finally moved to Los Angeles in 1990 after I had built a portfolio of my work. I auditioned or interviewed at a couple of different effects companies and started working at one of the companies. My first big studio film that I worked on was Steven Spielberg's Hook, which was an amazing thing to do because I was such a fan of both Steven Spielberg as a director and Robin Williams as an actor, so that was very, very cool, and I continued working in the industry up until now.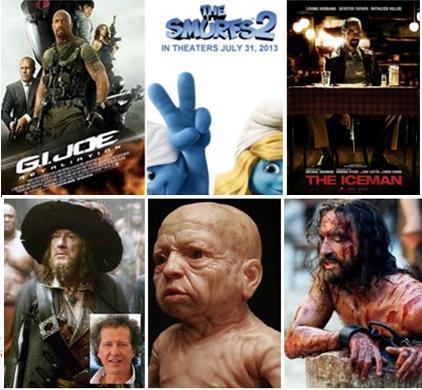 Photo Credit: Bobby Quillard at Quillard Inc. Photography
MR: What are some of the prouder moments you've had over the past few years?
TT: You know, for the first ten years that I did makeup effects, I was a concept fabricator and I would work in the shop and build and create and design a lot of the characters. I started doing some acting and started playing creatures in a lot of different films; I played a lot of creatures on the TV show Charmed for about five years. I would make and play the characters, which was really fun, to be able to create the design and the look and then be the character on the TV show. Then a couple years later, we opened up the in-house production company, and I started directing films, which was so different than doing the makeup effects or acting. Getting behind the camera, in that respect, was great. I did a film called Monster Mutt, which was a family film with puppet characters and a kind of old-school approach, much like Steven Spielberg's E.T. It did really well and it was a blast making it. So I've been lucky to be able to work with different hats that I've been able to wear.
MR: Did movies by the likes of Ray Harryhausen and folks like that inspire you?
TT: I was a big fan of the original Seventh Voyage Of Sinbad. I remember that as a kid, that was really cool. I would say probably one of the bigger films that inspired me as a kid was The Wizard Of Oz. I remember it being the first movie that kind of changed my life. Then Star Wars and a lot of the Jim Henson films like Dark Crystal and Labyrinth. I loved those. I loved the fantasy films and movies that would take you to another world. It was such a great escape.
MR: I recently watched The Dark Knight, and the Harvey Dent character eventually was so defined by his makeup and the effects, and I couldn't tell how they'd achieved the face's screen dimensions. Are you still amazed by some of the things that can be created with special effects?
TT: Well, you know, I worked on The Passion Of The Christ with Mel Gibson, and at that point, the company that I was creatively directing, we did all of the CG and all of the practical effects. What was amazing was when we had both companies working together to come up with solutions and come up with new ways of doing practical and CG interaction, it really was amazing to learn and do things out of the box that hadn't been done before to create the final look. So the combination of digital effects and makeup is so amazing when you approach it the right way and use both and use the digital to enhance the practical element of the makeup. I think for the Two-Face character, I'm pretty sure the majority of that was a digital makeup, but what they will do a lot of times is a makeup and then put green screen in certain areas of the makeup where they want to create depth and then CG that depth into the face where you can't do it practically. So that's a great combination of using makeup effects and CG and it really works well.
MR: So after having come up in the industry with having done more hands-on physical applications and with CG effects being one of the main processes people are relying on now, what are your thoughts about that marriage?
TT: Well, it definitely has its place. CG came in a few years ago and started taking over and doing a lot of what used to be practical effects; a lot of big monsters and creature suits and things like that which we used to build. It's now a lot easier for productions to just do it in post. Because of the success of video games, the audiences now don't have a problem if the creature doesn't look completely ultra-realistic. But I will say this--the pendulum is kind of swooshing back and now producers and directors are wanting to use more practical methods and not rely so much on just using the post CG to fix the film. A lot of films have come out that have been CG-heavy that didn't necessarily do well, so having a complete CG film doesn't necessarily guarantee success. Luckily, a lot of directors now want to combine the CG and the practical and that is really the best way to use the current technology with makeup to get the best result. The cameras that they're using now are so strong and so high-def that the cameras see everything. These makeups that we're doing now have to be hyper-realistic, and the edges and the look of them have got to be so realistic that these cameras don't pick up any flaws, so it's a very challenging time with these makeups. But here at Illusion, we've been able to utilize our silicone makeups and eliminate this problem for us.
MR: Todd, let me ask you about Blu-ray. Blu-ray is so revealing. I'm not going to ask you a question like, "What do you think was the worst translation from camera to Blu-ray is," but do you have a favorite or a couple of favorites that were amazing transfers, where Blu-ray really taught people what special effects can do yet seem seamless?
TT: I worked a few years back on Benjamin Button, and we created all of the old-age makeups that went on Brad Pitt and Cate Blanchett. It was interesting because in the beginning of the film, we created an animatronic baby that was baby Benjamin Button that did a lot of the movement when he was a baby. But as he started growing up and had the old man face with the shorter body, they digitally put Brad's face onto a little person's body and then as soon as he became full size, it was our makeup from that point on, taking him from the older age all the way down to his current age. It was very, very cool to see how well the CG worked when they had him as the little guy with the older look and then have our makeup come in right at that point and take him from old-age down to current age. It was really, really nice because it was a combination of techniques between what they did and what we did, but the overall flow of the entire character worked really well. I was very proud to be on that project and see the technology and the makeup effects working so well together.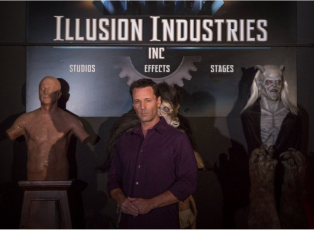 Photo Credit: Bobby Quillard at Quillard Inc. Photography
MR: So you offer a full-service special effects makeup production company, using prosthetic makeup, animatronics, puppetry, specialty costumes, designs, etc.. Is there a website where people can check out what you do, take a little tour of your company online?
TT: Yeah, we have a website, http://www.illusionindustries.com, and on that website, you can see a bunch of pictures of cool things we've done and all of our credits. There's also a video on there of an interview that I did for the Reelz Channel. It's about a three-minute video that shows different parts of the studio, and you get a tour of the studio. We also have a studio in New Orleans that we opened up because the tax incentive was so good there; so many films from Hollywood were going there. We also opened up a studio in Moscow where I was approached by the film department in Moscow. They were getting a lot of money put into their film department and wanted to upgrade the quality of their films starting with the makeup effects, and we have done three Russian films since we partnered up with them. It's been great because now we're pretty much global. The great thing about all the films that we have coming out this year through Illusion Industries is that all the different films are ranging from horror to family fantasy to action fantasy to drama, so we have our hands in every different genre of film that is coming out this year, which is great and a lot of fun.
MR: What advice might you have for those wanting to get into special effects?
TT: Well, over the last few years, it's definitely gotten a bit smaller as far as the amount of shops and because of CG. I don't know that it's necessarily a growing business right now, but I would say to anyone that really wants to do this that there are a lot of online videos and books and things that you can buy to start understanding how to learn the techniques of doing makeup effects. My suggestion is grab as much information as you can, set yourself up in your garage, get materials and just start making this stuff. Use the videos and the books as teachers to give yourself some of the techniques, and then start taking pictures of your work. Build a portfolio, and then once you have a portfolio that you can walk into an effects company and get an interview, at that point, you're ready to make a transition. But it takes a while to learn all the techniques and to learn how to sculpt and paint and mold and do all of that kind of stuff. There are a few schools that teach it. They're relatively expensive but they do teach you a lot of the techniques. So it depends on which route you want to go, either self-taught--which is what I did--or going to school. But it's a lot of fun to come to work every day and create creatures and characters. It's pretty amazing, it's a good job.
MR: With the number of special effects companies shrinking, as a result, are there major companies utilizing Illusion Industries more now as backup or to supplement what they do?
TT: There are times on a film where the build is really big and one specific company may not be able to facilitate everything, so every once in a while, they will farm out additional things to other companies or the production will, at the last minute, realize they need an additional prop or additional makeup and the company that's onboard doing the makeup effects may not have the time to do it, so they'll quickly find somebody else to do it. It does happen periodically, but usually, the way it works for us is we'll have a script sent to us. We'll break down the script, we'll meet with the director and producer here at the studio and present a budget and then approach it as how we would finish what they're looking for in the film. Once we're on the project, we sit down with the director and start creating designs and make sure that we are coming up with something that is his vision and what he's looking for. Then we bring in the actors; we do a head cast, body cast, sculpt the make-ups; we mold them, we create the appliances, and then we go on set and apply it to the actor, or if it's a puppet or a creature suit, we also go on set and facilitate that. So we are basically a start-to-finish effects company for all the different productions that we do.
MR: Todd, you've been with your creative cast of characters for years, so your team apparently was the perfect fit. By the way, I read somewhere that you were the CEO, but...
TT: ...just also to clear it up, I'm actually the president of the company and my business partner, Ron Halvas, is the CEO. He came on board about three or four years ago and has been one of the best partners I've ever had, so I've been very lucky. And my creative crew, I've had for years and years and years. It's the same team that I've had, for the most part, creatively, for quite a while and I'm very, very lucky and the company is doing very well because of it.
MR: Effects or non-effects, doesn't matter, what's your favorite movie of all time?
TT: Wow, my favorite movie of all time. I would say I was most affected by Star Wars as a kid. I saw it in the theater literally seventy-two times. I was an only child so I would go to the theater all the time, and my room was filled with Star Wars stuff. I was a total geek with Star Wars. As far as horror movies would go, I would say one of my all-time horror movie favorites is Halloween. That scared me so badly as a kid... I didn't get scared very easily, but that movie gave me nightmares for about three or four months, so kudos to John Carpenter on that film. But all these films are really the reason why I actually do what I do today, because they're such great classic films that I now try to show my kids as they're older. They're now old enough to see this stuff. I try to educate them on the classics.
MR: All right, so obviously, now we have to get the word out to George Lucas and Disney to get you on board for the new Star Wars films.
TT: YES... I am so ready to work on the new Star Wars I can't even tell you and I will make sure it's amazing! George Lucas, if you are reading this, please give me a call!
MR: [laughs] Come on George! All right, Todd, this has been fun. Let's do this again in the future.
TT: Awesome, thank you so much, I really appreciate it.
MR: All the best sir.
TT: Thank you, Mike.
For those in Twitterdom: @illusionindinc
Transcribed by Galen Hawthorne