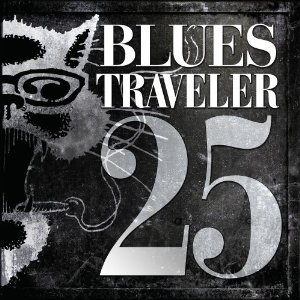 A Conversation with Blues Traveler's John Popper
Mike Ragogna: John, what are you up to?

John Popper: I'm in New York. We just finished some gigs and I saw my friend get married, and before that, we made a really cool album. We're starting our 25th year as a band and this record is the beginning of it.

MR: Nice, and we've got this new retrospective, 25. Disc two has b-sides, rarities, unreleased tracks, and disc one is the hit plus . Let's get into that, for instance, the new track, a cover of Sublime's "What I Got."

JP: Sublime covers are one of the things that we just love doing. The label really wanted us to put it on because they loved the way we played it, and we were really excited about it because we've loved Sublime so long and it was a way to help out their family with the publishing and get people excited about that song. It's really not a hard push because people have always loved that song. They never really stopped so it was an easy sell for us.

MR: Did a certain Sublime fan, oh maybe Jeff Fura, sell you on it? (laughs)

JP: Yes, among others, but the people who really sold us on that song was the audience. When we finally got that song together and played it, almost instantly people loved it. It has pockets. We're a band that sits on pockets and grooves and things like that. That song was just tailor-made, it has everything you look for in a really good song you want to dance to, you want to play to, you want to groove out to.

MR: Yeah, that song was magic for them. But sir, you've had a lot of your own magic, 25 years worth.

JP: Yeah, a quarter century. It's just bizarre. I don't know how we got this old. I remember where the time went, but that's what a quarter century feels like? It's weird.
MR: Weird though it may be, let's go back a quarter century to your humble beginnings, to your Princeton-to-New York exodus.

JP: Yes. A lot of people were chased out of New Jersey. (laughs)

MR: Ah, but New York welcomed you with open arms.

JP: Well, kind of. Our parents said, "High School's over, you can get jobs or you can go to school and we'll pay for school." And we all looked at them and said that we'll go to school. Then we all skipped school. We pretended to go to school and then we just went out to clubs at night and tried to figure out how to play and get jobs. Once we had a job figuring out how to play and do what we love, we went to our parents and said we're quitting school.
MR: You went to The New School, right?

JP: Yes, I was very wise in my selection of what school to go to because I picked a music school. First of all, they had free amps, let's just start there, and all of the rehearsal time and space we wanted. That cost money back then and it still does. The other thing was that we were exposed to the best musicians ever. It was this real great opportunity. It was a new fledgling class, it was a handpicked bunch of students from around the country in a room with some of the best jazz musicians in New York. The rock musicians in that class of jazz musicians kind of congealed. That's where you got Blues Traveler and Spin Doctors. It was interesting. That was really where that sort of came from, that little scene. When we went out at night and we were opening for John O'Manson and the local rock scene that was already in place there and that was really the beginning of the New York scene as it was and ultimately the H.O.R.D.E. music scene and all of that.

MR: You were "discovered." Is there a story on how "the suits" came by and said hi?

JP: It was such a weird thing. Well, I was trying to be all cool and above it all, but you know, I was pissing in my pants in my own way. But, the thing you've got to remember is the one that made us the longest term connection to Bill Graham Management was his son David Graham, who is still one of my best friends. He was going to Columbia University, and he saw us play a gig in Barnard. We eventually just started playing around New York. I think we were doing like six gigs a week. We were the band that was playing everywhere. We caught on with the college kids, I think that's because we were going to college and college kids go out and they talk. We were sort of that band on that scene at the time. He saw us at a gig and he was getting out of Columbia that year. He was going into his dad's business and he told his dad about us and that was the best connection, really. Right before that happened, we were starting to get approached by suits. But, you know, it was a very preliminary thing. Bill Graham sent us a letter and said, "If you'd like to wait until I get there, I'd like to talk to you," and from that point on, that's really what we had, a nice bulwark, or at least a structure to receive the other offers. I think A&M Records was just coming to us right around then. I think the New Music Seminar was coming around. It all timed pretty well. We'd been in the city maybe two years or three years.

MR: So then you're signed to A&M and all of a sudden, you have a hit.

JP: Yeah, it never felt all of a sudden. It always felt like, "We've made it! We've made it!" and really what that meant was, "Okay, now it's really time to go to work." It took us four records, really, to figure out how to make a great record. I'm not knocking the first three because the first record had a great sort of capturing of our enthusiasm and our catalog, like all the songs we'd made from the time we were in Brendan's basement in high school and up until that point. The second record was us trying to branch out. The third record was us really appreciating our own little inner circle of people we'd made.
The records on both sides of Four happen to be my favorites of the whole Blues Traveler with Bobby in it because it was us sort of milling us around different ideas but not the most popularized ones. When you hear Four, so often, you start going, "Okay, that's the commercial, baby." I love "Save His Soul" and "Straight On Till Morning" just a little more. Those were just part of a great process but it really took about 10 years.

MR: With Four comes "Run-Around," your number one record.

JP: Oh yeah, that was fun. And what's great about that, it went gold around the same time the first record went gold. One we toured the old-fashioned way and slowly but surely eeked our way to a gold record and the other one went gold that year the year it came out. Yeah, it was really fun. We got to have two in one shot.

MR: Now, 25 also has a b-sides unreleased disc. What's your favorite part of the package?

JP: The b-sides is my favorite part. I'm grateful for all of the greatest hits, and all of that, but when you get to give a new shot to songs that never saw the light of day, to me, that is about the funnest thing as a songwriter or someone who is a part of making a song. There's a song on there, "Random Amounts," that I'd completely forgotten about. I remember the guys bringing it up when we were talking about the b-sides. I was like, "What is this song "Random Amounts"? Then I remembered it, and I was like, "Oh my God, I love that song!" I worked really hard on that and I completely just blocked it out. It's an awesome song. I was trying to write a little short story and I was trying to do the fastest cadence. It's a fun song. Hopefully, I won't have to do it live because I don't think I could do it in one breath anymore. I had to have been on some oxygen.

MR: Disc two features one of the best titles I think I've ever seen, "The Poignant and Epic Saga of Featherhead and Lucky Lack."

JP: Yes! That was a fairytale that I wrote a while ago about a kid who has weird humps on his back that turn into giant gossamer wings, and what's weird is that I saw the Collective Soul video years after I wrote it, and it had somebody with weird humps on their back that grew into gossamer wings. I was like, "Should I sue them? Can you sue somebody for ripping off gossamer wings?" But I didn't want to be involved with the ripping off of wings.

MR: Ripping off gossamer wings, love it.

JP: Also, it can't be stressed enough, "Traveler's Suite." That was our attempt of our big rock opera, and three of the songs on this kind of rock opera are on there. We left "Path" off because we wanted to give (space) to songs that hadn't seen the light of day and "Path" got on another album. "Traveler's Suite," which is the main part of this rock opera, is 20 minutes long. What do you do with that? Where do you put that these days? It's so awesome. We put it online. It's a song that Bob Sheehan, Tad and Ben were all complicit in contributing to. That, to me, is the center of us. That is named the "Traveler's Suite" and it's sort of like Aesop's fable about the sun and the storm having an argument about who's more powerful. The sun makes the man take his coat off and no matter how much the storm blows, the sun can make the man warmer. I had the sun sort of take the form of true love and the storm was the storm of this man's wildest dreams. I'm proud of it, I'm glad people get to hear it. I'm not sure if I'm going to ever play it again. People ask for it and we have played it live, but to get the version in the studio that comes out right, it just satisfies you to no end, as a songwriter and a player. For me, the b-sides are such a fulfilling thing. You mentioned "...Featherhead and Lucky Lack." That song has played and is a favorite amongst our fans throughout the years, and they've heard it on special compilations here and there. But songs like that get forgotten about. Songs are like your kids...you want to give them an education or an opportunity to go to school, to have a good job and settle down. That's what this is like.

MR: John, I really appreciate your time and the stories, as usual. What advice do you have for new artists?

JP: Wow, well, do it your way. Looking back, that's the thing that I value most about what we've done. You're going to make mistakes, you're going to do things right. We could not have done it if we didn't approach it like a family. That's not something I'm not sure that I can tell you to go out and do. We were really lucky in that we met in high school and we were really lucky that we happened to be good musicians and good business partners and people we could trust. I think that was the irreplaceable asset and that was just luck. But, I would say, the advice for what you can go out and do, hold to what you care about and try to have that be something that really matters. A lot of young bands won't go do their song on David Letterman because David Letterman wants them to do it in three minutes. That stuff is silly. Do the three-minute version, it's an ad for your song, think of it that way. But, when it really comes down to it, when you really see why you're fighting for it, it's probably a good fight. I think anything artistic, anything anyone cares about, a business that you love, pick the battles that you really care about and fight those battles. More often than not it shows, even your adversaries, that you care about it and I don't think there's anyone that would object to that.

Tracks:
Disc 1 (Greatest Hits)
1. Run Around
2. Hook
3. The Mountains Win Again
4. But Anyway
5. You, Me and Everything
6. Amber
7. After What
8. Back In The Day
9. Girl Inside My Head
10. Carolina Blues
11. Let Her and Let Go
12. Gina
13. 100 Years
14. What's For Breakfast
15. NY Prophesie
16. Unable To Get Free
17. Remember It
18. What I Got
Disc 2 (B-sides/Unreleased)
1. Demon
2. The Poignant and Epic Saga of Featherhead and Lucky Lack
3. Blue Hour
4. Trust In Trust (demo)
5. Didn't Mean To Wake Up
6. But Anyway'88
7. Random Amounts
8. Twelve Swords
9. The Sun and The Storm
10. Traveler Suite
11. Run Around (Gunslinger Remix)
Transcribed by Brian O'Neal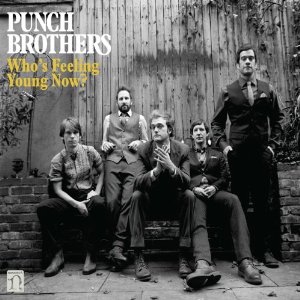 A Conversation with Punch Brothers' Chris Thile
Mike Ragogna: Chris, beyond your solo material, you have quite a rap sheet including being with Nickel Creek, The Goat Rodeo, and tons of side projects. You don't ever stop, do you!
Chris Thile: It's so easy to get lulled into a sense of security as a creative entity and I'm doing my very best not to allow that to happen. I'm a little skittish by nature and to be capable of extreme focus, I need a lot of stuff going on to be able to do any one thing. There was a great James Thurber essay about the nature of procrastination and how actually you get things done. You'll have a whole lot of things that you have to do, and what you end up doing as a human being is doing the least important one of them, but doing it well, focusing hard, doing the job well. For me, having a bunch of things going on does actually help me focus and do things to the best of my ability.
MR: So, before we get into your new Punch Brothers album Who's Feeling Young Now? and a mandatory history lesson, I want to ask how much fun it was playing on the Paul Simon tour.
CT: It was amazing, it was like going to school. To see someone like Paul turn 70 last year, yet he's still soundchecking for 2 hours every day, changing arrangements, workshopping stuff, worrying about his delivery, getting the band tight... I mean, most people in his situation, they have the guitar tech soundcheck for them, they just show up for the show, play, and they're done. Paul is still working, and he's toured behind a new record full of new songs. He's playing every night in addition to a lot of the things that people want to hear. It was an incredible experience for me as someone to whom music is everything. To see him doing things at such a high level, at 70, made me feel really good. If I can get 40 more years of productivity, I'm going to be a happy man.
MR: Chris, who's feeling young now?
CT: Not me....our bass player Paul Kowert is feeling young.
MR: Let's get into the new Punch Brothers album and jump right into "No Concern of Yours." Can you just give us a little insight into that recording and what's going on in that song topically?
CT: It's funny, I started signing that chorus at a sound check of ours. Sometimes, that's a great headspace for me--you're in a daze, you show up at a gig a little road weary, and sometimes, you pick up the instrument for the first time that day and you're amplified and it already seems like you're making music formally, despite the fact that you're barely even awake. Sometimes, that's a fun spot to make music from, and at home, I'll actually do the same thing. I love waking up, getting some coffee and sitting down with an instrument first thing and see what comes up. It's almost just like filling the void, what am I not hearing that I'd like to hear. That's how that chorus happened and then Paul and I worked on it backstage a little bit and came up with that key change we talked about.
There are two main changes happening there. The song, basically, the way it is now, it starts in E and then gravitates towards F-sharp minor for that chorus, and then F-sharp major for the bridge, and back to E. That's the journey the song takes. So, the music of that thing was existing with that chorus, "It's no concern of yours, it's no concern of yours." I'm not sure why I'd been so secretive that day... I remember it was a post-breakup sort of thing and it was about a girl I'd been with and how she could lay no claim on anything that was happening to me post that breakup. But I didn't want to write about that anymore, I already had some relationship songs on the record and I didn't feel like writing about that. So, I was talking with the guys in the band, and (someone) said, "Hey, what if you wrote song about Don Draper for Mad Men?" I thought for a second, "That could be kinda cheesy," and I thought about the approach that I could take, and it started writing itself.
MR: Right before it is "This Girl," which seems almost like a companion piece.
CT: I was raised very religiously and I still have a complicated relationship with the idea of a God or not or whatever. So, last summer, I was pretty infatuated with this person and thought it would be funny to write a song about trying a higher authority just to cover my bases.
MR: Nice. You open the album with "Movement and Location."
CT: That song's a funny one in that I was at Milk & Honey, which is my favorite bar in the whole world in New York. It's a little cocktail bar. One of the bartenders there is a good buddy of mine, and I was talking about baseball and he's a big fan and I'm a big fan. We started talking about Greg Maddux, the former Cub and Brave and then Dodger and Padre. Maddux is one of my favorite players of all time, and his obsessive devotion to location and the control of the movement that you would get out of his pitches struck me as being exemplary manipulation of one asset. We were talking about that kind of thing, and I was thinking about that in relation to both love and work. That song just poured out all of a sudden.
MR: And the instrumental "Flippen" features some pretty sophisticated musicianship despite its simplicity.
CT: That one is not even our song. It's a song from an instrumental trio out of Sweden called Väsen, and we learned that song to actually play it with them when we were having them sit in with us at a set we played. We learned that song, and after we played it with them, we loved playing it so much that we started to work it up to do it in our own sets. It would go so well and it was such a fan favorite that we decided to record it. It was a happy change for all of us, and it felt like it had a place on the record.
MR: Can you tell me what the creative process is with Punch Brothers, even from the songwriting perspective?
CT: There are as many processes as there are songs. Every single song has a unique evolution. My favorite thing that happens is when someone will have a little idea and we get to develop it amongst the band, and lyrics suggest themselves. Lyrics actually spin out of the melodic gestures, naturally. I love when that happens. I mean most of our songs developed that way, but there is always going to be some intense backroom revising and that kind of thing. You want it to resonate emotionally and physically every bit as much as it resonates intellectually. I think we've been guilty in the past of veering towards intellectual resonance, and I think we're finally striking a good balance.
MR: I wanted to ask you, after all your years of playing, being the musician's musician, what advice would you have for new artists?
CT: I meet a lot of aspiring musicians who are so worried about their careers, worried about their professional advancement, getting discovered and getting a break and all that kind of thing. My advice would be if you spend that much energy just working on your music and practicing, you'll become undeniable, there'll be no need for a break or for being discovered. At this point, there are very few secrets in terms of things that are really good. With the internet and everything, if you just worry about being as good as you possibly can be, people will find you. It may not seem like people like good stuff sometimes because of what we're constantly being bombarded with on the radio, etc., but they really do. There are going to be enough people out there for you to be able to sustain your career as long as you're kicking ass. But kick ass you must. I would advise people to spend as much time as they can working on their craft and not worrying about how that craft is going to be showcased.
MR: Chris, I want to ask you for just a reflection or two about each of your other incarnations starting with Goat Rodeo.
CT: It's an incredible opportunity to interact with a wide array of musical personalities. The four of us don't look really connected on paper except for Edgar (Meyer) and I, but in practice, because of the willingness to listen, to conform, we came up with an idea of how it might work, the four of us playing. Everyone was flexible enough to, I think, make something really good.
MR: Yeah, we were lucky enough to get interviews from Yo-Yo Ma and Stuart Duncan, so we corralled three of the four goats. Chris, what about Nickel Creek?
CT: Nickel Creek was an incredible way to grow up. I started Nickel Creek with Sean and Sarah (Watkins) when I was 8 years old. We put it to bed when I was 26, so a ton of my development as a human being was created by Nickel Creek. I'm grateful to Nickel Creek's success and appeal for having a platform now. I have a built-in audience as a result of the success of that band, and I'm very grateful for that. It can be tricky or frustrating to be primarily associated with something that you did when you were just barely escaping adolescence.
MR: Yeah, and that formative bonding as musicians was such a good thing for you all, right?
CT: Oh yeah, it was really fun. And actually, even as an adult now, we're proud of the third Nickel Creek record. I think by that time, we were starting to mature a little bit and do something substantial. It's funny that that was the least successful of the three records. I feel like the better Nickel Creek got, the less people liked it.
MR: And there's a tour?
CT: Oh yeah, we're on it...we're all over the place. I'm thrilled, I'm really excited about how things are sounding. The energy of the band is really good.
MR: Chris...so, Who's Feeling Young Now? I'm feeling young now, sir! Thanks for all of your time, it was fun.
CT: Thank YOU!
Tracks:
1. Movement And Location
2. This Girl
3. No Concern Of Yours
4. Who's Feeling Young Now?
5. Clara
6. Flippen (The Flip)
7. Patchwork Girlfriend
8. Hundred Dollars
9. Soon Or Never
10. New York City
11. Kid A
12. Don't Get Married Without Me
Transcribed by Narayana Windenberger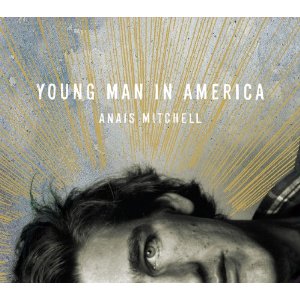 A Conversation with Anais Mitchell
Mike Ragogna: Anais, the track "Wilderland" from your new album Young Man In America, has a kind of Native American vibe. You describe cities and highways as being a wilderland with children wandering the wilderland. Is that what you see going on?
Anais Mitchell: Pretty sure that word 'wilderland' came into my head when I was watching some footage from the recession on television, these families getting evicted from their homes, all their furniture out in the street. The idea that even with the cities and the highways, this is a wild place, every man for himself. You can't trust that you'll be taken care of. Yeah, that track feels pretty tribal to me too. This lost modern tribe.
MR: The song segues into the album's title track, "Young Man In America." It's an interesting title for what seems to be an autobiographical song, maybe beyond just a story song, about you being "shot out like a cannon ball" at birth and what follows. The title almost has an irony.
AM: Hmm, autobiographical could be a stretch, but I do identify with this young man and his restlessness. He shoots out of his mother's womb like a cannonball, hungry and thirsty, running all over looking for pleasure and satisfaction. He's terribly alone in the world, there's no one to take care of him, he's very desirous and very sad, and he calls out in a ritualistic way for a mother, a father, he's looking for some kind of ancestral guidance.
MR: Beautiful. That leads us to your mostly piano ballad "Coming Down" in which you declare how you never felt so high and never laughed so loud. At the song's end, you sing, "Nothing's gonna stop me now." Is this from personal experience?
AM: Yeah, I know that feeling, but then I think a lot of people feel that, in the midst of a great cacophonous good time, or the feeling you're on a roll, that silent inner *ping* of emptiness.
MR: Young Man In America comes off like a concept album, and nice CSN-style backing vocals, by the way. Was that the intention?
AM: The last record I made was a tooootal concept thing, it was a folk opera based on the Orpheus myth called Hadestown, and all the characters were sung by these wonderful artists--Ani Difranco, Justin Vernon, and so on. So, compared to that thing, this one feels very loose and intimate. But I'm kind of a conceptual gal. I couldn't help it, and this Young Man kept making his way into songs, along with certain themes--work, restlessness. Regarding the harmonies, well I think you hit it on the head earlier. I felt that some of the songs had a real ritualistic quality, and I wanted a sort of a small tribe of singers to help enact those rituals.
MR: Did you intentionally keep the production values simple and organic, or did this happen naturally as you tried to convey each song's concept?
AM: I lay almost every last shred of credit for the production choices on this album at the door of Todd Sickafoose, the producer. He's a bassist, a pianist, and a beautiful engineer, and as a producer, I see Todd as very cinematic, a storyteller. Many of these songs are really narrative and storyish just on the lyrical front, and I think Todd just let his imagination run, and told the stories musically alongside the lyric.
MR: Are there any songs on this album that have a particularly special story or connection to you personally and can you go into them?
AM: I wrote the song "Shepherd" based on a story my dad wrote as a young man. The book was called The Souls of Lambs and the shepherd is a character whose wife dies in childbirth as an indirect result of his own preoccupation with his work. In the story, it's really no one's fault what happens, but it's just so sad. I think I was drawn to that story because I wrestle with some of the stuff my dad wrestled with back when he wrote it--he was about my age then, I'm thirty. Our relentless pursuits, whatever they may be, and the good precious real things that get plowed under them. A few of the songs on this album feel like letters to my father.
MR: What's your creative process, especially during the writing process?
AM: I usually become obsessed by some little magic thing--a chord change or one line, words or melody--and then just follow that into the labyrinth. There's a lot of banging up against walls and having to turn around and find another path. A lot of cutting room floor, usually. I do believe in the mystical power of sounds and images lined up in certain orders. The great songwriter Ferron once said, "Words summon spirits." Such a simple thing... If you say "prairie dog," the prairie dog spirit comes in the room. Then you say "hurricane," and another one comes and they have chemistry together, this witches brew, and once the spell is written, you're going to utter it over and over again, so, you might as well take care which spirits you summon. This is a big part of the creative process for me. Utter the stuff one thing after another in a quiet room and see what spirits it summons. If the wrong ones, utter different stuff.
MR: Anais, what advice do you have for new artists?
AM: Hmm...as an artist, I don't believe you "find your voice" and then just get to keep it. I think it changes and you have to keep searching for it and that it requires constant vigilance to be true to it, whatever it is in this exact moment, which is a beautiful idea for the new artist because it kind of levels the playing field. You could be writing your very first song and tap into that thing that the person writing their hundredth song is having a hard time accessing. Also, I'd say the ego and the business of music--which is so trying for the ego--are powerfully corruptive, and we gotta be vigilant about that too. It's so easy to forget that music feels good. It should feel good!
MR: What does the future hold for Anais Mitchell?
AM: Well we'll be touring like crazy with this new record. I'm so excited about the small band I'm touring with--there are four of us--we'll recreate some of the harmonies from the album, etc. Also working on developing the Hadestown opera for the theater from whence it came--it's been living in purely audio land these past couple years. Also working on an acoustic collection of new versions of really old British and Scottish folk ballads with my comrade Jefferson Hamer, which we've been recording in Nashville with the gorgeous Gary Paczosa.
Tracks:
1. Wilderland
2. Young Man In America
3. Coming Down
4. Dyin Day
5. Venus
6. He Did
7. Annmarie
8. Tailor
9. Shepherd
10. You Are Forgiven
11. Ships