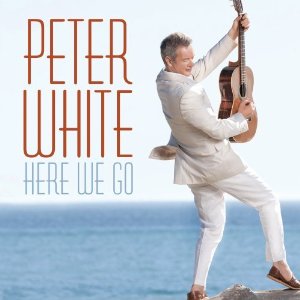 A Conversation with Peter White
Mike Ragogna: Peter, before we get into your new album Here We Go, let's start with your early days playing with Al Stewart.
Peter White: I started with him when I was only 20 years old, that was back in 1975. What a wild ride that was. I think before I met him I'd never flown in a commercial plane or stayed in a hotel room. All of a sudden, we were touring all over the world and I was flying everywhere and staying in many hotels. It was the most exciting time, especially for a 20-year-old from a small town in England who had never really been anywhere. I was traveling all over the world and meeting all sorts of people - Including some of my heroes like Jimmy Page, whom I bumped into in an elevator, and Freddie Mercury because we opened for Queen. Opening for Queen was actually one of my first gigs with Al Stewart in San Antonio, TX. You can imagine what an exciting time that must have been for a young man.
MR: I remember your guitar parts on Al's single "On The Border" popped right out of the radio.
PW: That was a moment that changed my life. Al Stewart told me that he needed a Spanish-sounding guitar on a song. At this point, as well as never having flown in a plane, I had never been in a recording studio. (laughs) They took me into Abbey Road Studios, if you can imagine what a thrill that was, and put a Spanish guitar in my hand and said, "Play this." That became what you hear on the song, "On The Boarder." I would step out during the show after that album was released and play that solo on the Spanish guitar - that's what everybody would remember because most of the time, I was in the background with the exception of that song. That became my sound. That's the guitar that I still play today--not that exact same guitar, but Spanish-style guitars. That really started way back when in 1975 when Al Stewart first put that guitar in my hand. It was quite a life-altering moment.
MR: At times, the arrangement made it seem as though it were a Peter White song with Al Stewart singing on it.
PW: Yeah, you're right. Alan Parsons was the producer of that album, and he taught me a very great lesson one day. I wanted to play all the way from the beginning, as though it was my song, but Alan told me no, he wanted to let the intro develop naturally, let Al sing, then when Al stops singing, play. I thought that he was making a big mistake because I had all of these great riffs worked out, but listening back to it now, I think he was right. The fact that you wait until about a minute into the song to add the guitar kind of makes the song explode. It has much more impact than if I had been playing from the beginning. I learned a lot then and even to this day, I try not to play the introductions to my songs. I let the other instruments take the lead before I come in.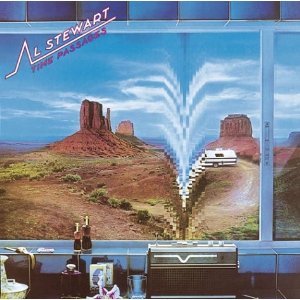 MR: Before we leave our Al Stewart conversation, "Time Passages" is another song that I feel belongs as much to your guitar playing as it does to Al. Can you tell us about recording that song?
PW: Well, Alan Parsons had a lot to do with that because he was the producer on that song as well. That was actually one of the first songs that I wrote with Al. I played pretty much all of the keyboard and guitar on that song. They brought in a saxophone player, Phil Kenzie, because they wanted the same sound that he'd done with us before. That was another great moment for me because it was my first and only Top 10 hit. (laughs)
MR: Okay, now let's get to your solo career. Your albums are usually categorized as "jazz," though you always manage to bring other elements to your music. How would you categorize your music?
PW: Well, that's always a question that I try to avoid. (laughs) Musicians, by and large, don't categorize themselves. We simply play the music and leave it to other people to categorize us. I'm a guy that plays the guitar. I grew up listening to rock 'n' roll and pop. What I bring to music is a little bit of everything - all of the influences I've ever had in my life.
MR: On Here We Go, you use David Sanborn who was on his own fair share of radio hits over the years.
PW: David was on my bucket list. (laughs) It only had one name on it, and it was his, only because I've played with just about everyone else that I've ever wanted to play with except him. I think I've mentioned that in every interview I've done in the past 10 years. I finally got to meet him a couple of years ago and he kind of suggested that we should work together someday, so of course I said, "Okay." I wrote the title track for the new album especially for David, and he graciously agreed to play on it. I'm so thrilled.
MR: I'll never forget his bluesy solo on James Taylor's "You Make It Easy." Was it fun working with him?
PW: Yeah, because he's a legend, so I just let him play whatever he wanted to play and then later reworked my guitar around what he'd played. What he played was so good that I had to lift my guitar playing up to his level, or at least attempt to. I just recently did a two-week smooth jazz cruise in the Caribbean and he was on the ship as well. We managed to get to jam together on stage a few times - that was a great thrill for me.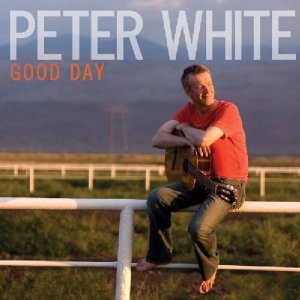 MR: Nice. Now, Here We Go almost seems as though it is an extension of your last album, Good Day. Can you tell us about that?
PW: It is actually an extension of the last album. The album before Good Day was actually called Playing Favorites, which was all of my favorite songs from the '70s and '80s that I didn't write, so I wanted to make something that was my original music, and I'll probably make a third album of the same. There are some songs on these albums that go back quite a ways. Some songs I wrote 10, 15, or almost 20 years ago and never finished. For example, the last song on my album, called "Reunion," was a song that I actually wrote for my first album, but I never finished it. I still have quite a few of those songs in the archives that I'm going to bring up and finish. I used to write songs a whole lot more than I do now, and I think that has a lot to do with the fact that my daughter is now eleven years old - we adopted her about ten years ago in China. Since I've become a father I don't really have as much time to compose as I used to. So, I have a lot of songs in the stockpile from up to 20 years ago that I am still recycling.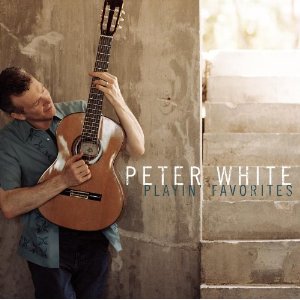 MR: How do you create your music? Do you have to get to your guitar and play, or do you hear it in your head?
PW: Usually, I don't compose on the guitar, I compose on piano. By the way, when I started my music career with Al Stewart in 1975, he hired me as a piano player...he didn't even know I could play the guitar and he didn't care. He already had a guitar player. There are some songs that I can compose on the guitar and you can always tell because they start with guitar. If the song starts on keyboard rather than guitar, that's how I wrote the song. The introduction of the song is a good clue to which instrument it was composed on. The guitar is usually an after-thought.
MR: For many composers, they hear a great deal of their music in their heads before hitting an instrument. Is that also going on when you compose?
PW: Yeah. For instance, the title track that I did with David Sanborn is something that I heard in my head while I was driving. I was thinking about how I had to get David Sanborn on the album and trying to figure out what kind of song to do to make that happen. This very funky, energetic groove popped into my head and I went with it. Most of it was composed in my head. Of course, the hard part was trying to remember everything that I heard in my head by the time I got home. (laughs) Fortunately, I did manage to write down, almost verbatim, everything that I heard in my head. What you hear on the album is pretty much what I wrote in my head not really knowing how it would sound with the saxophone or the guitar on it. But it all worked out very well, I think.
MR: One of the tracks I particularly wanted to highlight is, "Night After Night," which is a song that included your ol' friend DC, right?
PW: Yes. Well, as you know, he is my co-producer, friend, and we just do everything musically together. He added so much to the song musically that I decided to give him a writing credit. The song originally started in my head, but he added a lot of rhythmic things that I never thought of. So, I'm very happy to give him writing credit for that song because he deserves it. As a matter of fact, I consider him a very big part of the whole album.
MR: Well, it does seem like it all was a "Joy Ride." Sorry...
PW: "Joy Ride" was actually a wonderful groove that my friend DC started. It was a wonderful open rhythm that I thought would sound really great with some Spanish guitar, like classical jazz meets The Bee Gees, or something.
MR: Are there any songs on this album that you're kind of close to, maybe a little more than the rest?
PW: Yes, actually. There's a song called, "Requiem For A Princess," which I wrote for Princess Diana. It was the first song that I wrote after she died...it's probably the saddest song I've ever written. It took me this long to record it because it was just too sad for me to do earlier. The events of that day hit everyone in the world very hard, especially the English people. I remember watching her funeral procession and seeing the car carrying her through the English countryside with people throwing flowers all over the car. The top of the car was completely covered in flowers. I wrote this song shortly after that to express the sadness of that day. On a lighter note, there's a song right before that called, "Costa Rica," which I wrote after I took a trip there a couple of years ago. I just love the countryside there - the energy, and the friendliness of the people. That may be the most joyful song I've ever written. The entire ending of the song is just two minutes of my friend Ramon beating the congas and the timbales. It's a joyful dance. You think the song had ended, and all of a sudden, it comes back with some crazy percussion. That's something I do in the live show, and it was something that I wanted to recreate this time around on the album.
MR: Does this song summon up those memories of your visit to Costa Rica?
PW: Absolutely. After I wrote the song, I even went back to visit again. I played the song in Costa Rica for some people there. They thought it was great, they all got up and danced. That's the kind of response I like to see. I know some musicians don't like it when people get up and dance to their music, but I love it.
MR: Peter, what advice do you have for any new artists?
PW: Play music that you love because you love it. If you're expecting fame and fortune, it may never happen, but you have to hang in there because you love it. That's the reason you're in the music industry. Just get out there and sing and play in front of as many people as you can. If you have talent, I fully believe that you will rise to the surface.
MR: That's basically your story, isn't it?
PW: Yeah, basically. I didn't go to college...my mother was horrified. At the age of eighteen, I declared that I wanted to be in a band and travel the world. All my friends went to college and I stayed home trying to figure out how I was going to do that. I'm very lucky because I met Al Stewart within a year and a half of leaving school and shortly after, started touring and working with him. One of the reasons that I was also very well prepared was that I could also play very many instruments at the time. I've always thought - and this is another piece of good advice - that if you only play one instrument, you'd better be Pavarotti. (laughs) What helped at the beginning was being very versatile. When Al asked me one day if I could play accordion I said that I could. I didn't really know how, but I learned. (laughs) Since then, I've become a lover of accordion and it's on most of my albums now. You can hear a little bit of accordion on the track, "My Lucky Day."
MR: And you play all of the instruments on that track along with DC, right?
PW: That's right.
MR: You worked with Basia. Can you tell us about that?
PW: Well, I met Basia because my younger brother Danny formed a band called Matt Bianco in England in the mid-'80s. She was the singer of that band, and I met her at that time. When she became a solo artist, they asked me to come and play on their recordings. So, I did, and I even went on tour with her for many years as well as being on tour with Al Stewart. I managed to juggle being on tour with both somehow. Basia is a wonderful singer from Poland, and she sings on my Caravan Of Dreams CD actually. I'm very happy to have met her, and I'm very thankful to my brother Danny for introducing us, even though he set fire to my guitar when I was fifteen. I've since forgiven him many times over because he introduced me to Basia and I had a lot of wonderful times with them.
MR: What was working with Grover Washington, Jr. like?
PW: I was actually very nervous about that. He was another artist that I'd always wanted to work with and Paul Brown, my producer at the time, was the one who suggested it. Both Grover and I were on Sony Music together and Paul said that because we worked at the same label, it would be easy to get him to come and play. I told him that if that was the way he felt, he should ask Grover himself. (laughs) I was way too nervous. Paul actually did ask him later, and Grover graciously agreed to come in and play on the song called, "Midnight In Manhattan," off of the Perfect Moment CD. It was a thrill working with a living legend. I'd always followed Grover since the late '70s.
MR: That record also turned out to be a number one jazz hit in Billboard, right?
PW: Yes, that's right. That song was very successful and I still play it at my shows.
MR: You also had another number one with "Bright."
PW: That's right. That's a song I wrote about ten years prior to releasing it because I didn't finish it. (laughs) I dedicated it to the memory of our good friend Wayman Tisdale. He was a wonderful jazz musician and a fine basketball player in his day. There's a particular part in the song where there's a little "hit," and in that part, I almost see him shooting for the basket. That was a big loss to the music world not only because of his musicianship, but also because of his personality. He was always very upbeat and happy. I had already called the song "Bright," but it wasn't until later that I decided to dedicate it to Wayman because he was always so happy. I just decided that I would dedicate this song to him to live as a memory because it certainly reminds me of him every time I play it.
MR: Are there any other songs on this album that you particularly enjoyed making?
PW: There is a song called, "Our Dance," that I did with a good friend of mine, Kirk Whalum, on the saxophone. He's another one of my favorite saxophone players in the world to play with. I was very happy to get him. This song is a little different - it's almost like a gospel type of sound, which I haven't really done before.
MR: Nice. Have you told David about Kirk?
PW: (laughs) Well, we're all good friends. In fact, all of my favorite sax players in the world were on the smooth jazz cruise I just went on. If that ship went down, it would have been like the end of smooth jazz. There were a lot of heavy hitters on that boat and I managed to play with all of them. It was such a thrill.
MR: Do you often play cruises or was this a special event?
PW: Well, that's a cruise that goes out annually at the beginning of every year. They don't ask me to do it every year, they usually alternate artists, so I may be asked again in two years. I'm also doing a Mediterranean cruise with Dave Koz in September of next year. That'll be the first time I've ever done a Mediterranean cruise, so I'm really looking forward to that. About once a year, they allow me to go cruising, and it's a great way to play music, meet people, and have a great time.
MR: Are you also going to be touring on land in the near future?
PW: Yes, I sure am. You can find all of the dates on my website at www.peterwhite.com. I have shows coming up in the Midwest, Seattle, Florida, Cleveland, and many others coming up. I'm even doing some shows in my home country of England this year, so I'll be touring all year round.
MR: Now, I cannot let you go without asking you to tell me one great, interesting, or little-known story about an adventure you had while working with Al Stewart. Do you have one you could share with us?
PW: I think I saved his life once. We were in the hotel pool after a show and everyone had been drinking, which was a bad idea, of course. Al decided that he was going to jump into the deep side of the pool, but he couldn't actually swim. So, after being encouraged by lots of people to do it, he jumped in. I saw it and I knew that Al couldn't swim, so I actually dove under him and pushed him up and helped him to the side of the pool where the others helped him out. So, you can go ahead and print that I once saved Al Stewart's life. (laughs)
MR: (laughs) Peter, thank you so much for being here with us today, and best of luck with your new album.
PW: Thank you so much, Mike. Thank you for having me.
Tracks:
1. Night After Night
2. Time Never Sleeps
3. Here We Go
4. If Ever...
5. Our Dance
6. Desert Night
7. Joyride
8. Costa Rica
9. My Lucky Day
10. Requiem For A Princess
11. Reunion
Transcribed by Evan Martin