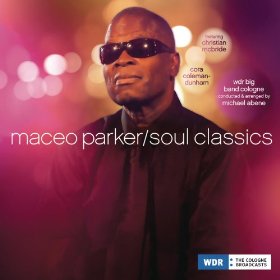 A Conversation With Maceo Parker
Mike Ragogna: Maceo, Maceo!
Maceo Parker: Hi, how are you? Everything's great!
MR: Everything's great here, thanks. Maceo, on your new record, Soul Classics, you and your saxophone tackle some of the big ones on this live album.
MP: We do what we like to do, which is perform live. But every now and then, you have to go to the studio, do some stuff, and this time around, we decided to just cover some tunes. It was a lot of fun working with that big band again for a second time. The stuff came out really, really nice and I'm kind of excited about it.
MR: Nice, and of course you're talking about Roots and Grooves, your other collaboration, the Ray Charles tribute.
MP: Yeah, that came out really, really, really nice, too. I've always been crazy about it. I really, really loved Ray Charles and at the same time, I never knew I would be able to come up and imitate him a bit. But as fate would have it, I can kind of get away with it at times, depending on what time of the day it is. Voices are crazy; sometimes mine is okay, sometimes it's not so okay. Right now, it's a little bit in between the two.
MR: Don't we all have those days?
MP: Yeah, exactly.
MR: Hey, Maceo, let's get a little history lesson. Your roots are with James Brown.
MP: Well, first of all, I was lucky enough to have a trombone-playing brother one year older than me and a drum-playing brother one year younger than me. Ever since we were teenagers or pre-teenagers, we felt like we had a group. We added a couple cousins or what have you, but what I'm trying to say is that we started very, very, young doing whatever it is and we just kept going and going and going and pretty soon, the going and going time became years and years and for the love of trying to do and imitate everything we heard, it got to the point where maybe we saw that we were on the right track. I felt that music would be a part of my life, but James Brown met my drum-playing brother before me and sort of offered him a job. But we were college students at this time and about a year after my brother met James Brown, we decided to get out of college and pursue a job with James Brown. That's really how the whole thing came about.
MR: And, of course, to celebrate that, you've kick off Soul Classics with "Papa's Got A Brand New Bag."
MP: "Papa's Got A Brand New Bag" was part of that first recording series that we did with James Brown. "I Feel Good," "Papa's Got A Brand New Bag," and something called "Brother Rap," I think. I'll tell you what. The writer of that stuff, by the name of Michael Abene, came up with that particular idea, and it's a live way of bringing me on. It's going [mimics music] and I'm going "Papa's got a brand new bag, papa's got a brand new..." It's crazy, but that's what he wanted and that's what I did. I'm singing James' part, and then one of the saxophone players from the big band is doing my part, but he's doing like a real serious jazzy kind of saxophone solo and then I do like an alto solo on this "Brand New Bag." It's just fun.
MR: So this album was recorded live. What was the magic about that night to you?
MP: Well, first of all, let me tell you how I came up with the tunes. When I'm home and I practice, I listen to satellite radio a lot, because they just play stuff and I like old stuff. It's almost like ear training, I just play along with whatever is played, different keys, different styles, everything, but as I played along with something, if it felt good and comfortable to me, I would jot it down. That's how I came up with these particular tunes. Just, "Oh this feels kind of nice," "Oh, I like that," "I'm not too sure about this," "Oh yeah, I like this." That's how I came up with Soul Classics. I looked for the fun side of stuff and that's what it turned out to be.
MR: You've cover Aretha Franklin's "Rock Steady" and Isaac Hayes' "Do Your Thing" on Soul Classics. As much as it's fun, this is a very clever track list that ties in with you personally, right?
MP: History is a lot of years, and I think I've met everybody that's covered on this particular thing. That's one of the joys about being in the business that I'm in; you get a chance to meet people, and if the situation arrives, you can cover whatever you like. I've been kind of lucky where that's the situation now.
MR: You also have a history with folks like Bootsy Collins and George Clinton. You were part of the Parliament crew for a while.
MP: Oh, yeah. Coming out of the James Brown era or the James Brown school or whatever, I spent a lot of time with him and he was calling my name on some of the records, "Come on, Maceo, blow your horn!" Everybody that was really into James Brown somehow had to get into me because I was there and again, he was calling my name on a lot of the records I'm doing to introduce the sax solo. I guess people got to a point where they said, "If that guy is good enough for James Brown, maybe, he's good enough for me, too." I had a lot of that going, which is a plus in my career. I met a lot of people through that. You can put Prince on that list. And through the George Clinton thing, I met a lot of people; I did a project with Red Hot Chili Peppers because of George Clinton. The list goes on and on and on and on and I'm really thankful and joyous.
MR: Maceo, what advice do you have for new artists?
MP: You know, I always say something like, "Try to get into a situation where you can play as much as you possibly can," because I think that the most important thing is just experience and the only way to get experience is to do it over and over and more and more and more. That's what happened with me. It seemed like the more we did it, the better we got into doing what we thought we wanted to do. So that's first for me. When I'm talking to students or someone who's thinking about pursuing a career in being a musician, it's "Get in a situation when you play, and just play. All the time. Pretty soon, you'll get really comfortable with what you're doing.
MR: All right, Maceo, thank you so much for your time. I really appreciate it. All the best with Soul Classics and everything in the future.
MP: Thank you, very much. It's great to be part of your show. What I always say on my show is, "Always remember, we love you."
Transcribed by Galen Hawthorne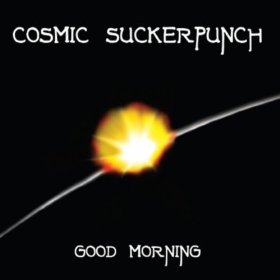 COSMIC SUCKERPUNCH'S "COSMIC" EXCLUSIVE
The band is called Cosmic Suckerpunch, L.A. rockers with a new video, "Cosmic," the first track from their album Good Morning. Songwriter Ari Welkom and the group is rooted in blues and funk, with a nod to the likes of Led Zeppelin. The video was co-directed by Nick Gaglia and Taylor O. Miller.