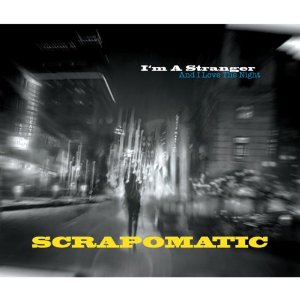 SCRAPOMATIC's "RAT TRAP"
Critically acclaimed eclectic roots outfit Scrapomatic released I'm A Stranger And I Love The Night via Landslide Records this summer, and their first video for the project -- a blend of stop motion cut out animation over a live background for the song "Rat Trap" -- can be seen below.

Mike Mattison, who also sings and writes songs for the Grammy Award winning Tedeschi Trucks Band, leads Scrapomatic. Due to their continuous touring schedule on the road with TTB, the band wanted to do an animated video. "'Rat Trap' seemed to be the obvious choice," says Mattison. "It has a creepy narrative about relationships going wrong in off-brand casinos. Who wouldn't want to see a cartoon about that?"
FYI, Mattison won a Grammy as lead singer with The Derek Trucks Band for 2009's Best Blues Album, Already Free, and in 2010, when The Derek Trucks Band announced a hiatus and he joined Tedeschi Trucks Band as a backing vocalist and songwriter, it resulted in another Grammy, this time with TTB, for 2011's Best Blues Album, Revelator. His compositions, "Bound for Glory" and "Midnight in Harlem," received significant airplay and the latter was featured in the band's performance for the DVD of Eric Clapton's Crossroads Guitar Festival 2010.