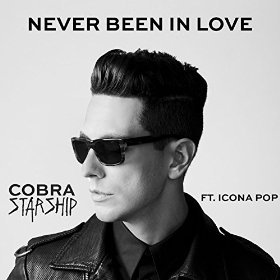 A Conversation with Cobra Starship's Gabe Saporta

Mike Ragogna: Gabe, Cobra Starship's latest, "Never Been In Love," features Icona Pop. Who's idea was this mighty union and what was the collaboration like?

Gabe Saporta: We had been wanting to do a collaboration with Icona Pop since we first heard them! They signed to our label and we got the chance to do one of the official remixes of "I Love It" a few years back. Wallpaper, the producer of this track, had been working on some other songs with them so it happened organically!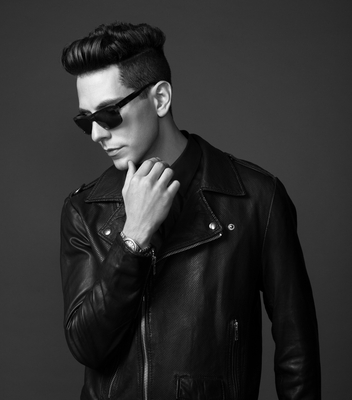 photo credit: Jimmy Fontaine
MR: After having platinum-selling releases and appearing on major television shows, what is it about Cobra Starship that's working this well?

GS: Wow, thanks so much. Hmmm. I guess it's two things: I think the fact that we came from the underground touring world and really worked our way step by step has made us not take anything for granted. So we do a good job of being naturally excited and not getting in our own way! The other thing is that when I started Cobras, I wanted it to be a vehicle for me to experiment with lots of different musical styles and production techniques. I fought very hard to not be put into a box, and that gave us the fluidity to grow and not get stuck somewhere along the road.

MR: How has your creative approach -- writing and the recording process -- evolved or changed since success has been kicking in?

GS: Ha. Great question. I feel that what happens often to artists is they are left alone until they have a hit. Our first real hit felt almost like a fluke -- "Good Girls Go Bad" -- but immediately afterwards we had a lot more people giving us a lot more opinions. Sometimes those opinions are invaluable and other times they're just noise. Learning how to navigate between the two has definitely been a good learning experience for me.

MR: How has Cobra Starship's live show grown over the last couple of years? Has it had to embrace new tech to present a changing show, and what is it like to be performing to the increasing crowd numbers?

GS: We were able to add a good friend of ours as a percussion player, we added more instrumentation. We had to figure out a light show, confetti, all that good stuff. All the exciting technology for live performance to me is happening around lighting and led screens. That can really take a show to the next level. But ultimately what wins is showmanship. When we started out we were used to playing to people who stared at us like "wtf is this?" And we learned to win them over. When you start playing big festivals and more mainstream crowds you are going to run into many people who may only know one of your songs. Remembering what it was like to play for 20 people who had never heard of you before comes in handy
MR: Do you have a vision of where Cobra Starship is heading?

GS: Yes! I've been drawing a lot of inspiration from early '90s UK dance-rock, when bands like Jesus Jones and EMF and even INXS -- although they were Aussies -- were first experimenting blending break beats in a live band context. I also think that for us, because of where we come from, it always important to stand slightly outside the norm.

MR: Do you keep an eye on your contemporaries to either stay current or to enjoy what they're doing?

GS: I go through waves. Sometimes I get frustrated when I don't connect to something, other times I get excited when something throws me for a loop. And sometimes I like being completely immersed in what's going on and other times I just need to disconnect

MR: Gabe, you were a new act at one point. What advice would you give to new artists that are looking for a few useful tips on how to further their art or musical careers?

GS: When I was a kid I used to sneak backstage at shows and pretend to be a reporter in order to get a few questions in with some of my favorite artists. One of those artists, Dr Frank, from The Mr. T Experience said to me "I was never a great singer, and I was never a great guitar player, but I love music and I just kept banging it out. And when you love something and you keep banging away at it, eventually something good will come out." That's the best advice I ever got. I would expound on that by saying that passion is contagious... If people feel you love something they will be drawn to it also. The other lesson here is the power of perseverance, a lot of times we give up on something when it doesn't come out right away. I see this especially with more talented people; unlike those who are less gifted, they expect things to be great always. Unfortunately, the nature of art necessitates struggle. What makes great art is not great talent, but rather great effort.

MR: Would you have told this to a young Gabe Saporta just starting out?

GS: I would have had it tattooed on young Gabe Saporta's forehead

MR: [laughs] In your opinion, what is the best thing about Cobra Starship that separates what it's presenting from the other many talented, successful bands on the scene today?

GS: I think what's unique about Cobras is all the contrasts elements and forces fighting against each other that create a beautiful kind of tension. I also think our approach to the music "business" has given us a unique kind of connection with our fans.

MR: What does the future for Cobra Starship looking like? Any surprises coming?

GS: I am just excited to finish our new album and get back on the road.
******************************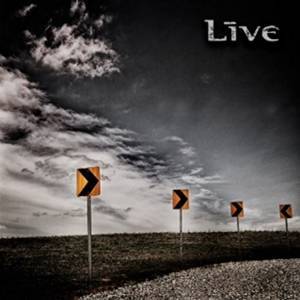 A Conversation with Live's Chad Taylor
Mike Ragogna: So you guys have been together for a while, it's got a new self-titled album and, what is this, like your twentieth anniversary?
Chad Taylor: We've been a band now for 29 years, but it's the twentieth anniversary of Throwing Copper. It came out in '94. But we're in our twenty-ninth consecutive year of being a band.
MR: You guys still have Chad, Patrick, you and the new guy, Chris Shinn. What's that been like?
CT: Well, it's taken us really three years to rebuild the band since Ed departed. Ed left to pursue a solo career and really we were all of the mindset that we were just going to lay down. It was supposed to be an indefinite hiatus but still just a hiatus, but it started growing longer and longer. Eventually, it became clear that Ed was finding success with his solo career and we were left to wonder, "What would it be like to make Live music in a new formation?" I think Chad and Patrick and I were probably the greatest skeptics going into that. There was no audition process, nothing gimmicky about finding Chris. Chris was an old friend, we had toured with Chris and his band Unified Theory back in 1998. He was one of the support acts for Live and we were in love with his voice. He was the only guy where we all said, "Well it would be kind of interesting to make music with Chris." We invited him up to our studio in York and we all got together in a room. In fact, I was sitting outside of the building with Chris, I had picked him up and he could tell I was freaking out, I didn't know if I wanted to go in and do it and he basically eased all the tension. He said, "Look, we don't have to do this, we could just go to the bar and have a beer and get caught up, we haven't seen each other in years." But instead I said, "I have to face this moment at some point. What's it like to make Live music without Ed?"
Of course, we went through all the normal niceties of saying hello and all that and then eventually we put on our instruments. Rather than starting something brand new we played a Live song without Ed. The first run through it was just your traditional sound of musicians who are a little bit rusty -- all of us were -- but on the second time through there was just this feeling of like, "Wow, this is pretty great." I think we sort of surprised Chris because we put down our instruments and said, "We don't need to do anything else. This feels tremendous and great. Now the question is do we really want to do it?" I think it took a little bit of soul-searching. So let's say that's all a part of year one, and then year two was that we accepted nine weeks of tour dates on the Summerland tour last summer. We just wanted to go and take what we were feeling in the studio, writing songs, rehearsing, all of that, and put it in front of other people, particularly our fans, and see what they thought. There was an overwhelming positive response to Chris and the fact that Live was making music. One of the main things you would hear from fans was, "Wow, you guys just look happy making music." Then, of course, we brought in Jerry Harrison of Talking Heads and Tom Lord-Alge and all the king's horses and all the king's men and tried to put Humpty Dumpty back together again. But what's crazy is that I just got an email maybe ten minutes before we started our interview saying we're currently the number one added active rock single in the country. I just got that news literally minutes ago. Clearly, it's not just fans, people are really digging the record.
MR: You mentioned that you have a relationship with Chris that goes back. Even though Ed has left for his new projects, it seems like your fans really understand that Chris fits into the band in the same way and accept it as Live 2.0.
CT: My childhood version of a rock band and why bandmates should stick together through thick and thin and all of those things has certainly changed with the evolution of my own life. I got married, I have children, I have a family, I understand how complex relationships can be. Certainly, to write music is an extremely personal, intimate experience. There's a ton of trust and no one can blame anyone for the downfall if you will of "version 1.0" and the reformation of 2.0. I think after 29 years of making music together that Chad, Patrick and I owed it to each other to find a way -- even if it was a last hurrah and a goodbye -- to find a way to end it under a different set of circumstances, to go back and return to the joy and the pleasure that we had when we were kids.
Chris, from the outside, is a very interesting guy to come into the band because not only did we have this long history with knowing Chris as a musician, but when Chris was super young actually snuck into a Live show before he was 21 and watched the band perform. He brings this very idealistic concept of what the band should be into the band. He's able to say, "Hold on, stop guys. No fan cares about that," and we're like, "What do you mean no fan cares about that?" and he says, "No, trust me, from the perspective of standing in the audience, this is what we should be doing and this is what we should be focusing on," and we of course go, "Okay Chris, we're going to follow you down this pathway no matter where it leads, let's see what that feels like." And somehow in that spirit, the trust that's needed to write songs and be partners in ensemble music was reborn. In many ways, shapes and forms, like it or not I have to credit Ed for creating that moment. By him identifying firmly, "Hey, I don't want to be in an ensemble, I want to make music on my own," it left this chance and this void. It's a great example. There's probably some therapist out there that spews this stuff every day, but it's a great example of the silver lining in something that you'd deem unfortunate.
MR: You mentioned Jerry Harrison a bit ago... He wasn't just Talking Heads' producer coming over to work with you, he was your producer for three albums!
CT: So obviously, Live's Mental Jewelry was the first chance for us as kids, as young men, whatever you want to call us, to go and make a record. Jerry was very much a mentor and someone who we had a tremendous amount of respect for. Not only were we fans of Talking Heads, but we were discovered by Hilly Kristal of CBGB, and of course Talking Heads were discovered by him, and so were The Ramones. Joey Ramone and Debby Harry took us to their band's manager who happened also to manage Talking Heads. The Ramones were the first band to take us out on the road. There was this whole crazy shared history with the seminal New York bands, yet we were from York, Pennsylvania. We weren't from the big city, we weren't art grads going to college. Somehow, though, we found our place there. So as soon as that happened, other artists of that era like Mick Jones from The Clash and Johnny Rotten from the Sex Pistols all embraced Live. And this was all in the face of the grunge movement happening on the west coast which we didn't have any connection to except I think I owned a flannel shirt. But what I'm saying is we came in from such a bizarre and foreign environment. York is a very interesting city to say the least.
I was born in 1970 and in 1968, York was under martial law with a race riot. What you're seeing in Ferguson today is a little of the environment that were born into as kids. We all went to the city schools. And then there was this whole exterior life where we were getting in a van literally in high school and driving to CBGB's. I can remember hanging out with Chris and Tina Frantz, I can remember many lectures by Hilly Kristal about the do's and the don'ts of business, we'd see the guys from Sonic Youth walking in and out, I remember seeing Joey Ramone in the room. Pretty soon we got a record deal by this little tiny indie label that was the Ramone's manager's record label and Talking Heads' manager's record label. Jerry was different from a producer. He was the pathway. Our connection, of course, when we were kids, all of a sudden now we're men, we have our own children and very much like Jerry had experienced with the loss of David Byrne in Talking Heads, we suddenly had lost Ed. Jerry comes in now as our peer and says, "Okay, well the things I didn't know back then I know now. I understand the elements that make a great Live record and I'm going to hold you to those tenets. It was different.
Jerry had that history, that experience from losing David Byrne. All of a sudden it was back to Jerry who had become a peer and I was saying to Jerry, "Wow, you've been here. How does this work?" Thank God for him. In some way a producer does act as a therapist to an artist, drawing out their best and their worst at times. Even where Chad, Pat and I had been comfortable working with Jerry, you'd see Jerry poking at Chris' shin. I was kind of sitting back and giggling even though I wouldn't outwardly do it, thinking, "Oh, poor Chris. We just threw him into the fire." Throw him in a room with a guy from the Rock 'N' Roll Hall Of Fame and he'll sort it out. He's going to tell you how good you are or how bad you are today.
MR: You had a history with the topics you guys write and sing about over all these years, so when you mention the producer as a therapist it's interesting. Creatively speaking, what has changed in your process since the formation of 2.0, even lyrically or topically?
CT: Well, fortunately, the very first step in bringing Chris into the band was reviewing where we had already been. We had to sand all of the paint off of the wood. We had to get back to the raw wood of it, meaning, "What are the essential elements of Live?" So before we started to write songs, we went to Live school. For the first time in my career I listened to Mental Jewelry front to back, then I listened to Throwing Copper front to back. I'm talking consecutively, with the whole band present. Mental Jewelry front to back, Throwing Copper front to back, Secret Samadhi front to back, The Distance To Here front to back. As enough space had gone by we could hear the change in the time. There were elements of songs where we said, "Why don't we do that anymore?" Meaning in Mental Jewelry there are boyish moments where we make sonic gibberish for no other reason than it's probably just sheer testosterone coming out of four boys. You can find that same elements in a Guns 'N' Roses "Song," -- and I'm using those quotes. It has nothing to do with the lyrics or the melody, it's just this sheer energy. We were like, "Okay, note to self, we stopped doing that, let's do that." Then we started to hear a usage over and over again of drone chords and even rhythmic structure where the guys were saying, "Taylor, you hvaen't played the guitar like that in years," and I thought, "God, I don't even know if I can. My brain doesn't work that way." But then, teaching those songs to Chris...
First of all, we had to relearn the drum parts and the bass parts and the guitar parts to make it sound like it did then. Then we're going to have Chris add on the vocals. Slowly but surely there became somewhat of a better understanding of who we were as a band than we've ever had than in the midst of the Throwing Copper, Secret Samadhi era. All of a sudden we were like, "This is the feeling of Live." Part of our confidence to continue forward with Live, by the way, came from that very moment. All of a sudden we started writing new songs and for the first time ever Live itself was influenced within Live. We had always looked externally. It would be a case of Picasso not painting for ten years and then coming back and saying, "What the hell makes a good Picasso painting?" It won't ever be the same, but the really refreshing this is that all of our peers that were coming into their own as we were working on Mental Jewelry and Throwing Copper -- the likes of Soundgarden, Pearl Jam, in later years Radiohead, Nirvana of course -- we didn't have those bands as an influence, they were just peers. We were doing our thing uniquely on the east coast and they were doing their thing uniquely on the west coast. There was a huge amount of respect in between the both, but they weren't influences.
Now, as adults, we've heard Nirvana, we love Nirvana, it's been an influence. Radiohead has been an influence. We saw a complete evolutionary change and second coming of underground music and indie music. This band, the new Live, is allowed to have those things as an influence, whereas the old Live was too mixed up in it to have it as any influence. So the thing that became clear is we really could embrace the heavier side of the band. Fortunately bands like Metallica, which was a complete underground band became mainstream. People heard harder music. We were allowed to express ourselves a little bit differently. But yet as you were saying, thematically, from a lyrical and a melodic side it was important that we push ourselves to write lyrics that once again were not coming from a position of knowing but a position of seeking and looking and asking the questions of ourselves not as we did when we were boys but as men. There is a change in perspective. I don't want anybody reading this to think the music has become old. If anything to me the music sounds much more youthful than where it had been.
MR: What is your favorite thing that happened out of this review process and the creation of the new Live? Was there something that synched-up like, "Ooh, that never happened before?"
CT: First of all, I have to just say that we're much more willing to be satisfied with expressing less. I could almost use it like The Rolling Stones. If you listen to all their early songs they're all really fast and up tempo and there's some melody or countermelody happening at every millisecond. There's a difference in the maturity that has evolved or happened now. I look at my band mates and I say, "You know, I should just not play here. I should just disappear." That happens in the drums, in the bass, in the melody." Chris, for example, has been very willing to say, "I don't think anything should go here. I just want the band to speak." That is probably the primary difference between youthful music and coming at music with more maturity.
MR: What advice do you have for new artists?
CT: Make music for yourself. I think that's the most important thing, that you turn yourself on. If you're going to make ensemble music in the band, make it about each other. About turning on that inner circle of friends. It's less collared, so the chips fall where they may. I think that too many young artists are concerned -- probably, by the way, because of the internet and the awareness of so many other things -- they're very aware of each other and the trends of music. Live's greatest blessing was being from York. Had we been New York City kids I'm sure we would've been influenced by any myriad of things, but by being in this isolated pocket and only concentrating on each other and making music that got us excited of course other people discovered us and got excited about the music. That's what Hilly Kristal saw in it. You have to think of that moment. When we went in and auditioned for Hilly Kristal -- I could only imagine the crazy bands that had been laid in front of him -- here were these four young boys from York, Pennsylvania, still in high school and playing music that at the time was of course not popular at all and he goes, "Yeah, I love this, I'll have these guys back next week." We were like, "Wow, cool, we get to play at CBGB, this is awesome." It makes it too small if you call it a "punk rock credo," because then what about the pop singers and the blues singers and the jazz singers. But it's not a punk rock ethos, it's more just, "Follow your own voice and make that voice the center of everything you do."
MR: What advice would you have told Live when they were first starting out?
CT: Pick a different name.
MR: [laughs]
CT: [laughs] Live was born of being in the moment and what's interesting is that one could never imagine search engines like Google and typing in "Live" and what you might find in this era.
MR: I noticed you guys have been putting the plus signs in front and back, it's interesting that you'd have to do something like that to differentiate for the internet.
CT: Also, when Ed left and we went into the hiatus, it was just the start of social media, so one of the crazy things now is seeing the fan interaction in real-time. It's a mixed bag and a mixed blessing. I really have enjoyed -- especially in the time off -- cultivating some relationships with fans that I wouldn't ever otherwise meet or know. For example, when you're selling millions of records, first of all I can't count in to the millions. I can't fathom or see those people. But when someone hits "like" on your Facebook page, you can see who just liked your Facebook page, and there's something incredibly intriguing about that. I will find myself less concerned about the comments and more concerned about, "Who actually showed up and paid attention?" Then it's crazy because you go down through and you're like, "Oh, wow, I didn't know we had fans in Nicaragua! I didn't know that we had fans in Istanbul. I didn't know that we had fans in South Africa." It's just incredible.
Literally, it is a global fanbase. Then what I find myself doing is clicking on their picture and it'll take me onto their page and I get to get even just a little topical glance of who these people are and I think to myself, "How in the world did my music from York, Pennsylvania, get to this person? What's that journey?" That is the mind trip of artistry in this day and age. There's never been a time to be more connected directly to your fanbase than ever but then again on the other hand we've never had a society ever be so disenfranchised and distracted by so many opportunities and so many things in life. When Live released its first record in 1991 music was the only social source. It was the only thing to separate yourself from your parents and draw you into your friends. Now there's all kinds of things, video games and movies and social media on top of it. It's a completely different society, it really is. it's much more distracted.
MR: As Live goes forward, what's the mission? How do you envision Live's future at this point?
CT: The version of me that was the teenager that started the band, I thought it would go on forever and ever. I also really did believe that it would always be Ed, Chad, Patrick and I. I really did. Number one, it's clear that I was definitely wrong about that, and two, I really don't think that the band will go on forever and ever. I think what was most important for us as artists was to come back at it and prove to ourselves that we had the mettle to make music that mattered first and foremost to us and then throw it out there in the world and see what that means. I don't know what that means towards the next iteration of the band. What does the next record look like? I don't even know. It's too new for me to even know. It's more like you're talking to Metal Jewelry Chad. I have no idea. To be honest, I didn't even know that Throwing Copper would sell any records. I listened to that record and said, "Well this will be the biggest thing since sliced bread." I didn't really think that, I just knew that we had made a record that I liked, and I kind of feel the same way about the band now. Part of Live's history is that we of course made music I didn't like. There are records of ours that I won't turn on, and that's okay. It's okay to make bad art as long as you're going all in. My biggest issue was that I didn't really feel like we were going all in. Now I feel that way again. I think we're fully vested.
MR: Do you have any goals beyond Live? Getting involved with other people or scoring or...?
CT: [laughs] If I told you what my everyday life was like, you wouldn't believe it. Chad, Patrick and I own a telecommunications company. We own a few data centers and a fiber optic line that goes from New York City down to Virginia, we own a land leasing development company. We owned a film company and we sold that. We sort of have some other stuff that's really exciting for us, but what's most important of course is that I see all of those other things as the day job to the night job that I enjoy so much, which is music. I can work on those other things and then when I get to put on my guitar I'm like, "Ooh, special times." Which was the exact same feeling as when we were in middle school and I can remember specifically waiting on a Friday because I was so excited for school to get out so we could get to the garage and start rehearsing and playing. It's very much the same way.
As a group of guys, we came into York, Pennsylvania, our home town, and we bought this giant old factory. It was a 55 thousand square-foot factory and we refurbished it from bottom to top and we built a world-class recording studio in it, eleven bedrooms here, and we did this all in the most impoverished neighborhood in York. We created a hundred and 75 direct jobs just in this building alone. For me, yeah, putting out the record is incredible, but changing people's lives and changing the local economy from where I was as a kid moves me forward. It gives me daily purpose. So when you say, "Would you get involved in other things?" it's like yeah, we absolutely would. Outside of the band, I've produced two feature films. My last film was called Another Harvest Moon and it starred Ernest Borgnine in his last leading role before he passed away. Doris Roberts from Everybody Loves Raymond was in it, Richard Schiff from The West Wing, Cybill Shepherd was in the film, it had an incredible ensemble cast. So yes, I've dabbled in things outside, but I'm best suited with a guitar in my hands to be honest with you.
MR: It seems like Live's always had a global perspective, and that your aspirations and your outreach are always going to be a little bit larger.
CT: Definitely. My whole life I've been condemned for being a serial dreamer. I was the kid in school who had drool coming out of my mouth as I stared out the window and dreamed about some life outside of school, and then of course eventually I told my parents and the rest of the band's parents that we could make it as a band, and I was chastised for that. Actually not only by the parents but by the whole of the local community. I've experienced that in several iterations. I remember even telling my bandmates at some time that I wanted to go make feature-length films and they were just kind of like, "Okay, whatever," but we headlined the Hollywood Film Festival and won all sorts of awards and stuff like that. I guess the difference is that I look at dreaming as the earliest stage of planning. I'll dream of something, I'll hear it in my head or envision it and then I'm able to work that back into tangible elements that are writing a record or writing a song or coming up with how we're going to impact our community. I don't know why I'm able to do that. I have to admit that it's both a gift and a curse, because it's one thing to have somebody always looking at you sideways like, "Really what are you up to?"
I'm severely dyslexic and I only learned that because my eldest daughter who is now sixteen, when she was three or four years old we were told that she would never read or write. Fortunately she's done just fine with that, but part of the testing in identifying this disorder was also testing mom and dad, and it turns out it was all me. Then all of a sudden this lightbulb turned on in my head and I was like, "Part of what has made me tick and think outside of the box my whole life is just that I've been forced to do it." I've been forced to learn in a way that most people can't or don't, I've been forced to think a way that most people can't think only because it's really a genetic disorder. And again, that's why I've said it's both a blessing and a curse. Part of the impetus to start the band was that I was deathly afraid of going to college. I knew that I was struggling in school to keep up with my peers and there was a part of me that said, "Man, if I could just get these guys to hold together, I know we're good enough and we can make it." A lot of that was that fear, but as an adult I can look back and say, "Well that was a blessing." Who knew? Everything I've read about it certainly lays with a lot of top-level CEOs who used that to their advantage. I guess for me it helped out with my artistry.
MR: You must be very proud of your accomplishments in York.
CT: Last year, Tom Corbett, who is the Governor here in Pennsylvania, awarded Live the Governor's Arts Award for Innovation in the Arts. The concept behind the award was that it went further than just writing a song or being in a band, it was actually using the arts to impact your community. I would probably tell you that it meant more to me to be recognized for bolstering my community and returning to it and any music award could mean. It's the first time really that the state reached out and supported us. Of course the two don't really go together. When we were kids we probably wouldn't have accepted the award, that's just the truth. But as adults now you start to look back. Especially here in York we get calls multiple times a week, "Can your band play at this charitable event or that charitable event," and the truth is there's just not enough time or days in the week or probably even tickets to be sold for charity to justify doing it. "Okay, so if we can't do that, how do we give back?" and for me, that meant jobs. Jobs create sustained impact on an economy.
We rotated our businesses in downtown so hopefully they'll help fortify the school district and help build jobs. If you don't know this story, a gentleman named Don Karn was our middle school orchestra instructor, he's the guy who actually put Live together. He literally said, "Okay, Chad, Chad and Pat, you guys should join forces," there was a talent show and he put us together. Our very first rehearsal was in his living room. That's the kind of bond that you don't ever forget. Don is actually still teaching in the school district and a great friend of ours still working with and inspiring youth. It's a circle. Not to go all Elton John on it -- or I guess we could use Live and say "Lightning Crashes." There is some sense that the town we all ran so hard from and tried to get out of, returning to it and having it embrace you, it's pretty good stuff for us. You used the term pride, and you're right. We have a lot of pride not in ourselves but in this community.
MR: What are you personally looking at next? Your next big developmental project?
CT: For me as an artist, the thing that I come back to all the time is conscious activation. Teaching people how to realize and attain their dreams and goals and aspirations and how to manifest that. That's all I'm talking about down to our employees, my children, anybody I can influence in my community or my world. This constant idea that you can choose your own thoughts. If you can choose your own thoughts then choose well. What does that mean? It means we get to choose well for ourselves, choose well for our families, choose well for our local community but then also choose well for our global community. By narrowing it down to just thinking about how you think and how you process your thoughts, that's the biggest lesson that I've learned and the biggest lesson that I can teach.
Transcribed by Galen Hawthorne
******************************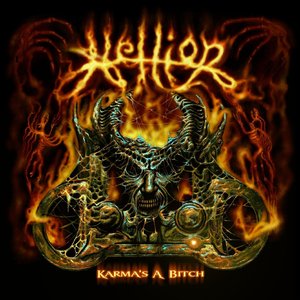 A Conversation with Hellion's Ann Boleyn
Mike Ragogna: Ann, you are closely associated with the term "speed metal" since, well, you invented it. You've been a major KROQ personality, you owned the New Renaissance Records label, you're an icon for women's empowerment, and your group Hellion released a double disc -- not a single disc -- anthology, To Hellion And Back. Oh, and your latest release is the new Karma's A Bitch project. It seems like you've got achievement issues.
Ann Boleyn: Necessity is the mother of invention. When you find yourself backed up against the wall, you have a choice to make. Are you going to start complaining? Or, are you going to take action and try and make things better? It's as simple as that.
MR:Karma's A Bitch is being called a "mini-album." First of all, why did you take that approach and what was it like working with Ken Scott? What did he bring to the mix that made the process different or enhanced?
AB: Hellion first worked with Ken Scott in 1985. In the 1980s, musicians came together in a recording studio and it was the producer's job to capture the magic moments. Today, however, most bands create their albums on home computers without the live interaction of the musicians. When we started work on Karma's A Bitch, it was very important to Hellion to capture the spirit of the musicians performing together, as opposed to simply emailing music files over the computer. Ken Scott was the perfect person to help. Recording in a traditional studio is expensive. We decided we'd rather have five songs that were recorded in the traditional way, than have a full length album recorded on a computer. Ken Scott helped by bringing out the best performances out of everybody."
MR: What are you looking for out of the writing/recording process these days that differs from the early days? Do you miss those early days?
AB: I prefer the "old-school" process of having live musicians in a recording studio. While technological innovations are a good thing, there is no substitute for the magic that occurs when a group of like-minded people are playing music at the same time.
MR: Where do you think Hellion fits in the history of metal? What do you think is its significance and what separates it from other bands?
AB: When Hellion started in 1982, most music business people in the US viewed female-fronted heavy rock or metal bands as nothing more than a gimmick. I remember being asked, "So exactly what is it that Hellion does? Do you come on stage in lingerie? Do you blow-up TVs? Are you available for fun and games after the show?" Early on, we were approached by Ed Leffler, who managed Van Halen. Ed said that before he'd manage Hellion, that I would have to agree to breast enhancement surgery, bleach my hair, fix my teeth, fire our guitarist because he as too tall, and to perform pop-rock music that was written by outside writers. These demands were typical of the offers and we received. Despite the '80s stereotypes and sexism, Hellion eventually moved forward by performing outside the US and by signing a record deal outside the USA. Later, when we couldn't get a record deal in the USA, I formed my own record label, New Renaissance Records."
MR: Of course, I was kidding earlier with that list of your achievements, but you've been a contributor to the field of music for many years. What drives you and do you take a moment to appreciate the bigger picture and what you've done to this point?
AB: I am not a happy person unless I am involved in music. During the periods of time when I had problems with stalkers and could not perform, I was absolutely miserable. Having the opportunity now to tour is something I appreciate very much. I don't take anything for granted.
MR: At this point, would you and the band ever consider morphing into another kind of music, like incorporating the blues, etc.?
AB: The people who come to see Hellion expect and deserve to hear heavy rock and metal. However, at the same time, its important for every member to have the freedom to explore other styles -- myself included. I just received an offer to perform in Europe next year with four other female metal singers, on a tour with a symphony orchestra. However, when it comes to Hellion, metal will always be our main focus.
MR: What advice do you have for new artists?
AB: My biggest career mistakes were caused by my own fear about asking questions. It was not until years later, that I learned that some of the people I considered to be my biggest enemies, were actually my biggest supporters. Likewise, I learned that some of the people who I considered to be my friends, weren't. If something feels wrong, it is important to go to the source and ask -- even if you are afraid of getting the wrong answer.
MR: What's the tour going to be like?
AB: Hellion has our best line-up ever with Simon Wright -- formerly of AC/DC, Dio, and UFO -- on drums, Scott Warren -- formerly of Dio, Heaven & Hell, Warrant, and Type-O Negative -- on keyboards, Greg Smith--formerly with Rainbow, Alice Cooper, Wendy O. Williams, and more -- on bass, Maxxxwell Carlisle on lead guitar, and Greg Dolivo -- of Rhino Bucket -- as our special guest on rhythm guitar. It is an honor to have them in the band. Hellion just completed the first few shows of the tour and it is going really, really well.