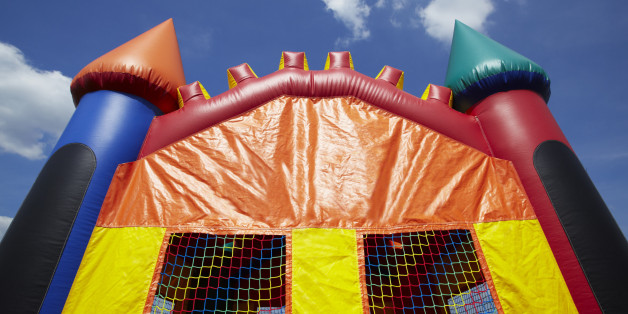 It's funny, the places where you sometimes discover your kids are older and better prepared than you thought to handle all that comes with being a human. Like in a bouncy castle at a birthday party.
All I heard was this: "Leah, come help me."
It was directed at my daughter from a boy who wanted to crush all the yellow inflatable logs in the castle. That he immediately thereafter darted up the climbing ladder and down the slide on the other side made no difference to me -- he had used my daughter's name, and he had asked her to play with him.
To some, that might not sound like much, but to a parent of a shy child, hearing that simple phrase directed at her made me realize I'm not parenting a toddler, I'm parenting a big kid. A big kid who's going to be just fine.
As a quiet and shy person who constantly battles self-doubt and depression -- as a person who sometimes feels invisible, or visible only to make other people feel better about themselves -- I worry that my shy daughter will silently fight the same battles.
But, there's something about hearing other kids talking to your child and using her name.
"Leah, come help me."
She's not invisible; she's a friend.
She's not being laughed at; she's making others laugh.
As they shout her name, asking her to help them topple some inflatables in a bouncy castle or to have some of their birthday cake, I'm reminded that she'll be OK even if she'd rather answer in nods and hand gestures than lengthy sentences. She wears a big smile that reassures me better than any words she could use.
It's me who worries about her and whether or not she's comfortable making friends her own way. But I don't need to, because she shows me more often than I've taken notice that she knows better than I do how to make new friends.
Because of her, I'm reminded that quiet doesn't mean friendless. That the introvert and the extrovert can coexist.
She reminds me that she's my adventurous little girl who spends as much time telling stories in her head as she does out loud.
Like Us On Facebook |

Follow Us On Twitter |

Contact HuffPost Parents
Also on HuffPost:
PHOTO GALLERY
Love in One Photo