In case you live under a rock, Hurricane Sandy was no joke -- it was a holy terror. I recently witnessed Sandy (from the inside looking out) systematically demolish parts of a city and its surrounding areas that I really love. With so many things in the path of destruction, the cleanup and reconstruction feels like watching a giant machine trying to pick up a billion match sticks one at a time.
On one-hand you have the well-documented story surrounding the calamity, with the dramatic pictures you see on the evening news. On the other hand are all of the special people, organizations and agencies that are heroically and unselfishly rallying to the aid and support of people and areas that are affected.
Different areas were affected completely differently and this is creating a gap on the perception of what this storm did. Let's look at Lower Manhattan. For seven days after the storm it was a bust -- totally a disaster from 40th down -- no lights, no power, and major flooding. Upper Manhattan looks almost like nothing happened. Look at the New York and New Jersey coastlines, homes were completely water-logged and some washed off their foundations. In Staten Island they have the highest death count of any borough or area. In NYC there are reports of 43 deaths caused by Sandy, 23 of those are on Staten Island alone. Brooklyn, Queens, New Jersey, Connecticut all in shambles.
I am currently staying with my wife's family in Staten Island not even a mile away from some of the most devastating destruction.
On the bus last Friday heading to Manhattan in the a.m., police said they have almost 60 million gallons of water in the Brooklyn Battery Tunnel. People were waiting for up to three hours for gas and losing it.
There are reports of fist fights over the last slice of pizza at the local restaurants. Here are some pictures of 40th and 5th avenue, aka the center of the universe, pitch black like a war zone, creepy is an understatement.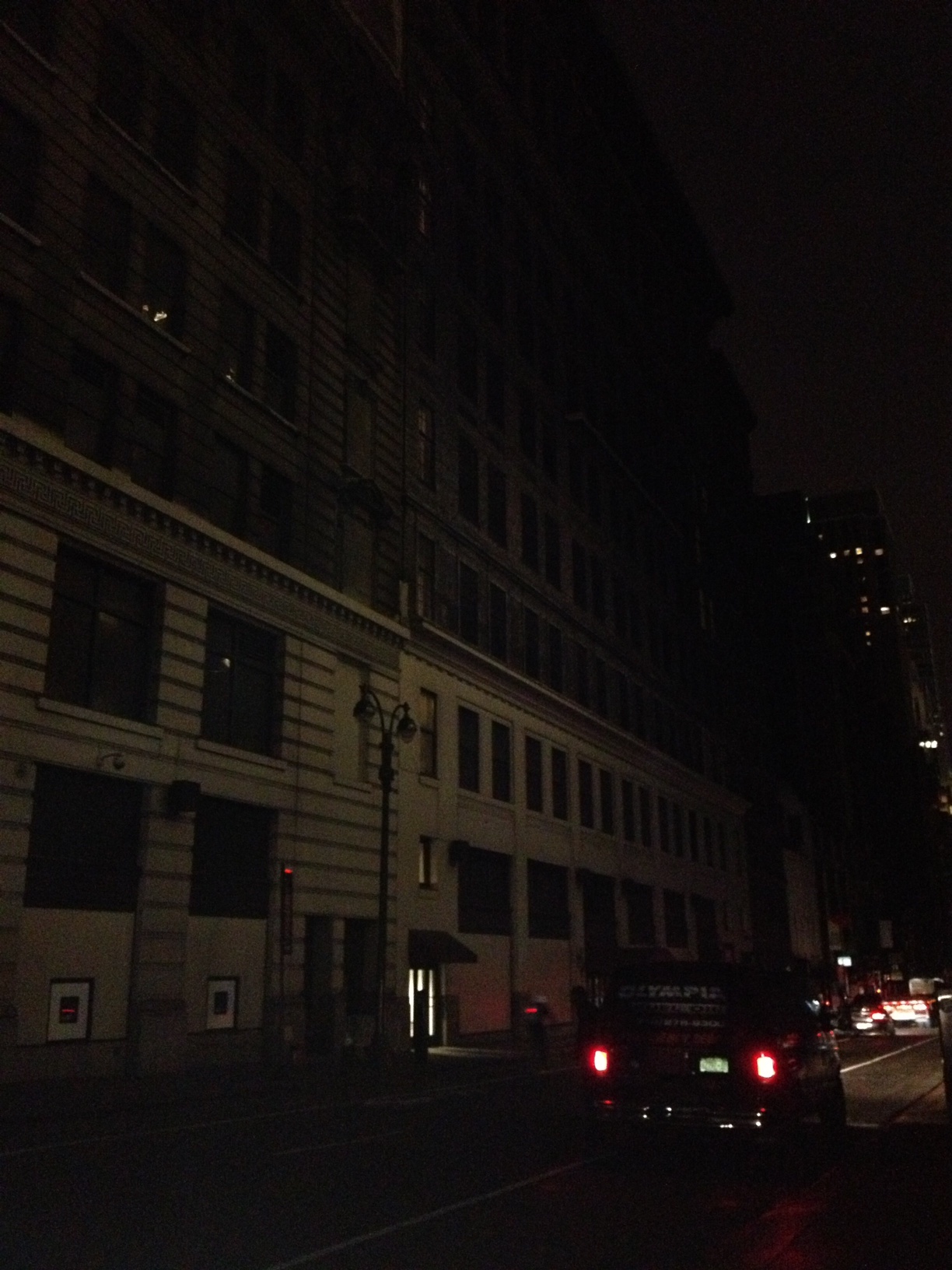 Another of 23rd and Madison and another taken from Edgewater, N.J. looking onto a half dark Manhattan skyline.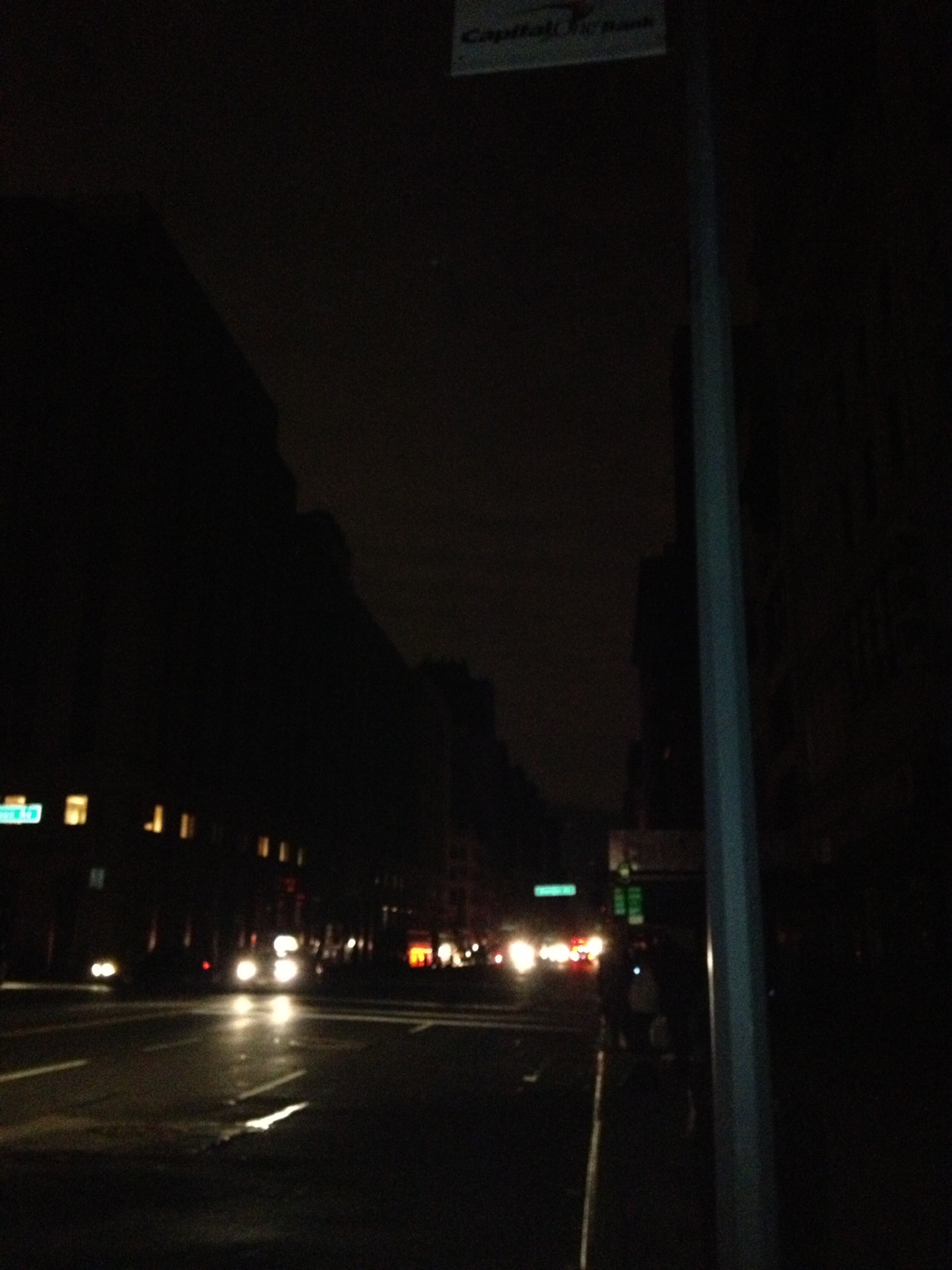 Here are some of Staten Island, a minute from where I slept: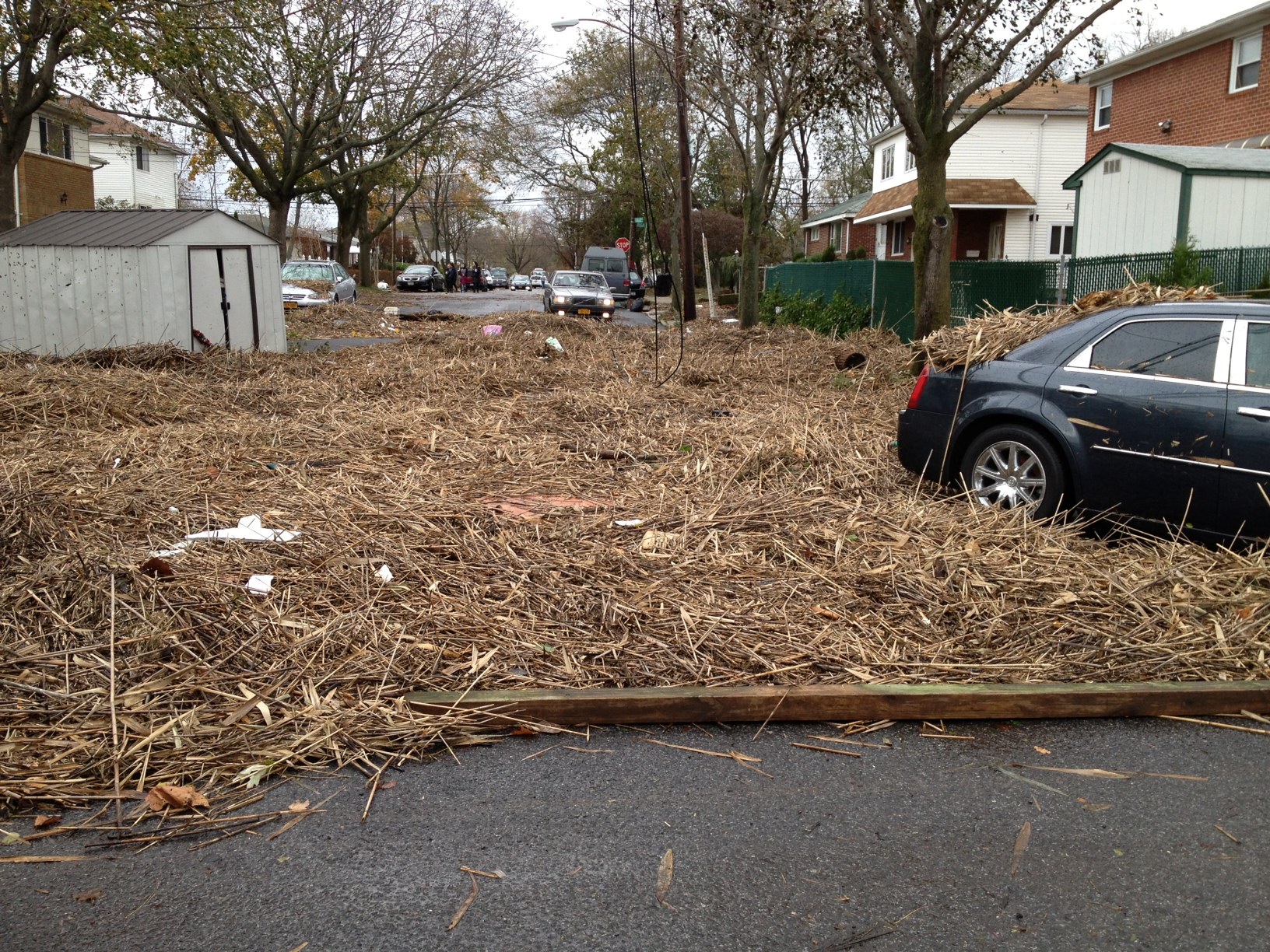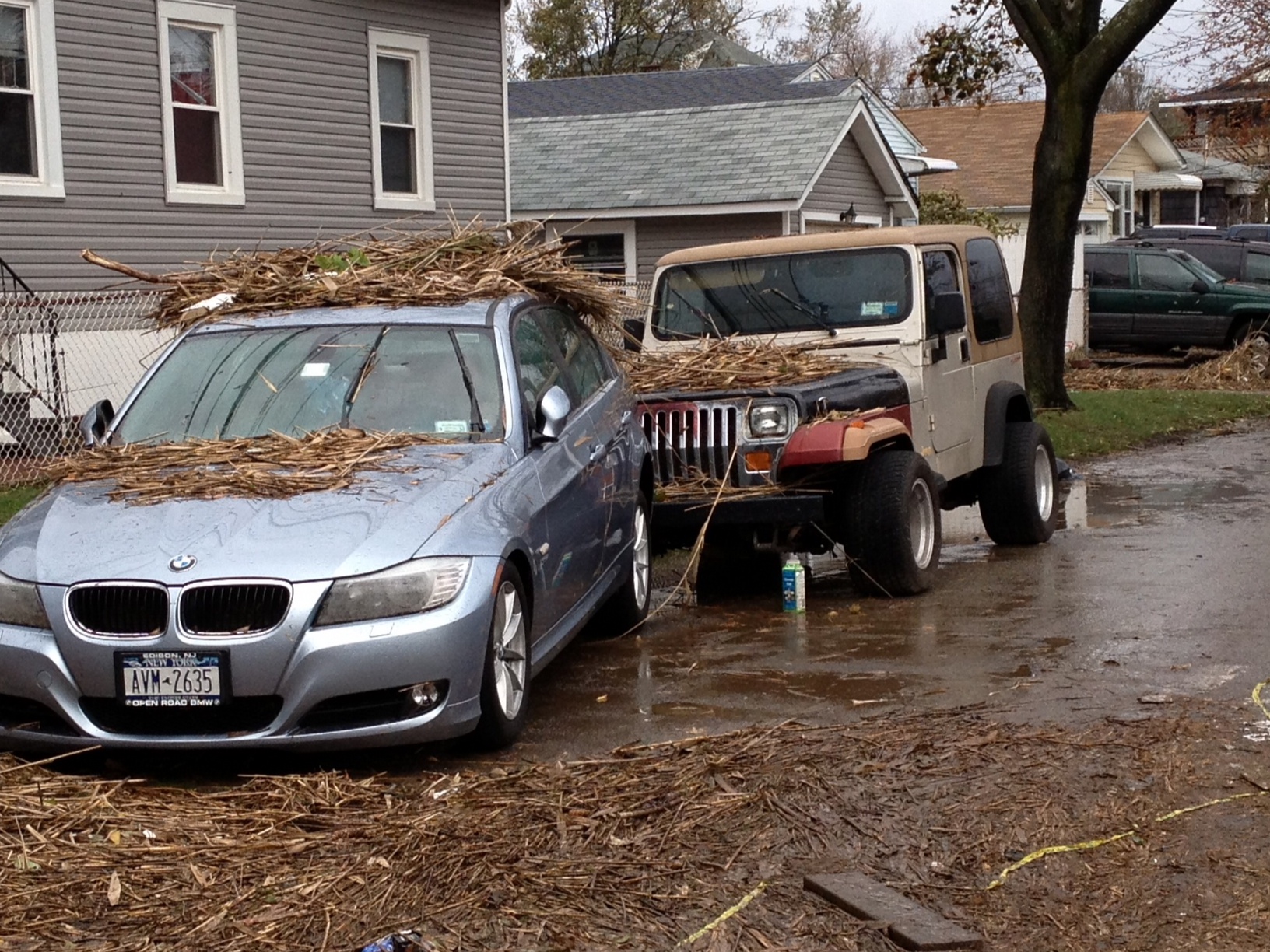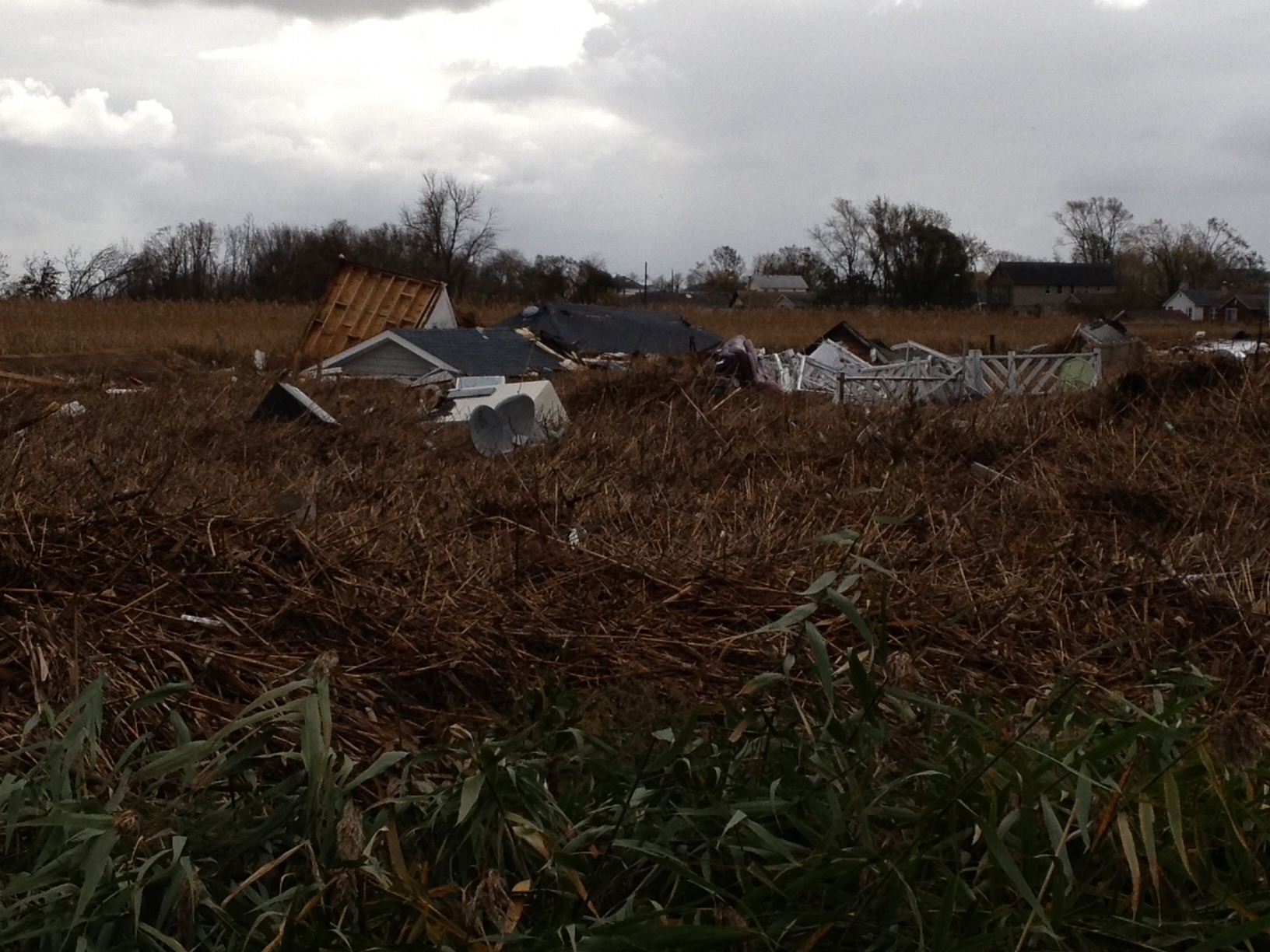 It's hard to imagine how they are going to fix all this, but NYers are strong people. It is now a little over two weeks later. There is still a large number of residents without power all over the Tri-state Area, the nor'easter that hit us nine days after Sandy didn't help either. With that aside it is important to point out that within six days of the storm, Manhattan was hustling again. Things do feel like they are getting back to normal for the majority however there are still a lot of people in need of assistance.
Let me share with you, firsthand some of the amazing stories of HELP that I've seen coming out of the challenges of Hurricane Sandy.Well let me give you a small example:
Today I am sitting in the basement of R/GA (a digital agency based out of NYC that my wife works for). The company has offered family members a place to stay warm, charge devices, have some coffee, a little bit of food, take a shower and so on. During the disaster, they did things like create an emergency Twitter feed to set up a life-line amongst their employees around the city.
They used technology to help and guide their team and their families. Some chimed in sharing information and updating each other on unsafe locations, what to avoid, how to keep in contact. People in the various teams rallied to the aid of each other. And as the storm passed and people were left stranded in areas with little or no power, the company organized shuttle to pick up employees from Brooklyn to the office, which helped elevate a lot of scary commuting in the dark.
It was inspiring to witness the "actions rather than words" of outstanding corporate citizens and to be an unexpected and welcome beneficiary of their generosity. They harnessed the technology they use in everyday life and applied it to connect and help people at a time where it was most needed and probably least expected. They are a digital agency -- not a water company or a construction company and they helped their people. Other companies can and should do the same, plan and mobilize relief activations with their teams -- start their own emergency response initiatives and help others without waiting for initiatives to find them.
So, this brings me to my next point... Getting the help that is needed; to where it is needed. Collectively relief organizations need to bypass the bureaucracy. Many people want and need help still, even though the city is hustling again there are thousands and thousands in dire need. FEMA is going to take a while to get people straight, the process is not conducive to immediate action and even though the hearts and minds of everyone are in the right place, the lack of immediate access to help is far in sight. These folks need to transition back to a functioning role in society.
What is needed is to forgo the slow-moving beast and empower individuals to act and make the call on the spot to offer real assistance. Corporate America could be the fastest pathway to making this happen, if company executives could empower their middle management to help people on site at that moment and create real impact as part of their social initiative. Where am I going with this? The red tape needs to go -- and we need more doers and less talkers to step up and make things happen. Many organizations have money put aside for social and community profiling. What better way to jump-start that by helping the Tri-state Area get back on its feet.
With that being said there many organizations that have started within our communities and agencies that are helping everyday. Our neighbors all around us are volunteering sorting clothing, food, school supplies etc to get to those affected. If you want to help in the ongoing effort there are several organization that have started various registries to help. Here are a few:
Hurricane Sandy Clean-up & Relief
Sandy Wish List -- School Supplies
Victims of Hurricane Sandy in the Greater NYC Area
Hurricane Relief Fund, is accepting donations here.