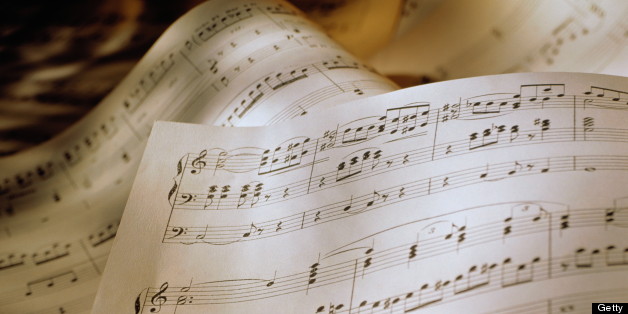 It surprises no one that D.C. is filled with Hill staffers and lawyers. But how many people realize that our nation's capital is overrun by choirs? A 2009 Washington Post article asserts that the District is widely regarded as the capital of choruses as well as the free world.
In such a high-powered town, the arts don't come to mind first. You think of restaurants and bars if you're a foodie, or running marathons if you're super Type-A. But dig a little deeper and you'll find a robust artistic community, including, for whatever reason, tons of us who love to sing in groups.
Ben Olinsky was one of those young Hill staffers in D.C. He was also the conductor of several extracurricular musical groups while a student at Yale, ranging from the Bach Society Chorus to an a cappella group called Out of the Blue. Faced with the choice of where to keep up his singing hobby after graduation, he surveyed the many options before him -- and proceeded to create an option of his own, one where young professionals in particular could find a home. And thus the 18th Street Singers was born.
Today the Singers are 45 voices strong, and in many ways we resemble a professionally-run arts organization. But in 2004, it began humbly, with Ben trying to assemble just enough people to reasonably pull off some basic repertoire -- about a dozen or so voices. Once confident enough to hold up in front of an audience, the original group put together our first concert, gathering our friends to come see us. The initial goal was less to impress the crowd and more to delight them. And that meant shaking up the traditional concert format, making choral music more accessible to those without a classical music background.
A funny thing happened: With all these ambitious, Type-A personalities in the group, we steadily grew -- in quality and in numbers. Soon we were tackling all kinds of music, from the complex works of Brahms and Beethoven to original arrangements of our favorite pop songs. This was a new thing -- neither traditional choirs or a cappella groups were covering this range of artistic ground.
With the amount of fun we were having, and the ever-improving musical results, I don't want to consider our success a total shock. But it's worth mentioning that we are a bit of a black sheep in the D.C. choral community. Established institutions dominate the cultural landscape here -- the Smithsonians, the Shakespeares, the Kennedy Centers -- and with good reason. However, small local acts are left with less room to compete for attention. The choral world is no different. Ask people to think of a choir, and most picture 150 robed figures bellowing the Hallelujah Chorus. That's what the masses like in D.C., and many of the ensembles in this choral mecca fit that need very well. We flew under the radar.
I found out about this group in the midst of a shift. After being in the shadow of the town's cultural giants for so long, they found out about us, and we began partnering with them. Invitations to perform at the National Cathedral and the Music Center at Strathmore found their way to us. I can clearly remember four years ago attending a sold-out show in the Kennedy Center Terrace Theater, wondering who the 18th Street Singers were and if they'd be any good. What I didn't know then was they had never performed at the Kennedy Center, and the organization ran solely on volunteers. And also, that I'd be convinced on the spot that I desperately needed to be a part of it.
The increasing visibility has signaled an evolution in our approach, and a newfound desire that we didn't know we had: to be serious players in Washington's cultural life. We now balance multiple priorities -- our original intent to be a group of friends, and a relationship with the public that is ever more aware of us. Through our growing pains, we're still guided by those first years. We became who we are by discovering the magic formula to making choir music cool to our friends.
On Saturday, we'll step onto a new stage, and begin another new chapter of sorts. After focusing much of our energy in the past few years on building a reputation in the classical music community, we perform at Sixth & I, known better for hosting rockers and comedians. In one sense, it's breaking another boundary. Putting choral music alongside indie rock is something else we didn't think we'd be doing nine years ago. But in another, we're coming full circle. We're right at home singing for young professionals who aren't used to choral music. This time we'll just be doing so at a much hipper venue.
The 18th Street Singers perform at Sixth & I on Saturday, June 29 at 8pm. The program, "Defining the Times: American Music Through the Generations," features selections from American classical, jazz, and pop artists and composers, including Aaron Copland, George Gershwin, Leonard Cohen, Boyz II Men, Louis Armstrong, Fun., and many more. Tickets are available at the door or at www.18thstreetsingers.com.