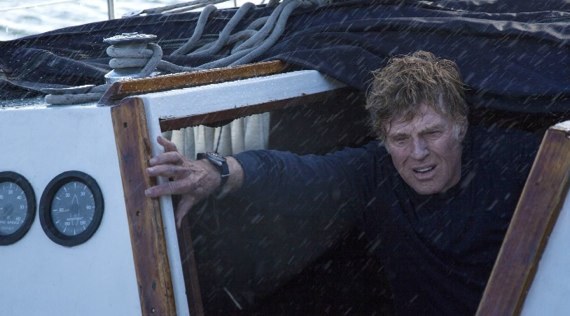 After certain movies end, all you want to do is give a cab driver $50 with the instructions to "just drive," a la George Clooney during the closing credits of Michael Clayton. Let's call those kinds of movies "$50 cab ride movies." All is Lost, starring Robert Redford (which premiered at the Cannes Film Festival in May and is playing at the New York Film Festival), is a "$50 cab ride movie."
As it turns out, I don't really have an extra $50 laying around just to give a cab driver for overly dramatic purposes. (To tell you the truth, I have no idea if a cab driver would accept this proposition without a specific destination. Most likely, he would take the money and roll his eyes because he's probably seen Michael Clayton.) Instead, I walked home from recent screening of "All Is Lost" and listened to Radiohead's "Karma Police" on repeat at least eight times.
I've never felt a strong emotional bond to Robert Redford. He's an actor I've always admired, but I grew up watching the Legal Eagles and Indecent Proposal version of Redford, not the The Sting or All the President's Men version of Redford. (Thanks to my mother who didn't want to pay for a babysitter, the second movie I ever saw in a movie theater was Redford's directorial debut, Ordinary People, which didn't quite have the same impact on a 6-year-old that it did on the Academy of Motion Picture Arts and Sciences, which awarded Redford an Oscar for Best Director and Best Picture.)
All is Lost is only the second movie Redford has starred in since 2007's Lions for Lambs (the third will be next April's Captain America: The Winter Solider), and only the fourth in the last 16 years that he didn't also direct. Robert Redford is obviously still around -- as anyone who attends January's Sundance Film Festival can attest -- but he hasn't been around that much at your local movie theater. This only adds to why All is Lost is such a surprise, because this movie is all Redford. Literally. In that there are no other human beings in this movie other than Robert Redford.
Redford plays an unnamed man who is lost somewhere in the middle of the Indian Ocean. The film starts with Redford's character (who will now just be known as "Redford" since we don't know this guy's name anyway) penning a letter to God-knows-who about his imminent demise -- his voiceover actually does use the phrase "all is lost" -- then we flash back to eight days earlier to see how he got himself into this predicament in the first place. Put it this way: If at any point during Cast Away you thought to yourself, Boy, Tom Hanks sure does have it easy with that whole island to himself and all, then All is Lost is going to be your type of movie.
What's interesting is that the initial problem -- a small hole in the side of Redford's sailboat caused by an impact with a stray Indonesian shipping container -- doesn't seem that bad. But things continue to get worse and worse and worse. Nothing insurmountable, but the clock is ticking on how long he can survive by himself floating in the middle of an ocean.
But, boy, we really get to know Redford in this movie. What's even more remarkable is that there is hardly any dialogue -- not even a voice-over, save for that opening shot. One of the few words spoken in the film is a desperate "fuck!" that, honestly, considering the situation, I would have been yelling far sooner than Redford does.
As someone who didn't grow up with Redford's '70s movies, this, in 2013, is the Redford movie that I've always wanted. For the first time, I felt a connection with Redford that didn't involve his film festival or him propositioning Demi Moore for sex.
I've heard some rumblings that the 77-year-old Redford should retire after All is Lost. As a way of "going out on top." Obviously, with his involvement in "Captain America," that's not what Redford has in mind. And, honestly, why should he? He's in great shape (and is a lot more physical in All is Lost than expected) and if he can continue to get great roles like this, of course he should keep acting. And, yes -- perhaps selfishly - after watching what he did in All is Lost, I want to keep watching him perform. (But, in the future, I might bring $50 with me, just in case.)
Mike Ryan is senior writer for Huffington Post Entertainment. You can contact him directly on Twitter.
PHOTO GALLERY
Celebrity News & Photos