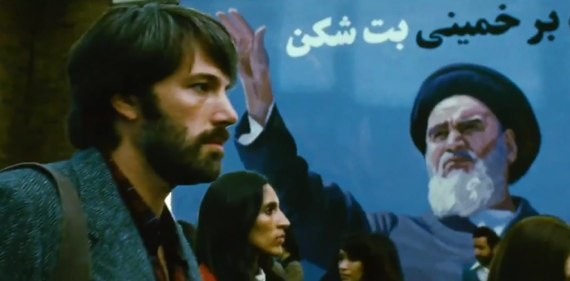 What Ben Affleck has done with his career is quite remarkable.
I mean, sure, there have been reclamation projects before -- even George Burns found himself a second career as he was pushing 80 -- but for Affleck, in nine years time, to transform himself from an actor starring in Paycheck to the respected man who directed Argo is unprecedented. Ah, yes, as for Argo ...
Personally, I'm not the biggest fan of writing first reaction pieces. I remember walking out of The Perfect Storm of all things and thinking it was one of the greatest spectacles I had ever seen. (For the record: The Perfect Storm is a fine movie.) But, alas, here I am, writing a reaction piece to Argo, which just had its first screening at the Toronto International Film Festival. Eh, to hell with it -- I loved it.
The thing is, my expectations for Argo were high. (I even listed it as the film I was most looking forward to seeing at the festival.) This is always dangerous because nothing dooms a movie like high expectations. But, boy, I was really rooting for Affleck. I wanted to see his reclamation project -- the one he started with Hollywoodland, Gone Baby Gone and The Town -- to completion. As it turns out, Argo is Ben Affleck's personal masterpiece. And, no I can't believe I just wrote that last sentence either. (And this has nothing to do with the multiple Star Wars references laced throughout the film. I swear!)
Argo is the true story of CIA agent Tony Mendez (played by Affleck). During the Iran hostage crises, six Americans secretly escaped the American embassy and took refuge at the home of the Canadian Ambassador (Victor Garber). To sneak these six out of the country, Mendez devises a plan to create a fake science fiction movie -- titled Argo -- and use the film's production as cover for the six refugees to make it out of the country. Posing as Canadian filmmakers, the now seven (with Mendez) Americans hide in plain sight.
The extent to sell Argo (the fake movie, not the real one) is fascinating. Mendez recruits Oscar winning make-up artist John Chambers (John Goodman) to help put Argo into production -- which includes everything from a producer (Alan Arkin) to a public table read (with, of course, the press in attendance) of the script.
What's interesting about Argo (the real movie, not the fake one) is how the film holds its tension even though I already knew the general outcome to the story. Classified until the Clinton Administration, Argo sets in motion one of the ballsiest -- and strangest -- rescue missions ever attempted. The Americans have no weapons or support -- they're only armed with a few scripts and new identities that better be memorized before someone sticks a gun in their faces while asking questions. The tension mounts because their stakes were even higher than the hostages still at the embassy (if caught with fake identification, the seven would have been labeled as spies and executed immediately). And for how ridiculous the premise of this escape attempt is, nothing is played over-the-top -- there's a constant, understated energy to the direction of the film as well as Affleck's performance as an actor.
Back to Affleck: Before the film started, a group of us sat in amazement as the buzz churned its way through the theater. I mean, this is for a Ben Affleck movie. If someone from the future had told me five years ago that I would travel to another country to watch one of the most anticipated films of the festival ... directed by and starring Ben Affleck -- I would have probably said, "Oh, that's fun. What country is future me visiting? Oh, and who wins the World Series for the next five years? Also, how does Lost end?" But, hours later, after all of my completely reasonable questions about the future had been answered, I'd say, "Wait, did you say Ben Affleck?" But that's how far he's come: From a punch line to, in a perfect world, another word that start with a "P" -- that would make this piece end with a zippy-type line. But, in the meantime, while I'm searching Thesarus.com, I'll just use "respected filmmaker."
Mike Ryan is senior entertainment writer for The Huffington Post. He can't get over how clean Toronto is. You can contact Mike Ryan directly on Twitter.
EARLIER:
PHOTO GALLERY
'Argo' Reactions At Telluride