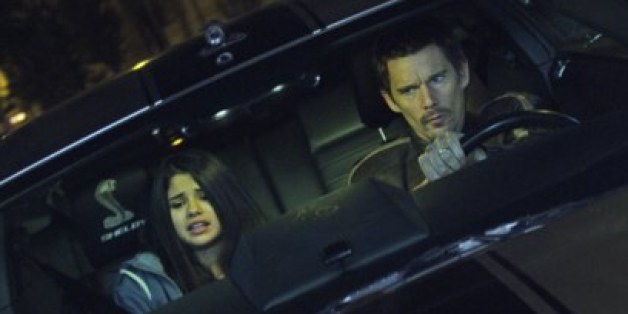 Getaway, in remarkable fashion, is holding on to a 1 percent rating on Rotten Tomatoes as I write this sentence. That firmly entrenches the film as the worst-reviewed movie of the summer. I can only assume this assures that Robert Luketic is going to have a hell of a Labor Day weekend celebration party.
That said, it is Labor Day weekend (and the sun is shining here in New York City), so maybe we should look for some positives about Getaway. Not that there are many: Getaway is atrocious. It's one long 90-minute scattershot car chase. (There's something about Ethan Hawke's character's wife being kidnapped, forcing him to go on a vehicular rampage through the city of Sofia, Bulgaria. But, really, it doesn't matter.)
At this point, though, listing out its faults is only piling on. So, here's my best attempt to say 15 (nope, couldn't do it) 10 nice things about Getaway.
1. No joke: There's a 90-second scene near the end of the movie that is wonderful. It's a first-person continuous shot from a camera mounted on the hood of a car that puts the viewer right smack in the middle of a car chase. (David Ehrlich at Film.com has a nice chat with director Courtney Solomon about that scene.) It's just a shame that the entire movie isn't like this.
2. The car used, a Shelby Mustang Super Snake, does seem like a cool car.
3. There is no World Engine. (I am open to the possibility that a World Engine could have made this movie better.)
4. Jon Voight -- who plays the villain in this movie -- was also in Midnight Cowboy and a memorable episode of Seinfeld.
5. Jon Voight's villain does not turn out to be Khan.
6. Ethan Hawke has a nice haircut.
7. The constant look on Selena Gomez's face that says, "I am a serious actor now."
8. The constant look on Ethan Hawke's face that says, "This will pay for that addition to our house that we've been talking about."
9. No animals were harmed in the making of this film.
10. The 2013 summer movie season is now, officially, over.
Mike Ryan is senior writer for Huffington Post Entertainment. You can contact him directly on Twitter.
PHOTO GALLERY
Celebrity News & Photos