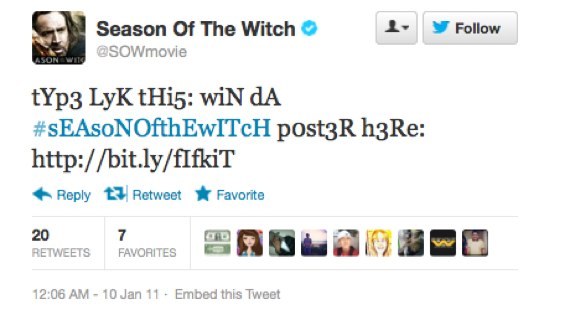 To market new movies, studios often create a Twitter account to aide in the publicity push. Here's one for the upcoming Arnold Schwarzenegger vehicle, The Last Stand. If you want to updates on The Last Stand, you could follow that account and get a constant reminder that The Last Stand is coming out on Jan. 18. But what happens after Jan. 18! Unfortunately, just like the film's that are being promoted, the shelf life for these Twitter accounts are short. Last year, we took a look at some (supposedly) long dead official movie Twitter accounts and found that many live on in some sort of zombie form or as in the case of Bounty Hunter ... well, I'm still not sure what's going on there. Regardless, it's a new year (and there's not a lot going on until Oscar nominations later this week and Sundance next week -- unless you really want to keep talking about Texas Chainsaw 3D) so let's take a look at another year's worth of dead official movie Twitter accounts.
Season of the Witch
What makes the Season of the Witch Twitter account -- the Nicolas Cage movie you forgot existed -- so interesting is the way it openly antagonizes its supposed fanbase. Why would anyone want a Season of the Witch poster because Jar Jar Binks would want one? But that raises the obvious question: Who would want a Season of the Witch poster for any reason? And, I would imagine, that's what was going through the mind of whoever was in charge of the film's Twitter account. (Also, as an aside, a lot of these accounts will retweet praise. It's funny that Season of the Witch retweeted the quote, "better than I expected." I suppose you take what you can get.)
Jar Jar Binks would want a #SeasonOfTheWitch poster. Win one here: http://bit.ly/fIfkiT

— Season Of The Witch (@SOWmovie) January 9, 2011
Then the account, for its last tweet ever, goes off the rails a bit. Sure, why not?
tYp3 LyK tHi5: wiN dA #sEAsoNOfthEwITcH p0st3R h3Re: http://bit.ly/fIfkiT

— Season Of The Witch (@SOWmovie) January 10, 2011
Beastly
Beastly ended its Twitter run with 25 tweets about The Words, a movie that is not at all like Beastly. Though, it's nice that Beastly got in touch with its more sensitive side near the end. Then again, it's latest tweet is about The Last Exorcism Part II, so, who knows?
Be sure to buy your tickets for @thewordsmovie opening in theaters tomorrow! shar.es/unkOh #TheWords

— Beastly Movie (@BeastlyMovie) September 6, 2012
Limitless
As stated above, a lot of movies, after its release, will tweet praise. Limitless scoured the Internet so that it could provide this strong, strong, strong recommendation. I mean, if this doesn't make you want to see Limitless...
Limitless was a good movie

— Sarah Mirabelli (@therealpinkyxxx) July 26, 2011
Super 8
As of April 9 of 2012, Super 8 was still tweeting. But only to wish Elle Fanning a happy birthday, which is nice.
Wishing a super birthday to our very own "Alice", Elle Fanning, from her Super 8 fans! twitter.com/Super8Movie/st...

— Super 8(@Super8Movie) April 9, 2012
Scream 4
Other than some promotion for Killing Them Softly and Lawless, the last real tweet from the Scream 4 account was to say that it knows absolutely nothing about Scream 5.
We love seeing your enthusiasm about SCREAM 5! We don't have any updates at this time, but when we do, you guys will be the first to know!

— Scream 4, SCRE4M (@Scream4) March 20, 2012
Priest
This is a first: Priest's Twitter account is protected. What possibly could Priest be saying? I actually want to know. Perhaps this is a good marketing strategy?
Bad Teacher / Friends With Benefits
It seems that quite a few accounts get taken over by Best Buy for some sort of promotion that I'm sure is fantastic but I really don't want to take the time to look up what exactly it entails. Regardless, it is amusing that a tweet that reads, "RETWEET if you'd like to party with Cameron Diaz!" got a grand total of one retweet.
RETWEET if you'd like to party with Cameron Diaz! #savestation bit.ly/SaveStation_BT twitter.com/BadTeacherMovi...

— Bad Teacher (@BadTeacherMovie) December 20, 2012
What's your favorite scene from @fwb? #FriendsWithBenefits #savestation bit.ly/Save_Station

— FriendsWithBenefits (@FWB) September 20, 2012
Horrible Bosses
Quite admirably, Horrible Bosses's Twitter account (which is supposed to be styled after an actual horrible boss) kept on tweeting until May of 2012 -- almost a full year after its initial release. Then it delivered this one final cryptic tweet.
#PeopleWhosTwitterIWouldDelete All of you. Back to work!

— The Horrible Boss (@HorribleBoss) May 8, 2012
The Change Up
More praise! The last tweet from this Ryan Reynolds, Jason Bateman classic offering is a glowing endorsement from Judd Apatow. Take that as you will.
The Change Up is crazy funny. Jason Bateman, Ryan Reynolds, Olivia Wilde, Leslie Mann.I have made love to all.

— Judd Apatow (@JuddApatow) August 5, 2011
30 Minutes Or Less
Bianca Kajlich was in 30 Minutes or Less and the last tweet from its Twitter account was an offer to go to a live taping of her CBS sitcom, Rules of Engagement, which, yes, is still on. I have never met a human being who regularly watches Rules of Engagement, but it is inexplicably it its (checking...) seventh season. Seventh!
Win a trip 2 Hollywood & see @misskajlich at a @rulesengagement live taping! Enter Here: bit.ly/ROESweeps twitter.com/30MinutesOrLes...

— 30 Minutes Or Less (@30MinutesOrLess) October 12, 2012
Our Idiot Brother
Well, Our Idiot Brother went out on a high note with an actually informative tweet. Because, as it turns out, I wasgoing to Sundance in 2012 and Safety Not Guaranteed wound up being a great movie. It's too bad that I did not see this tweet until today.
Heading to Sundance this month? The folks who produced me have a movie showing there, Safety Not Guaranteed. Follow it on twitter: @sngmovie

— Our Idiot Brother(@ouridiotbrother) January 4, 2012
Apollo 18
Remember Apollo 18? The "lost footage" movie about a secret moon mission that we had never heard of before. Three weeks after the film's release, it appeared that the Twitter account was attempting to become a serious NASA buff of some kind, but then gave up. They all eventually give up.
Which of the original Apollo 11 crew is your favourite and why?

— Apollo 18 Movie (@apollo18movie) September 22, 2011
Warrior
Warrior came out in 2011. Its last Tweet was in 2009 during filming, for some reason.
shooting continues into the wee hours

— Warrior Movie (@warriormovie) June 19, 2009
What's Your Number?
Shortly after its release, What's Your Number? tweeted it's final tweet with, "Did you see #WYNMovie in theaters this weekend? If so RT and reply with an "I DID!" and tell us your favorite scene!" Five people retweeted this, which seems about right.
Did you see #WYNMovie in theaters this weekend? If so RT and reply with an "I DID!" and tell us your favorite scene!

— What's Your Number? (@WYNmovie) October 3, 2011
Mike Ryan is senior writer for Huffington Post Entertainment. You can contact him directly on Twitter.