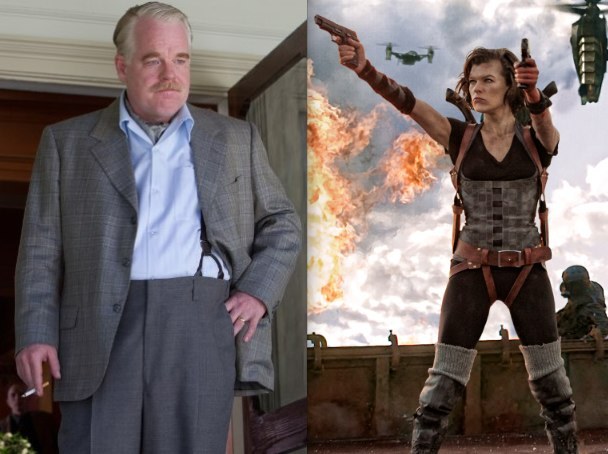 Both Paul Thomas Anderson's The Master and Paul W.S. Anderson's Resident Evil: Retribution are currently out in theaters. These two men, as directors, have absolutely nothing in common. Right now, in an alternate universe, however, Paul W.S. Anderson just released a movie that's tangentially about Scientology. That film stars Milla Jovovich as Lancaster Dodd, Milla Jovovich as Freddie Quell and, of course, Milla Jovovich as Peggy Dodd.
Here is a page from the script of Paul W.S. Anderson's The Master: Retribution.
'The Master: Retribution'
Screenplay
by
Paul W.S. Anderson
FADE IN:


INT. LANCASTER DODD'S OFFICE -- MORNING


LANCASTER DODD is a mysterious man with devoted group of followers.


FREDDIE QUELL is a drifter who is suffering from serious mental issues since fighting in the war several years earlier.


LANCASTER
You've wandered from the proper path, haven't you? The problems that you're having
FREDDIE
I don't have any problems. I don't know what I told you, but if you have work for me to do, I can do it.
LANCASTER
You don't have any problems? Well, you do now.


LANCASTER reaches under his desk and presses a button. Immediately, a portal to another dimension opens in front of LANCASTER and FREDDIE.


FREDDIE
Wait ... what's this all about?
LANCASTER
I think it's time you met your true Master, Freddie!


At this moment, stepping from what looked like a portal to hell, a cloaked silhouette appeared. His name is XAMO.


XAMO
I am XAMO. All hail me.
FREDDIE
No way, man.
FREDDIE draws a laser pistol from a hidden holster that he's been carrying since the Third Galactic War, firing seven shots at XAMO. XAMO appears weakened, yet resilient.
XAMO
It is time, Lancaster, to finally merge as one. Together, we will rule Earth.


LANCASTER is hesitant, but approaches XAMO. XAMO takes LANCASTER by his head and devours his spirit as if a snake had just eaten a rodent whole.


FREDDIE
No!!!!


XANO approaches FREDDIE. FREDDIE fires eight more rounds of laser fire, to no avail. FREDDIE senses that his fate may be sealed. Just then, when all hope seemed lost, LANCASTER'S wife, PEGGY enters the room.


PEGGY
Audit this, XANO!


PEGGY reaches over both of her shoulders and produces two double-barreled shotguns. She fires both of them at XANO with all her might.


PEGGY
AHHHHHH!


XANO disappears in a blaze of smoke. LANCASTER is lying on the floor.


LANCASTER
What happened?
PEGGY
It's over, baby. It's over.


FREDDIE, watching all that had transpired, senses something is wrong. FREDDIE knows that it's not over. FREDDIE knows that it has just begun.


PAN AWAY:


As the camera pans away from LANCASTER DODD's facility, off in the distance, the forces of XANO'S army approach.


CUT TO CREDITS


Mike Ryan is senior entertainment writer for The Huffington Post. He obviously has not caught up on his sleep after being at TIFF. You can contact Mike Ryan directly on Twitter.