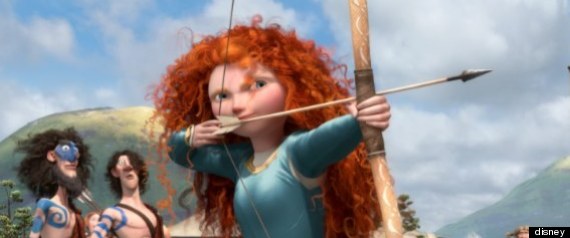 Yesterday, over Twitter and Facebook, we asked you what you thought the plot of this weekend's new Pixar's release, "Brave," entails -- judging from the trailer alone. And we received many reasonable answers! Answers that I, too, assumed were true before I actually saw "Brave" last week. In other words: What we've seen in the trailers, for whatever reason, does not quite reflect what the movie is about. (At the bottom is the correct answer. Do not read the last paragraph if you don't want to know the main plot point of "Brave.") First, the trailer in question.
Now, from the poll, here's what a few of you think "Brave" is about.


@HuffPostEnt @mikeryan It seems "Brave" is about a girl who makes a magical deal that goes wrong. Then she's stranded and finds herself?

-- Carlino (@carlinojp) June 19, 2012
@HuffPostEnt @mikeryan Brave: Disney version of HttyDragon. Princess wants to prove her worth and ends up trying to save the bear she hunted

-- Marcus Rait (@marcusr8) June 18, 2012
@HuffPostEnt @mikeryan Brave is about a princess for competes for the right to not have to get married. Oh, and she has to hide her hair!

-- Daliyah Lupin (@MrsAlpert) June 18, 2012
(From Facebook)
Kenny Baker: "It is funny that I don't seem to hear much about the plot. But hey, it's Pixar, they're dependable ("Cars 2" notwithstanding)."
Stephen Stern: "My take with lots of leaps: It's about a young woman creating her future that bucks tradition while also saving civilization - all without a love interest. Her maverick style is the definition of bravery."
Maria Ramirez: "A young girl with a mind of her own. A free spirit."
In a vague sort of way, sure, some of these answers are near the right track. But, none are specific about the nature of the true plot of "Brave" because that is impossible to decipher from the trailer.
I'm not going to call this a spoiler alert because, really, this is the main plot focus of "Brave." But, again, if you want to go into "Brave" not knowing anything, this would be a good time to stop reading.
The actual answer is: Early in the film, Princess Merida -- angry at her mother for forcing her into a prearranged marriage -- feeds her mother a spell that she received from a witch. That spell turns her mom, the Queen, into ... a bear. Merida must then find a way to reverse the spell -- hence the reason the original title of "Brave" was "The Bear and the Bow."
You can contact Mike Ryan directly on Twitter.