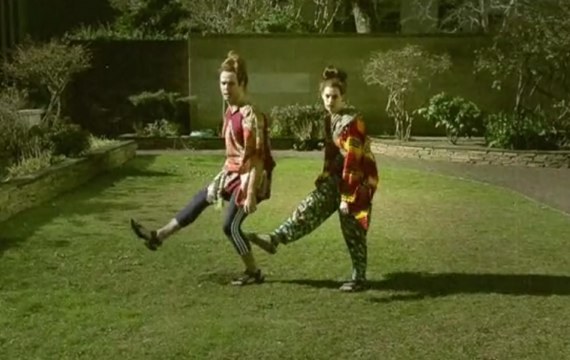 Jason Sudeikis said goodbye to his interpretation of Mitt Romney on Saturday night. Actually, when Sudeikis then showed up in the monologue, I admit that there was a passing thought of, Wait, is tonight his last show? (Rumors still persist that Sudeikis' departure will be coming sooner rather than later.) Regardless, it wasn't, which is good because he would have been overshadowed by the Sloppy Swish. Because, really, Saturday's show was all about the Sloppy Swish.

1. Taran Killam (Last Week: 9) No joke, I have already been invited to a Sloppy Swish themed karaoke party.

2. Jason Sudeikis (Last Week: 6) Sudeikis seems to have a renewed energy that he was missing the last two seasons. It's a shame that this will be his last.

3. Bobby Moynihan (Last Week: 2) He never makes the headline, but he's always near the top of the poll.

4. Kate McKinnon (Last Week: 1) The Kate McKinnon train keeps rolling onward. (And, boy, is her Ellen DeGeneres impression fantastic.)

5. Cecily Strong (Last Week: 3) Cecily Strong does seem to have a tendency to over-rely on exaggerated accents. But, it's hard to argue with this strategy since it's been getting her a plethora of airtime as of late.

6. Aidy Bryant (Last Week: 4) The more I see of Aidy Bryant, the more I like what I'm seeing. Take "Girlfriends Talk Show": She seemed to be in a completely different sketch than Cecily Strong and Anne Hathaway, at least tonally. Her comedic timing is very impressive.

7. Seth Meyers (Last Week: 5) Meyers was fine with his delivery, but again, the way he approaches his interactions with the guest segments -- three of them again this week -- is always impressive.

8. Bill Hader (Last Week: 8) His Mandy Patinkin impression makes me want to watch "Homeland." (I know. I know. I'm a terrible human being because I don't watch "Homeland." I will someday, I promise.)

9. Jay Pharoah (Last Week: 13) I know someone who is quite pleased by Tuesday's election results.

10. Kenan Thompson (Last Week: 14)

11. Fred Armisen (Last Week: 7)

12. Nasim Pedrad (Last Week: 12)

13. Vanessa Bayer (Last Week: 10) So, I lumped Thompson, Armisen, Pedrad and Bayer all together because we are seven shows in and it seems like, so far, they haven't found their role in this individual cast ... for different reasons. I'm sure longtime cast members Fred Armisen and Kenan Thompson have their eyes on whatever is the next step for both of them. As for Bayer and Pedrad, they both seem to have been a bit lost in the shuffle so far, unfortunately with most of the female roles going to McKinnon and Strong.

14. Tim Robinson (Last Week: 14) In the monologue, he and Aidy Bryant both joked about not being in the show that much because they are new. Sadly, this wound up being true for Tim Robinson.


Mike Ryan is senior writer for Huffington Post Entertainment. You can contact him directly on Twitter. Click below for this week's "SNL," Not Ready For Primetime Podcast featuring Mike Ryan and Hitfix's Ryan McGee.