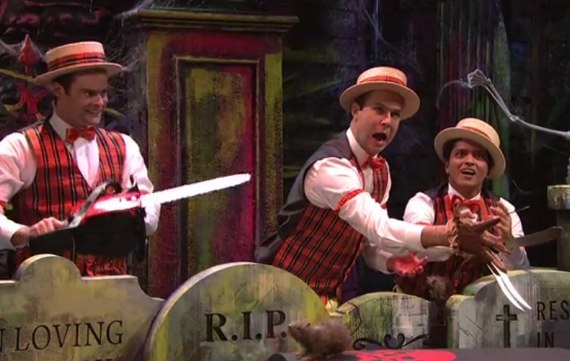 For the second week in a row, "SNL" featured only 10 segments. Factor in a dominating host and the presence of Tom Hanks and the fact there was only one "Weekend Update" segment ("Stefon") instead of the usual two ... it wasn't exactly the easiest week to get quality airtime. Though, the good news: Everyone did get airtime; three especially, to the point that it's almost a dead heat. But, someone had to finish first.

1. Taran Killam (Last Week: 4) It's pretty remarkable that during a week in which Stefon made an appearance, everyone is still talking about Killam's Brad Pitt.

2. Jason Sudeikis (Last Week: 1) Maybe it's the election season; maybe Jason Sudeikis feels he has something to prove on his way out the door, but the guy has been pretty much everywhere the last few weeks.

3. Bill Hader (Last Week: 10) It's a rule: if Stefon appears, Bill Hader is automatically in the Top 3.

4. Jay Pharoah (Last Week: 2) Again, the most impressive thing about Pharoah, now, in his third season, isn't that he took over Obama, but, instead, just how he seems like an actual part of the cast, which wasn't the case the last two seasons. For example: his supporting role in "Amusement Park." That used to never happen. (I think I'm going to go ahead and stop being surprised by this now.)

5. Bobby Moynihan (Last Week: 7) Bobby Moynihan is the Frank Gore of "SNL" -- just quietly puts up a strong performance every week.

6. Aidy Bryant (Last Week: 14) OK, after four weeks of blink-and-you'd-miss-her roles, Bryant was front and center for the cold open. AND, more importantly, she even announced, "Live from New York, it's Saturday night." That should be quite the confidence boost.

7. Cecily Strong (Last Week: 11) Only one role of note, but, it was a starring role. And in a week like this, that's all it takes to make the top half.

8. Seth Meyers (Last Week: 9) I say this with all respect -- because, out of anyone on this show, Meyers has taken the brunt of the work over the five Saturday night shows, plus the two Thursday night shows -- but I think the week off will serve Meyers well. Seriously, get some sleep.

9. Nasim Pedrad (Last Week: 8) She didn't show up until the last sketch of the night, the pre-taped "Underground Festival." I'm not going to read anything into this except it was just a tough week to get on the air.

10. Vanessa Bayer (Last Week: 12) Bayer has certainly been around this season, but it would be nice to see her in a starring sketch soon for no other reason than that I usually like them and I am selfish.

11. Tim Robinson (Last Week: 13) Robinson has cooled off just a tad since his meteoric start to the season. Regardless, he has nothing to worry about.

12. Kate McKinnon (Last Week : 6) A rare light week for Kate McKinnon, though, she was involved in the best line of the show asking about "dangerous assault weapons" in the "Town Hall Debate" sketch.. (This is what I get for going by memory. It was Cecily Strong who had that line.)

13. Fred Armisen (Last Week: 3) I will take this moment to post a reminder for the "Bring Back Frondi" campaign.

14. Kenan Thompson (Last Week: 5) Sadly, Kenan didn't have much to do except ask Bruno Mars about Filipino girls.
Mike Ryan is senior writer for Huffington Post Entertainment. You can contact him directly on Twitter. Click below for this week's "SNL," Not Ready For Primetime Podcast featuring Mike Ryan and Hitfix's Ryan McGee.