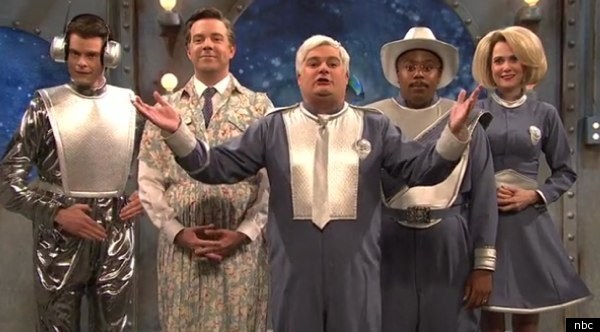 This week's Relevancy Poll is the first time in its two-season existence that it hasn't been a ranking of 14 "Saturday Night Live" players. From an outsider's perspective, the loss of Paul Brittain may not seem that remarkable, considering that -- even though he had his fans (ahem) -- he wasn't exactly dominating airtime on the show. Regardless, "SNL" was and is crowded and needed to lose some numbers -- I was hoping it would be in the form of a longtime cast member going on to bigger and better things, but alas ... Even shrinking down to just 13 repertory and featured players should open some doors.

1. Bobby Moynihan: (Last Week: 6) Moynihan kicked off the show with "Newt Gingrich: Moon President" and was pretty much everywhere: Janet, a stripper, Guy Fieri. (As an aside, can you imagine how much fun Moynihan would be having with a Chris Christie candidacy right about now?)

2. Jason Sudeikis. (Last Week: 4) I get the sense that Jason Sudeikis is just in his own little world on the show these days. Like in a, "Hey, Jason, after Romney, you've got nothing until 'Bongo's Clown Room.' Do you want to be in any other sketches?" "Nah, I'm good," kind of way.

3. Kristen Wiig (Last Week: 1) Yet another "Secret Word." For the life of me, I have no idea why these keep getting on the air. It was funny as a one-time sketch, but it has long since run its course. Though, Wiig was quite great as Lana Del Ray during "Update."

4. Nasim Pedrad (Last Week: 13) A much needed nice week for Pedrad that was highlighted by "Bat Mitzvah."

5. Kenan Thompson: (Last Week: 11) Ah, yes, "Getting Freaky With Cee Lo." Regardless, you can't argue with its placement and length. Plus, Kenan was scattered throughout the show this week, which has been rare of late. (Also: Is "What's Up With That?" officially retired?)

6. Jay Pharoah (Last Week: 2) Time will tell, but the loss of Brittain might help Pharoah more than anyone else. It's not like Pharoah and Brittain's styles are that similar, but if Pharoah takes over Brittain's background characters -- the bartender in "Janet and Tom Brady" is a good example -- adding this to his starring vehicles, it just creates the sense that he's a more cohesive aspect of the show.

7. Bill Hader (Last Week: 9) This is the fourth show in a row that Hader hasn't played a significant role. It is physically impossible for that to extend to five shows in a row -- so expect a huge week from Hader during this coming week's Zooey Deschanel-hosted show.

8. Andy Samberg (Last Week: 14) Fun fact: In the last five shows there have only been two Digital Shorts. Samberg gets credit for "Downton Abbey," which was the best sketch of the show and he did the voiceover and was most likely involved in its creation. But, other than a couple of brief cameos, he wasn't around much. I suppose that's better than the Radcliffe show when Samberg wasn't there at all. Samberg did appear with Adam Sandler and Will Forte in Indianapolis during a Super Bowl interview for Sandler's new film. So perhaps he had a flight to catch?

9. Vanessa Bayer (Last Week: 3) A few smaller parts here and there, but nothing earth-shatteringly substantial.

10. Taran Killam (Last Week: 7) Other than an appearance in the monologue and slapping his ass in "Strip Club," Killam wasn't around much.

11. Seth Meyers (Last Week: 10) Meyers just felt off this week. Everything seemed rushed. Whatever it is about Meyers, when he's not allowed to properly deliver a line, the joke fails. I mean this as a compliment because Meyers has the ability to sell a mediocre joke better than any past "Update" anchor by just smiling and staring at the camera. Not this week.

12. Fred Armisen (Last Week: 8) From the monologue, it felt like an Armisen kind of night. But then, he didn't come back. (Also, it's hard not to wonder how Armisen's role with "Portlandia" -- production and promotion -- affects his week-to-week "SNL" duties.)
13. Abby Elliott (Last Week: 13) At least she got the opportunity to dance in her chair during the "Bat Mitzvah" sketch.