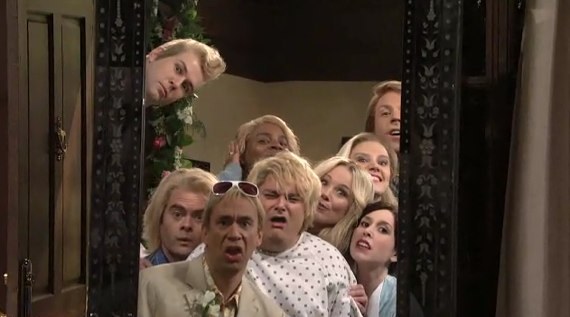 I suppose it's not too surprising that a couple of the female cast members were going to have difficulty getting airtime considering how seamlessly Christina Applegate blended into the cast. (And, not to mention that there were only six live sketches, not counting the monologue and "Update.") Regardless, this was a week that Jason Sudeikis decided to have a big week. And when Sudeikis is in the mood to dominate a show, well he usually finds himself at:

1. Jason Sudeikis (Last Week: 5) Does anyone else get the impression that Sudeikis could be at the top of this list any week that he wants to be? The he decides if he wants a busy night or not? Well, regardless, this week Jason Sudeikis decided that he wanted to be a major part of the show.

2. Jay Pharoah (Last Week: 6) I almost feel bad because this is the third week out of four that Jay Pharoah has come this close to the top spot.

3. Fred Armisen (Last Week: 4) Whether you love "The Californians" or hate (ahem) "The Californians," it's obvious that Fred Armisen really loves "The Californians."

4. Taran Killam (Last Week: 10) Credit here for a pretty gosh darn good impression of Paul Ryan -- a guy who doesn't exactly scream, "Someone do an impression of me."

5. Kenan Thompson (Last Week: 9) Kenan Thompson and his blond wig is the only thing from "The Californians" that at least makes me grin.

6. Kate McKinnon (Last Week: 1) Kate McKinnon is slowly becoming one of the anchors of the show.

7. Bobby Moynihan (Last Week: 2) Absolutely zero cats were spotted anywhere near Bobby Moynihan this week, for better or for worse.

8. Nasim Pedrad (Last week: 11) Pedrad's best moment of the night was her Arianna Huffington impression and I'm going to go ahead and stop writing about that right now.

9. Seth Meyers (Last Week: 7) "Well, that's it, I am never watching the Tour de France again or before." I think it's safe to say that Seth Meyers is one of the best at deadpan, misdirection sentences. (I have no idea if that's an accurate way to describe what he does there. My apologies in advance.)

10. Bill Hader (Last Week: 13) At this point in Hader's "SNL" career, I wonder if he enjoys just showing up midway through a sketch, getting his laughs and moving on ... in a, "I obviously have nothing more to prove," kind of way. Anyway, obviously Hader is also in the Jason Sudeikis, "I could dominate this show anytime I want," category.

11. Cecily Strong (Last Week: 3) So far, Strong has had a strong solid start to her "SNL" career, but, for the life of me, I can't figure out what her niche is going to be on the show.

12. Vanessa Bayer (Last Week: 12) Vanessa Bayer is overdue for a big week.

13. Tim Robinson (Last Week: 8) Not a great week for Robinson, but, unlike what I just wrote about Strong, I do have a good sense of what he brings to the show.

14. Aidy Bryant (Last Week: 14) Last week I wrote, "next week, Aidy Bryant will be nowhere near 14th on this list." Well, see that picture? That's her during the "Good Nights" and it's her only appearance from the show I could find. Eh, screw it, let's go ahead and double down on this: Next week, Aidy Bryant will be nowhere near 14th on this list.


Mike Ryan is senior writer for Huffington Post Entertainment. You can contact him directly on Twitter. Click below for the "SNL," Not Ready For Primetime Podcast featuring Mike Ryan and Hitfix's Ryan McGee.