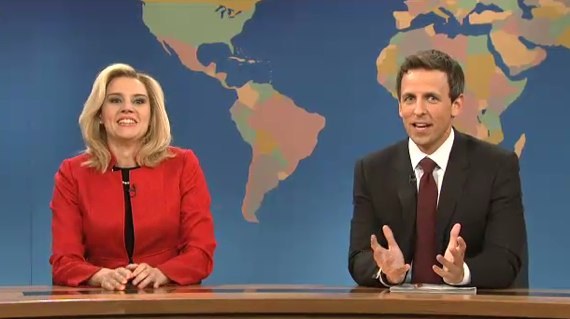 The airtime wealth was spread around so much in Week 2 (well, except for Aidy Bryant who, two weeks in, has still only had one short scene) that there wasn't a clear, dominating cast member. Which, yes, is refreshing. Though, we'd be remiss here at the Relevancy Poll if the Thursday night special was not taken into consideration, so, based on that, let's congratulate our week two winner:

1. Seth Meyers (Last Week: 11) Put it this way: In a 12 day span, Meyers will have hosted four full "Weekend Update" segments. So, it's nice to see that, this past weekend especially, he's finding his groove ... especially when he finds something to rant about, because he's good at that.

2. Jay Pharoah (Last Week: 2) Now that he has Obama, it's not so impressive that he's ranked this high -- it's impressive that he managed to have a great week without even playing Obama. It's a stark contrast to the Jay Pharoah who would disappear for two or three shows at a time during the prior two seasons.

3. Taran Killam (Last Week: 9) Somehow, Taran Killam managed to remove his shirt twice in less than an hour.

4. Kate McKinnon (Last Week: 13) Well, if Mitt Romney does pull off an upset, at least we will get much more of Kate McKinnon as Ann Romney.

5. Bill Hader (Last Week: 1) For the rest of time, we, as a society, will now have a Bill Hader caricature drawing to look at.

6. Vanessa Bayer (Last Week: 4) It's interesting that none of the female cast members have stepped up to claim what Kristen Wiig left behind. But, two weeks in, it might not be necessary. Because, at least so far, new featured players aside, everyone is much more in the mix than they were last season.

7. Nasim Pedrad (Last Week: 8) Pedrad had a sneaky OK week, most likely overshadowed by the abrupt ending of the last sketch.

8. Bobby Moynihan (Last Week: 6) Was pretty much missing in action during the Saturday night show (appearing briefly in three sketches), but he absolutely owned the Thursday night show. So, here he is.

9. Jason Sudeikis (Last Week: 10) It was nice to see one last "sing along while saying shocking things" sketch, though Sudeikis also benefits here from the Thursday night show.

10. Fred Armisen (Last Week: 3) Now that Fred Armisen has given up Obama and he's (most likely) entering the final stages of his "SNL" career, I'd just like to see him play only his eccentric characters that make half the people who watch it angry. I mean, what's he have to lose at this point?

11. Kenan Thompson (Last Week: 7) I hope Kenan reconsiders his decision to retire Deandre Cole.

12. Tim Robinson (Last Week: 5) He was actually around a little more than I remembered, but it's a shame his "Real Estate Agents" sketch was cut off before completion. Regardless, he's two for two on having the last sketch of the show.

13. Cecily Strong (Last Week: 12) She had a small role in "g.o.b. Tampons" but was relegated to the background of the live show.

14. Aidy Bryant (Last Week: 14) This is frustrating because I'm very curious as to what Bryant brings to the table (her one line last week was one of the best delivered of the whole show). Alas, at least she had a nice view of Mumford & Sons dressed like The Beatles.
Mike Ryan is senior writer for Huffington Post Entertainment. You can contact him directly on Twitter. Click below for the new SNL Podcast featuring Mike Ryan and Hitfix's Ryan McGee.