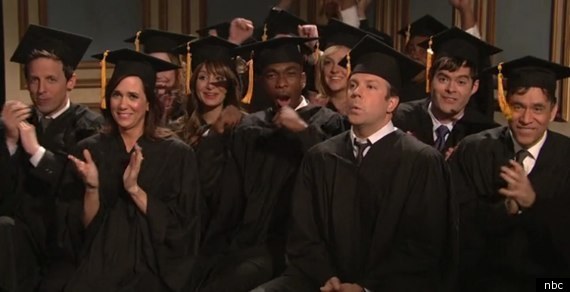 Are you still crying? Or, at the very least, do you still have "Ruby Tuesday" stuck in your head? It's OK to admit these things. I mean, look, the 37th season finale of "SNL" was a fairly sub-par show, but it included one of the greatest moments -- Wiig's send-off-- that the show has ever produced. Though, there are still those lingering questions about about Jason Sudeikis' future, which we'll take a deeper look at, too.
But, if there were any doubt who won this week's Relevancy Poll...
(Note: On Tuesday, we'll be publishing the all encompassing, in-depth, full season Relevancy Poll -- so today's offering, other than a few main points, will be kept to a minimum.)

1. Kristen Wiig (Last Week: 5) No matter what you thought of Wiig's eccentric characters, with her departure, "SNL" will look drastically different when it returns this fall. Wiig had a remarkable run and she will be missed. Fun fact: The musical guest on Kristen Wiig's first show, just like her last show, was the Foo Fighters. Speaking of Wiig's first show, here's her first "SNL" sketch -- along with Jason Sudeikis and host Jason Lee -- "The Soaking Wet Killer," from Nov 12, 2005.

2. Andy Samberg (Last Week: 1) I can only take Samberg at his word -- his final words from "Lazy Sunday 2," to be exact -- that this is it for him, too. So, to keep the theme, here's Samberg during his first show (from Oct 1, 2005), along with Bill Hader, having an "impression off" during "Weekend Update."

3. Bill Hader (Last Week: 6) As the rules dictate, a Stefon appearance always leads to a spot in the top three.

4. Fred Armisen (Last Week: 4) Armisen does a remarkably good "Mick Jagger impression right in front of the real Mick Jagger."

5. Kenan Thompson (Last Week: 7)

6. Taran Killam (Last Week: 8) His world domination officially begins in September.

7. Bobby Moynihan: (Last Week: 10) I'm going to amend an earlier rule: Every installment of "SNL" should either include a Bobby Moynihan reaction shot or Bobby Moynihan dancing.

8. Seth Meyers (Last Week: 2)

9. Vanessa Bayer (Last Week: 13)

10. Abby Elliott (Last Week: 11)

11. Jason Sudeikis. (Last Week: 3) I have now analyzed Jason Sudeikis' reactions in the last five minutes of the finale more than I've analyzed the last five minutes of "The Sopranos." Honestly, this is now my Zapruder film. The whole thing is baffling. Sudeikis was rumored right along with Wiig and Samberg as leaving the show, though, unlike the other two, there were absolutely no hints at his departure and he barely appeared in the show.
Even stranger was the scene during "She's a Rainbow." When Sudeikis approached Wiig, he looked legitimately upset. It's almost as if Wiig had to console Sudeikis. But, after, Sudeikis makes his way to the back of the group and doesn't participate in the final sing-along, clap-along to "Ruby Tuesday." He does take a few deep breaths -- the types that are taken when trying to avoid an emotional outburst of some kind.
Now, is he just that upset because of Wiig's departure? Is he upset about his own departure? Is he angry about something? If it is his own departure, why is no one in the cast pointing at him or dragging him to the front? Even Samberg is getting an onslaught of hugs from the cast. Sudeikis is left completely to himself.
Perhaps Sudeikis hasn't completely made the decision about his future -- leading to his cryptic behavior? And there's the theory that's been floating around that Sudeikis will return in the fall for the political season, then depart. Regardless, something was going on.

12. Nasim Pedrad (Last Week: 9)

13. Kate McKinnon (Last Week: 12)

14. Jay Pharoah (Last Week: 14) With all of the festivities, it's not too surprising that Pharoah, once again, got lost in the shuffle ... which almost didn't happen, but his "Weekend Update" appearance was cut after dress rehearsal.
You can contact Mike Ryan directly on Twitter.