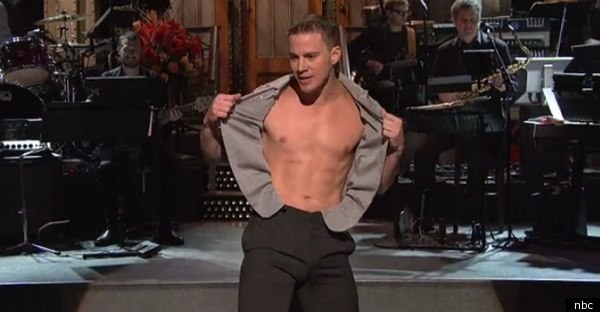 Before I saw the film version of "21 Jump Street" a few weeks ago, I highly doubted the comedic ability of Channing Tatum. After, however, my hopes for his "SNL" hosting appearance were raised significantly. But, for whatever reason, "SNL" decided to really focus on Tatum's beefcake status. Put it this way: I saw Channing Tatum with his shirt off not one, not two, but three times. Channing Tatum portrayed a stripper -- twice. We get it: Channing Tatum is a good-looking guy. (Also, I'd be remiss if I didn't mention that it's quite remarkable Tatum somehow portrayed Peyton Manning and Tom Brady during the same show.) On to a very shirtless scorecard ...
Sketch of the Night
"Downton Abbey" (Andy Samberg) I know very little about "Downton Abbey," except that, out of nowhere, everyone seems to be infatuated with this show. It's like a memo went around, "OK, everyone: It has been decided that 'Downton Abbey' is the new 'it' show this season, so make sure to watch it and tweet about it extensively." I did not get this memo. But, thanks to "SNL," I now know that every conversation on "Downton Abbey" is overheard in the hallway. This reminds me of "Three's Company." This makes me think that I might enjoy "Downton Abbey."
Score: 8.0
The Good
"NBC Football Promo" (Channing Tatum, Jason Sudeikis, Kenan Thompson, Bobby Moynihan, Jay Pharoah, Bill Hader) This was great because I can only assume that this is exactly what it would be like to watch one of these promos being filmed. Because, yes, the fellas do look like they're having the time of their lives, horsin' around with the ol' pigskin -- then the theme song kicks in and it's all business.
Score 8.0
"Cold Open: Newt Gingrich: Moon President" (Bobby Moynihan, Kristen Wiig, Bill Hader, Nasim Pedrad, Jason Sudeikis, Kenan Thompson) First of all, the title of the sketch wound up being funnier than the sketch itself. Regardless, I do appreciate the fact that they tried something different: Instead of a tired debate sketch, or a "candidate talks to the camera" sketch, they went with this somewhat absurd Newt Gingrich on the moon sketch instead. (Good grief, this election season is boring.)
Score 7.0
"Channing Tatum Monologue" (Channing Tatum, Kristen Wiig, Vanessa Bayer, Taran Killam, Fred Armisen) This gets placed in "The Good" even though this is the epicenter of everything that was wrong with last night's show. "Channing Tatum is a good looking guy." The end. Regardless, I can't blame Tatum because he seemed game. Though, I can just picture him during the pitch meeting, "Wow, another stripping sketch? Well, OK, you guys know what you're doing."
Score: 6.0
The Bad
"Tom Brady & Janet" (Bobby Moynihan, Channing Tatum, Jay Pharoah) The phrase "flesh cube" almost got this into "The Good" all by itself. But, alas, the biggest problem with this sketch is that Moynihan is so animated as Janet; it really emphasized how little Tatum was needed in the sketch as Tom Brady. If you swapped him for a cardboard cutout of Brady, this sketch would have been exactly the same.
Score 5.5
"Strip Club" (Jason Sudeikis, Channing Tatum, Bobby Moynihan, Jay Pharoah) I want to like "Strip Club." I wanted to like it the first time it aired last season. I want to love any sketch that has a character named "Dumb Dick." And, for whatever reason, Sudeikis seems to be having the time of his life playing this character. Then again, I do love the constant stream of non sequiturs ... You know what, I'm going to end this paragraph right now before I talk myself into something that I might regret later.
Score: 5.0
"Exercise Commercial" (Channing Tatum, Kristen Wiig) Good concept, I suppose. But, good grief, this went on forever. It was weird: It's almost like it just wanted to go to -- and would have benefited from -- that next level of Kristen Wiig ridiculousness, but never quite does.
Score: 5.0
"Bat Mitzvah" (Nasim Pedrad, Channing Tatum, Fred Armisen, Kristen Wiig, Kenan Thompson, Vanessa Bayer, Abby Elliott) It's Rebecca's Bat Mitzvah. She invites her friend on stage to dance. The dances get graphic. Basically, this was yet another excuse to have Channing Tatum do his stripper dance. Enough, already!
Score: 4.5
Weekend Update (Seth Meyers, Bobby Moynihan, Kristen Wiig) No segment encapsulates the mood on set more than "Update." In a week that saw Paul Brittain leave the show (His manager has yet to respond to request for comment) this had to weigh on the cast, at the very least, subconsciously. Last night's "Update" seemed rushed and Meyers seemed off. Though, it was kind of interesting, in a meta sort of way, to watch Wiig portray Lana Del Ray, responding to her poorly-received "SNL" performance.
Score 4.5
"Secret Word" (Kristen Wiig, Bill Hader, Channing Tatum, Andy Samberg, Nasim Pedrad) I will never see Lord Wyndemere or Sex Ed Vincent ever again on "SNL," yet "Secret Word" keeps on living. That makes perfect sense.
Score: 3.5
The Ugly
"Getting Freaky with Cee Lo" (Kenan Thompson, Channing Tatum, Bobby Moynihan, Jason Sudeikis, Jay Pharoah, Bill Hader, Vanessa Bayer, Nasim Pedrad) Good lord, these are not very good. And I usually don't like criticizing hosts who are obviously giving effort, but Channing Tatum does a horrible Matthew McConaughey impression. Really, this is like Kenan came up with the idea, "I want to do something just like 'What's Up With That?,' only not funny." (Speaking of which, we still have yet to see "What's Up With That?" this season.)
Score 1.0
Average Score for this Show: 5.27
· Jimmy Fallon 6.17
· Jason Segel 6.05
· Charlie Day 6.00
· Steve Buscemi 5.95
· Emma Stone 5.85
· Alec Baldwin 5.80
· Charles Barkley 5.65
· Melissa McCarthy 5.45
· Daniel Radcliffe 5.39
· Channing Tatum 5.27
· Ben Stiller 5.18
· Katy Perry 5.09
· Anna Faris 4.95
You can contact Mike Ryan directly on Twitter.