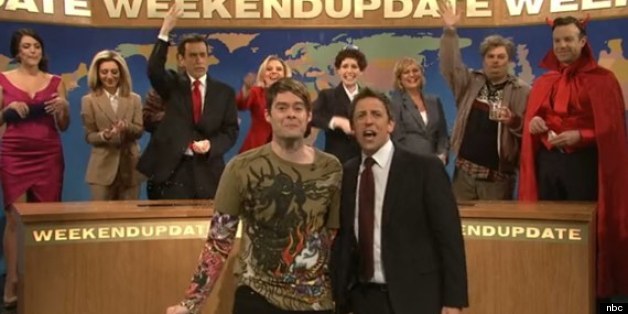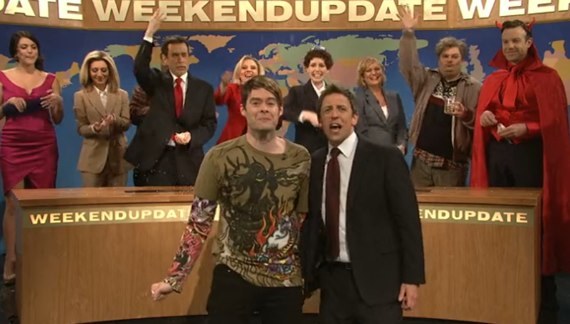 Bill Hader and Fred Armisen are officially gone. As for Jason Sudeikis, who really knows at this point? I would assume that, right now, he doesn't know for sure either. But I have a hard time believing that, if he were leaving, he wouldn't have been waving to the crowd along with Hader and Armisen during the goodnights. Or at least have had one goodbye sketch, something that Hader and Armisen each provided last night in completely different ways.
Yes, it was a bittersweet show, a show during which the host, the amicable Ben Affleck, was almost an afterthought (which was kind of played to during a monologue in which he joined the five timers club, yet only Bobby Moynihan wearing a "5" t-shirt congratulated him). Yet, for as bittersweet as the undertones of the show were, it still played like your average installment of "Saturday Night Live." There wasn't an endless parade of Bill Hader and Fred Armisen's greatest hits -- Herb Welch and Nicholas Fehn were nowhere to be seen. Instead, both men left as they arrived, standouts of the ensemble, without overshadowing the cast. A fitting sendoff.
Off we go to your last "SNL" Scorecard for quite some time ...
Sketch of the Night
"Weekend Update" (Seth Meyers, Amy Poehler, Bill Hader, Ben Affleck, Anderson Cooper) Before we get to Stefon, it must be pointed out how well Seth Meyers and Amy Poehler work together. That was far from the best "Really?!?" that these two have been a part of and it's already a highlight from this past season.
As for Stefon, that was pretty perfect. Not only did we get one last hurrah with Stefon behind the "Update" desk, but the proceedings then morphed into a sketch about Stefon's wedding to Anderson Cooper -- a wedding with pretty much every character that Stefon has ever described over the last four seasons. (It was basically the last episode of "Seinfeld," only done well.) A wedding that also included Gordon Shumway (or ALF, if we must) and Ben Affleck returning as Stefon's brother. (Stefon's first appearance on "SNL" was in a 2008 sketch in which Affleck played his brother.) Sure, Stefon was overused over the past four seasons (this was his 17th appearance), but it would have been ludicrous to not have him appear in Hader's last show and this really was the perfect sendoff.
Score: 10
The Good
"Top of the Pops" (Fred Armisen, Bill Hader, Jason Sudeikis, Taran Killam, Carrie Brownstein, Steve Jones, Kim Gordon, J Mascis, Michael Penn, Aimee Mann) I was worried about how Armisen's departure would be handled. Most of Armisen's best-known recurring characters are "Weekend Update" characters, which would have been sadly overshadowed by the Stefon proceedings. Armisen, singing as Ian Rubbish, certainly didn't provide anything as bombastic as the time Darrell Hammond left while Will Ferrell sang him off with "Goodnight Saigon" -- instead, it was a poignant moment, as "SNL" and "Portlandia" combined right there in front of us. I wouldn't go as far to say that Armisen has looked bored the last couple of seasons of "SNL," but he's certainly been itching to do some more experimental things. Though, there's no doubt how Armisen feels about "SNL," it was right there on his guitar strap: "TY LM I <3 u."
Score: 9.5
"New Xanax" (Cecily Strong, Taran Killam, Vanessa Bayer, Bobby Moynihan, Bill Hader, Jason Sudeikis, Aidy Bryant, Kate McKinnon) I am still laughing at the site of Bill Hader dancing aimlessly in front of the choreographed Beyoncé performance. (Honestly, this happen to me at any wedding.) It was interesting -- there were two gay-themed sketches last night and it really showed the contrast of how to do one right (this one) and how to do one wrong (see: The Ugly).
Score: 8.0
"Hermes" (Vanessa Bayer, Cecily Strong, Ben Affleck) Fine! These are starting to make me laugh. At least, for whatever reason, this one was my favorite so far. Bayer and Strong now certainly have the timing down. (And, as opposed to past installments, it didn't seem like it went on for 10 minutes.) I think it was important on a night like last night to showcase what "SNL" will still have to offer after losing such important cast members -- this helped to do that.
Score: 7.0
"Ben Affleck Monologue" (Ben Affleck, Bobby Moynihan, Jennifer Garner) The previously mentioned fact that Affleck was a bit of an afterthought as host is played up here, pretty well actually. (You know, they could have at least had Elliott Gould show up to say, "Congratulations.") Anyway, the main gist is that Affleck said something weird about marriage during his Oscar acceptance speech and, let's face it, on the list of "weird things that have been said during Oscar acceptance speeches," this seems pretty low. Regardless, Affleck looked like he was happy to be there.
Score: 6.5
"Iranian Film" (Fred Armisen, Bill Hader, Bobby Moynihan, Ben Affleck) It was nice to see Armisen's Ahmadinejad one last time, even though he's pretty far down on the list of Armisen characters that I'd like to see. But this certainly wasn't a "Let's do it for Fred" type sketch -- it was more of a "Let's let Affleck be self-deprecating about 'Argo'" sketch, which would have been much more potent a couple of months ago. Alas. Though, this sketch was worth it just for one last "Gigli" reference. (It's just too bad Armisen's Frondi wasn't there to share in that reference.)
Score: 6.2
"Cops" (Bill Hader, Ben Affleck, Kate McKinnon, Nasim Pedrad, Tim Robinson, Fred Armisen, Taran Killam, Jason Sudeikis, Bobby Moynihan) This is one of those strange sketches that, for some reason, gets funnier as it keeps going. (Unfortunately, it's not online because they sang three seconds of the "Cops" theme song, I guess?) For no other reason, it was just nice to see a good portion of the cast together one last time, getting to make funny noises in an attempt to make each other laugh. Why not?
Score: 6.0
The Bad
"Greg's Funeral" (Jason Sudeikis, Ben Affleck, Tim Robinson, Cecily Strong, Kate McKinnon, Taran Killam, Nasim Pedrad, Jay Pharoah) There was a good sketch in there somewhere, but in the end, it was just a straightforward sketch about a guy who fakes his own death, then defends himself at his funeral. This sketch was just screaming for some sort of a twist on what isn't a very inspired idea -- by the end, I was hoping Kevin Hart would show up and ask "Is it a Z Shirt?"
Score: 5.0
"Cold Open: Politics Nation" (Kenan Thompson, Jason Sudeikis, Bill Hader) You know, this past week hasn't been the greatest week of Barack Obama's presidency. For the life of me, I can't understand how the cold open wasn't Pharoah as Obama doing something. And if the goal here was to have a sketch with Kenan, Hader and Sudeikis, why not just do one last "What's Up With That?" Alas, this was quite the dud to start the show.
Score: 5.0
"Depression Scene" (Bill Hader, Ben Affleck, Kate McKinnon) I'm not sure what happened here: I was ready for something pretty terrific because the scene was certainly set -- then, nothing. I certainly laughed when Hader's out of work bozo balks at the idea of being at work at 8 a.m., which is a funny premise, but unfortunately, it took an odd turn -- realizing Hader and McKinnon were criminals instead of just lazy. Anyway, I'm not exactly sure what the point was supposed to be here, other than Hader and McKinnon can still be funny even without the best material.
Score: 4.5
The Ugly
"Camp" (Ben Affleck, Bobby Moynihan, Aidy Bryant, Kenan Thompson, Vanessa Bayer, Taran Killam, Jay Pharoah) Here's a sketch that at least pretended that it had something to say, but really didn't say anything. It was just lacking any sort of real bite and seemed more like an excuse for the cast to act "flamboyant" than to really try to say anything important. And, sure, it's not really the job of "SNL" to have to say something important, but if they're going to set up a premise with something that is extremely controversial (even though no one in his or her right mind believes a camp that turns someone straight "works"), it would be nice if it had at least some sort of clever message other than Affleck and Killam almost kissing.
(Is not online due to song rights issues.)
Score: 2.5
Average Score for this Show: 6.38
· Christoph Waltz 7.03
· Justin Timberlake 6.40
· Ben Affleck 6.38
· Martin Short 6.28
· Christina Applegate 6.13
· Seth MacFarlane 5.93
· Louis C.K. 5.92
· Anne Hathaway 5.87
·Melissa McCarthy 5.86
· Bruno Mars 5.81
· Zach Galifianakis 5.78
·Vince Vaughn 5.75
· Adam Levine 5.71
· Joseph Gordon-Levitt 5.51
· Kevin Hart 5.47
·Kristen Wiig 5.45
· Jamie Foxx 5.43
· Jeremy Renner 5.39
· Jennifer Lawrence 5.38
· Daniel Craig 5.35
· Justin Bieber 5.23
Mike Ryan is senior writer for Huffington Post Entertainment. You can contact him directly on Twitter. Click below for this week's "SNL," Not Ready For Primetime Podcast featuring Mike Ryan and Hitfix's Ryan McGee.
If you would like to subscribe to the podcast, you can do that here.