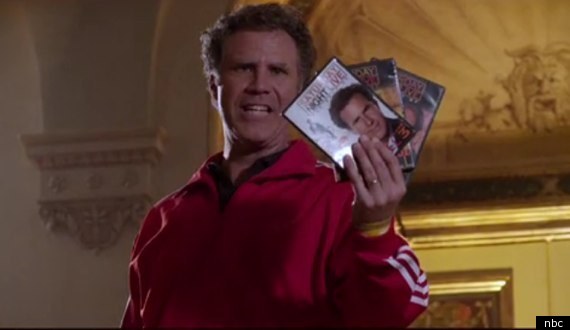 The last time Will Ferrell hosted "Saturday Night Live," the show (and that season) ended with an epic sing-along of Bill Joel's "Goodnight Saigon." Last night's offering did not have that same monumental feel to it -- even though there were guest appearances by Will Forte, Ana Gasteyer, Liam Neeson, Justin Bieber, Michael Bolton, Natalie Portman, Jon Hamm and Justin Timberlake. There were so many guest stars, it felt, at times, like the actual cast had been swept under the rug. Heck, at times, it felt like Ferrell himself was put on the back burner. Since I can't think of a third metaphor for "set aside," let's just move along to this season's penultimate Scorecard.

Sketch of the Night
"Digital Short: 100th Digital Short" (Andy Samberg, Jorma Taccone, Justin Beiber, Kene Thompson, Justin Timberlake, Natalie Portman, Michael Bolton, Usher, Jon Hamm, Will Ferrell) Poor Akiva Schaffer has been replaced by Justin Bieber. Holy hell: This was billed as the 100th Digital Short, but it might as well as been a "Goodbye, Here Are Our Greatest Hits" Digital Short. Here's the thing, I laughed a lot ... and, yes, they're openly admitting that the point of this short is to "suck their own dicks" -- which they do, literally and metaphorically. But, I couldn't help but think back to the first Digital Short, "Lettuce." It was so simple. Just Will Forte and Andy Samberg eating lettuce like it was an apple. Alas, if this really was the last Digital Short, it was a very interesting era that changed "SNL" for the better.
Score: 8.5
The Good
"Weekend Update" (Seth Meyers, Andy Samberg, Liam Neeson) OK, I've been hard on Seth Meyers in recent weeks, but, good grief, he was on fire last night. On fire. I just wish "Update" was like this every week. And it does raise the question of why Meyers is just so streaky. I do maintain that "Update" usually captures the vibe of the rest of the show and last night's show, at least up until "Update," was quite an energetic offering. I was a little surprised that Samberg's Nic Cage made an appearance, considering that the last time we saw Cage, the real Cage was present, too. But the appearance was fortunate, because we would have never gotten the chance to hear Liam Neeson referred to as "Tall Bono."
Score: 8.0
"ESPN Golf" (Jason Sudeikis, Will Forte, Will Ferrell, Vanessa Bayer, Abby Elliott) The other day, I was asked who my three favorite "SNL" cast members of all time are. I included Will Forte on this list. So, yes, I was quite pleased to see Will Forte show up. Admittedly, this was not one of better "Twinkle & Stinks." But it was great to see Jason Sudeikis having fun again. I still contend that Sudeikis' best work was when Forte was on the show. And we saw a glimmer of that, too, when Sudeikis worked with Paul Brittain in the "Lord Wyndemere" sketches. What have we learned here? Perhaps Jason Sudeikis works best with an offbeat co-star.
Score: 7.2
"Cold Open: Obama Visits Biden" (Fred Armisen, Jason Sudeikis, Will Ferrell) OK, Joe Biden has a good point here about not getting proper credit. First, it's funny, before "SNL" tonight, my girlfriend and I were talking about what the first sketch would be. I mean, after this week's gay marriage announcement, it had to be Biden and Obama. Admittedly, we did not expect Ferrell's Dubya to show up, leading to Biden's line, "I don't have a shotgun," to which Bush responds, "What kind of Vice President are you?" It was nice to see Ferrell's Bush again, but it felt a little wasted. Then again, what else could they have done? It's not like Bush is actually in the news. Also: Nice Beach Boys poster.
Score: 7.0
"The Kulps" (Will Ferrell, Ana Gasteyer) I want to take this moment to say that Ana Gasteyer is the most underrated cast member of all time. (There.) But, "The Kulps" were always hit and miss for me. I have to admit, even though their catalog has been upgraded to include Adele's "Rumor Has It," I'm fairly sure me enjoying this was purely from a nostalgic standpoint. So be it. (Of course, with all the music used, this isn't on Hulu, but you can watch it here.)
Score: 6.6
"Cold Commercial" (Will Ferrell, Kristen Wiig) Good god, this was dumb. But, I couldn't stop laughing. Will Ferrell yells when he sneezes. That's it. Perhaps with how bad my allergies have been over the last few weeks, I kind of get this one.
Score: 6.0
The Bad
"Will Ferrell Monologue" (Will Ferrell, Will Ferrell's Mom) Ferrell's monologue does get bonus points for being sweet. But, the premise is that Ferrell does not speak well without writers. Funny, I totally get this because I can't do these recaps without an editor. So, I want to take this moment to thank my "SNL Scorecard" editor Jaimie Etkin, who secretly rewrites this whole thing. Here's what these read like without her: SneL good. I want to sex with it. See, it's so much better with an editor. Thanks, Jaimie. [Editor's note: Mike lies, but I thank him. Like this sketch, he gets bonus points for being sweet.]
Score: 5.5
"Funkytown Debate" (Taran Killam, Will Ferrell, Nasim Pedrad, Kenan Thompson, Abby Elliott, Kate McKinnon, Usher, Fred Armisen, Kristen Wiig, Andy Samberg, Vanessa Bayer, Jay Pharoah) I see where this was going (I think?) but, alas, I just don't think it hit. Yes, the candidates running for the mayor of Funkytown are very funky. The problem is, this is one of those sketches that I laughed more at the premise than the actual execution. (Though, Pedrad was great as the non-funky third party candidate.)
Score: 5.0
"25th Anniversary" (Jason Sudeikis, Will Ferrell, Vanessa Hader, Fred Armisen, Kate McKinnon, Kristen Wiig, Taran Killam, Bobby Moynihan, Will Forte) This wasn't a particularly long sketch, but it sure felt like it -- almost as if it was a filibuster of some sort. Basically, it felt like the following announcement was made: "OK, does anyone have any eccentric, but not overly enthusiastic character that they want to try out? Because, if so, this sketch would be the place to do that." (Though, the fact that Will Ferrell referred to JoS. A. Bank as "The Bank" was pretty great.)
Score 4.0
The Ugly
"Broadway Sizzle" (Bill Hader, Kristen Wiig, Kenan Thompson, Will Ferrell, Bobby Moynihan) This was a very New York-centric sketch. So New York-centric, that even though I've lived here for eight years, I only partially got it. Or, perhaps it's been too long since I've seen a bad Broadway musical. Yeesh. Though, by this part of the show, it was nice to see Bill Hader.
Score: 2.5
(Note: "Almost Pizza" was not included in this week's Scorecard because it aired during a prior show.)
Average Score for this Show: 6.03
· Jimmy Fallon 6.17
· Zooey Deschanel 6.08
· Maya Rudolph 6.05
· Jason Segel 6.05
· Will Ferrell 6.03
· Charlie Day 6.00
· Josh Brolin 5.99
· Steve Buscemi 5.95
· Emma Stone 5.85
· Alec Baldwin 5.80
· Charles Barkley 5.65
· Sofia Vergara 5.58
· Melissa McCarthy 5.45
· Jonah Hill 5.44
· Daniel Radcliffe 5.39
· Eli Manning 5.28
· Channing Tatum 5.27
· Ben Stiller 5.18
· Lindsay Lohan 5.13
· Katy Perry 5.09
· Anna Faris 4.95
You can contact Mike Ryan directly on Twitter.