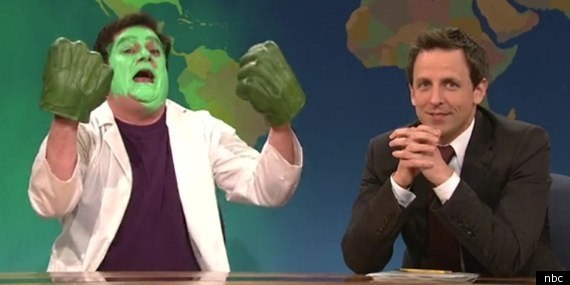 With only 10 sketches (including the monologue and "Weekend Update") and too many guest stars to list, the Will Ferrell hosted installment of "SNL" was not a great week to have the title of "cast member." Well, unless your name is Andy Samberg. Here's your penultimate Relevancy Poll. (And, next week, we'll have a full season relevancy poll finale.)

1. Andy Samberg (Last Week: 12) This was definitely Samberg's show. I mean, he even got to film a self-admitted tribute to himself. Yeah, not a bad week.

2. Seth Meyers (Last Week: 13) When Meyers is on, he is on.

3. Jason Sudeikis (Last Week: 2) That was probably the last time we'll see Sudeikis' Joe Biden for quite some time. And it appears Sudeikis has borrowed Kristen Wiig's "Greatest Hits Tour" idea, bringing back "Twinkle and Stink." (C'mon, Jason, one more "Two A-Holes" for the finale. Please.)

4. Fred Armisen (Last Week: 8) It's still fairly remarkable that in a week in which Obama was the no. 1 news story, the "SNL" Obama sketch didn't even star Obama. I love Armisen, (and, yes, I've said this many times before) but if you're not going to use Armisen's Obama, maybe it's time to let Pharoah have a crack at it.

5. Kristen Wiig (Last Week: 4) Call me crazy, but I expect Wiig to have a huge show on Saturday. (Also: Ditto on "The Two A-Holes" request.)

6. Bill Hader (Last Week: 5) Hader only had one starring role this week, but it almost feels like he's purposely taking a backseat in deference to the departing cast members.

7. Kenan Thompson (Last Week: 9) Sadly, Kenan would rank much higher if his Grady Wilson sketch had not been cut at dress rehearsal.

8. Taran Killam (Last Week: 6) There just wasn't enough room to go around this week -- save for the host of the Funkytown mayoral debates and a secret service agent.

9. Nasim Pedrad (Last Week: 10) We already know that next week's show is loaded up with musical talent (Mick Jagger is hosting; while Jeff Beck, Arcade Fire and Foo Fighters are the musical guests.) I just hope this year's finale focuses on the cast, which will be together in this capacity for the last time. (In other words: I'd like Pedrad to have more to do.)

10. Bobby Moynihan: (Last Week: 11) So, it wasn't technically a Moynihan reaction shot in "Anniversary Party," but it was close. And, boy, if only his Hulk sketch had made the live show. This is pretty fantastic.

11. Abby Elliott (Last Week: 3) The only bigger enigma on "SNL" than Elliott is Jay Pharoah.

12. Kate McKinnon (Last Week: ) The bad news: It wasn't a great week for McKinnon. The good news: All in all, it's been a fairly solid end-of-the-season run for her.

13. Vanessa Bayer (Last Week: 7) I'm just going to use this space to reiterate that Bayer will be a huge star on the show by this time next season.

14. Jay Pharoah (Last Week: 14) As previously stated, what an enigma. I'd like to think that he'll have a good finale, but there just may not be that much room to go around next week.


You can contact Mike Ryan directly on Twitter.