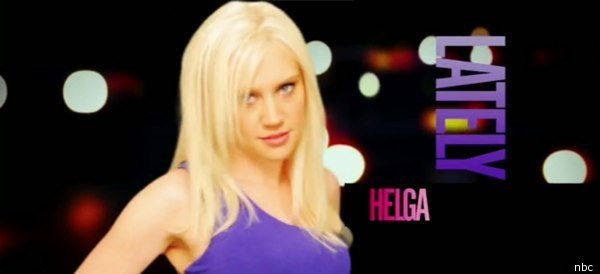 And down the stretch they come! Actually, I apologize for that opening sentence for two reasons: A) I think I may still have some lingering Kentucky Derby fever and B) Saturday Night's show didn't have any sense of madcap urgency that deserves such a sentence. (I have a feeling that more than a few sketch ideas were held back, considering Will Ferrell's return as host this coming weekend.) Also, there was no real clear winner this week when you factor in just how much airtime Eli Manning received. So, how about a bold winner in honor of a bold sketch?

1. Kate McKinnon (Last Week: 13) McKinnon certainly didn't have the most airtime, but she did manage to star in one of the ballsiest sketches of the season. Sure, "Helga Lately" didn't really work, but it's quite remarkable that McKinnon got a sketch, with hardly any English spoken, to air considering that this was only her third episode. Could McKinnon become the dominant female voice of "SNL" post Kristen Wiig?

2. Jason Sudeikis. (Last Week: 4) See, this is what I'm talking about this week. It doesn't feel like Sudeikis had a big week, but he was everywhere -- most notably in the superb "Test Message Evidence" sketch.

3. Abby Elliott (Last Week: 14) I hope that she gets another shot at "What Is This?" with a better host. But, regardless, it was a nice week for Elliott.

4. Kristen Wiig (Last Week: 6) This is why Kristen Wiig is a great cast member. Even when it appears that she had a slow week, on closer inspection, she played supporting roles throughout the night (and one starring feature during "Update"). I suspect Wiig's Greatest Hits Tour will restart this weekend with Will Ferrell as host.

5. Bill Hader (Last Week: 7) It's sad to think that next year, at this time, we may be discussing Bill Hader's last three episodes.

6. Taran Killam (Last Week: 3) Only two more shows until Taran Killam's world domination officially begins.

7. Vanessa Bayer (Last Week: 8) I want to coin a phrase: "Vanessa Bayer Smile." Good lord, no one is better at the sincere, yet funny, smile than Bayer. Do you know how models insure their legs, or whatever? Bayer should take out a million dollar insurance policy on her trademark smile.

8. Fred Armisen (Last Week: 5) It's kind of remarkable how little we've seen of Armisen's Obama this season (and it looks like one got scrapped this past show). But that will change in the fall.

9. Kenan Thompson (Last Week: 12) Next season, Kenan Thompson will have the fifth longest tenure in "SNL" history, tied with Tim Meadows. Even more interesting, there are two people ahead of him who are still on the show (Meyers and Armisen).

10. Nasim Pedrad (Last Week: 10) It's a shame that when Nasim does get airtime, it's usually as an anchor. I honestly think that next season will be a big one for her. (But, I'll admit, that might be a case of wishful thinking, too.) Though, it was short, she had one of the funniest moments of the night involving a washing machine.

11. Bobby Moynihan: (Last Week: 9) No wonder Saturday's show was subpar: no trademark Bobby Moynihan reaction shot.

12. Andy Samberg (Last Week: 1) During the last show, Samberg had two digital shorts. Even with Rihanna present, "Shy Ronnie" didn't even make an appearance.

13. Seth Meyers (Last Week: 11) I know this isn't true, but, for whatever reason, Meyers is giving off a vibe that he can't wait for the season to be over. Again, I really doubt that's the case, but, for whatever reason, that aura is there during "Update" as of late.

14. Jay Pharoah (Last Week: 2) If Pharoah's pattern holds, we will get one more really great show from him. My money is on the Mick Jagger hosted installment.


You can contact Mike Ryan directly on Twitter.