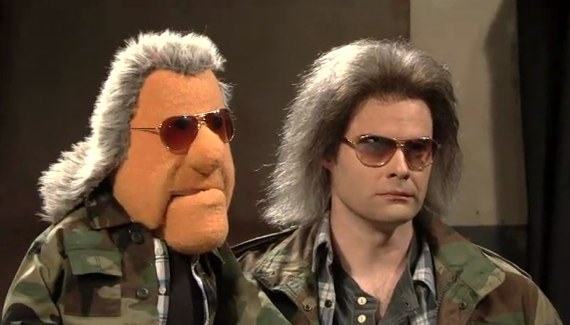 Always following in the footsteps of "SNL" Scorecard, the SNL Relevancy Poll now kicks off its season as well. Remember, the Relevancy Poll is less about pure performance as it is a combination of buzz and airtime from Saturday night's show -- an opening show that featured three brand new cast members and, somehow, nobody got shut out. It also featured a casting decision that will change the balance of power on the show for one recently promoted repertory player, at least for a good part of the season.
(And if this isn't enough "SNL" for you, Hitfix's Ryan McGee and I have started the Not Ready For Primetime Podcast, which you can find at the bottom of this post. Again, I apologize for my voice in advance.)

1. Bill Hader Expect to see Bill Hader's name at the top of this list a lot this season. Kristen Wiig pretty much dominated the show every season since she became a cast member -- except for two seasons ago when she was preoccupied with "Bridesmaids." In that season, Hader became the star. With Wiig gone and this possibly being Hader's last season (his contract expires at the end of the season), all indications point to "The Season of Hader." And "Puppet Class" was a strong start to "The Season of Hader."

2. Jay Pharoah I've been calling for Obama to be handed over to Jay Pharoah since 2010 (and not just because I've heard through the grapevine that he may or may not be a reader of the Relevancy Poll). So, yes, I was quite pleased when this decision was made before the season started. Regardless, this instantly transformed Pharoah from "guy who sometimes didn't even get on the show, but occasionally showed signs of greatness" to "one of the most important cast members." The trick is if Pharoah can parlay Obama into more airtime with other roles - especially after the election is over. Also: Hi, Jay.

3. Fred Armisen Not all cast members respond well after losing a high profile job on the show. Norm Macdonald became an afterthought after losing "Weekend Update" and it felt like a much more awkward exchange when Will Forte lost George W. Bush to Jason Sudeikis. (Yes, it's odd to remember that Will Ferrell played Bush only a year into his presidency.) The point: It was nice to see Armisen have a nice night after losing Obama (although to an outsider, it appeared that he had gotten bored with the role anyway).

4. Vanessa Bayer This will be interesting to watch. With Wiig gone, a huge hole opens up as far as the women on the show are concerned. Will one woman dominate, like Wiig did? Or will it be more of a sense of community, like the relationship between Fey, Poehler, Dratch and Rudolph? For now, this seems like it's Bayer or Pedrad's to take - with Bayer in the slight lead.

5. Tim Robinson Good grief, Tim Robinson was in five sketches on his first show -- including a starring role in "Wooden Spoons" to close out the night. Put it this way, on Taran Killam's first show he got to wave once during Amy Poehlers monologue and then appeared for three seconds as Jet Blue flight attendant Steven Slater. If I were Tim Robinson, I would still be nursing my celebratory hangover.

6. Bobby Moynihan There may have been no point to the Psy-infected "Lids" sketch, but, boy, Bobby Moynihan does a great Psy. Also, I am personally looking forward to another season of the now patented (I have no idea if that's true) Bobby Moynihan Reaction Shot ®.

7. Kenan Thompson Apparently Kenan had retired "What's Up With That?" but brought it back again at Maya Rudolph's request. Hopefully Kenan will bring it back one more time so that the world can see Jason Sudeikis dance around in a red track suit at least one last time.

8. Nasim Pedrad Pedrad did not have a great last half of last season - seemingly the victim of Kristen Wiig's farewell tour. It took awhile in the show, but it was a relief to see her in a starring role while at the same time not having to play a character under the age of 16.

9. Taran Killam If this were for summer exploits, Killam's nuptials to longtime partner Cobie Smulders plus filming a role in Brad Pitt's "Twelve Years a Slave" would have put the guy we deemed The Future of SNL® at the top of the list. Though it was a quiet-ish week for Taran, the revelation the he will be portraying Paul Ryan is definitely a coup.

10. Jason Sudeikis In August, when it still wasn't confirmed if Sudeikis would return to the show or not, he told Rebecca Keegan of the L.A. Times, "I'd like the opportunity to use creative muscles that ... haven't been asked of me for the first nine years that I've worked there." He added, "To stay just for the juice of being in the public eye -- of being Mitt Romney -- is not enough." Well, in the opening show, Sudeikis played Romney and an employee at a hat store.

11. Seth Meyers It seems to take Meyers a show or two to get warm. This was not his best effort as jokes fell flat and he stumbled a couple of times. Meyers, more than any other cast member, feeds off the energy that's in the studio. For whatever reason, it wasn't there this week.

12. Cecily Strong It was a mixed debut for Strong as far as airtime is concerned. She starred in a "Weekend Update" segment, but was missing in action for the rest of the show. But, again, compared to the debut of the last group of featured players in 2010, she's ahead of the game.

13. Kate McKinnon Had some smaller roles sprinkled throughout the show. But, as we saw briefly at the end of last season, we know she can carry a sketch when given the opportunity.

14. Aidy Bryant She had one line in the entire show, during the "Blind Date" sketch. Though, to be fair, it was one of the funniest lines of the night.


Mike Ryan is senior writer for Huffington Post Entertainment. You can contact him directly on Twitter. And you can listen to the Not Ready For Primetime Podcast below.