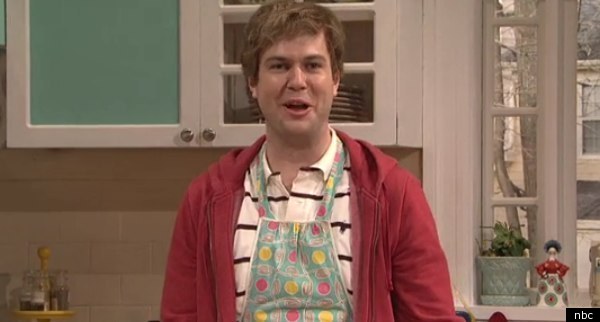 What a great show the Zooey Deschanel-hosted effort turned out to be. Who saw that coming? (In a "she's never hosted before, plus the show has been a bit stagnant the last few weeks" kind of way.) And it was good to see the whole cast get involved (well, except for poor Kenan Thompson) and it was especially good to see Abby Elliott have a nice week. We do tend to worry about her at times around these parts. But, regardless, there's still one cast member who had a better week than the rest, so this week's top accolades go to...

1. Taran Killam (Last Week: 10) Fairly amazing night for Taran Killam. He danced with Jean Dujardin, unleashed his Michael Cera impression upon the world, and appeared in what felt like every sketch of the night.

2. Bill Hader (Last Week: 7) Hader dominated the commercial parodies this week. Verizon was good, but, good lord, Hader's Eastwood is almost too funny. (Like in a, "Aw, poor Clint," kind of way.) And the best part: Hader seems to be having so much fun with it that it's given Stefon a much needed rest.

3. Abby Elliott (Last Week: 13) I usually hate it when a parody impression is done right in front of the person being parodied. Both Abby Elliott and Andy Samberg somehow pulled off this stunt on Saturday night without it being excruciating. Thankfully, neither was of the "Oh, I just happened to be walking by and noticed you were doing an impression of me, so now I'm interrupting" variety, which helps. Regardless, both segments were brilliant.

4. Andy Samberg (Last Week: 8) See above -- except that I will add that there has not been a Digital Short since January 7.

5. Seth Meyers (Last Week: 11) For whatever reason, Meyers' mood on "Update" seems to reflect the tone of the show. This week was no exception: Meyers has seemed rushed and almost flustered the last few shows, but he returned to form this past Saturday. Considering the news that was on everyone's mind, this was even more impressive.

6. Jason Sudeikis. (Last Week: 2) Played Romney in the cold open with a loud dog, then played one half of LMFAO, which, on the surface, doesn't seem like a good fit, but somehow it was.

7. Nasim Pedrad (Last Week: 4) She should get an entire sketch as M.I.A.

8. Kristen Wiig (Last Week: 3) Wiig had a presence, but, for the first show in quite some time, she wasn't the dominant force.

9. Fred Armisen (Last Week: 12) Played the other half of LMFAO and had the best lines in the Verizon commercial.

10. Bobby Moynihan: (Last Week: 1) After winning the rankings last week, Moynihan was relegated to his patented reaction shots. This is not a terrible thing because every show should have at least two Bobby Moynihan reaction shots.

11. Jay Pharoah (Last Week: 6) This is really happening. Over the last few weeks, Pharoah has integrated himself into the cast as someone who does things other than impressions. Sure, it wasn't a particularly strong night for him, but, still, I like where this is going.

12. Vanessa Bayer (Last Week: 9) Yes, it was a slow night for Bayer, but she did get to play Joan of Arc in front of Jean Dujardin.

13. Kenan Thompson: (Last Week: 5) I was actually thinking to myself, "Wait, was Kenan even at the show?" because I don't remember seeing him once. He was at the "good nights," so, scouring through, I found him, as the picture shows, as one of Madonna's gladiators.


You can contact Mike Ryan directly on Twitter.