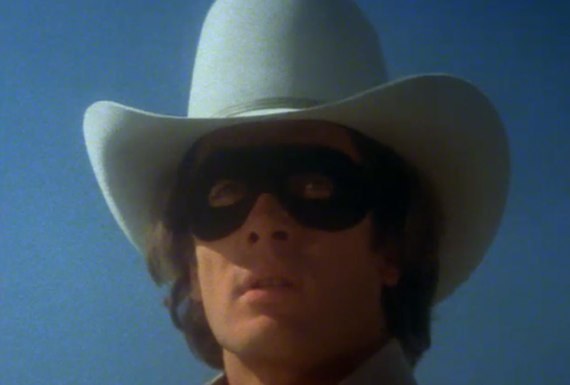 Pretty much everything went wrong with 1981's The Legend of the Lone Ranger. Most notably: the production slapped an injunction on Clayton Moore (who had played the Lone Ranger for most of its television run), preventing him from wearing the Lone Ranger costume at public appearances. And then they hired a hellion named Klinton Spilsbury to play the Lone Ranger (who current "Lone Ranger" star Armie Hammer discusses here), but he turned out to be better at getting into fights on and off the set than he was at delivering his lines. (Infamously, actor James Keach would later redub all of Spilsbury's dialogue.)
As a child, I had seen bits and pieces of The Legend of the Lone Ranger on HBO, but even then it never held my interest enough for me to make it through the entire movie. (And this was a time in my life that I thought The Dukes of Hazzard was compelling entertainment.) So, now, I will watch The Legend of the Lone Ranger for the first time in its entirety and keep a live blog as I go. (And may God have mercy on my soul.)
0:00:26 I have been told that this takes place in Texas and that it's 1864. So far, so good.
0:01:37 There is an ambush on a family ranch. Young Tonto is there and I presume that's a young Lone Ranger. I can only presume that this is The Phantom Menace of Lone Ranger movies.
0:02:20 The young Lone Ranger's family is slaughtered, but within 30 seconds we see him riding off with Tonto. I will just assume that he grieved.
0:02:40 I should add, I have no idea if this young boy is Tonto, he has yet to introduce himself. But he is dressed exactly like Tonto from the television series.
0:03:10 It's confirmed. An elder Native American with an almost New Jersey accent just referred to him as Tonto.
0:3:19 Oh, my. So, apparently, this movie will be accompanied by a contemporary (for 1981) spoken-word, ballad style musical narration. I am afraid to look up who agreed to provide this narration.
0:03:22 It was Merle Haggard.
0:03:59 There's now a montage of young boys wrestling. I do not feel 100 percent comfortable watching this. Only the voice of Merle Haggard is there to let me know that this is all okay.
0:05:58 And here's your The Legend of the Lone Ranger title card.
0:06:14 Wait, Christopher Lloyd is in this movie?
0:06:45 It's a shame that this Merle Haggard song that is currently playing was not used for the new movie.
0:08:13 A few years have passed and here is our first introduction to the infamous Klinton Spilsbury as John Reid. He does have a great voice. It's a shame that it's not his.
0:09:31 Spilsbury's redubbed voice is extremely distracting. It doesn't come close to creating the illusion that the voice I'm hearing is in the same room as the actors I'm watching.
0:09:56 For example, right now all of the characters are on a stagecoach. All of the actors sound like they are on a stagecoach except for Spilsbury, who sounds like he's in a tunnel that has a slight echo.
0:10:30 Honestly, this movie is terrible.
0:13:17 The stagecoach has been stopped by marauders. I wish the marauders would now stop me from watching The Legend of the Lone Ranger.
0:16:05 Merle Haggard just explained to me that "simple folk" are rarely suspicious.
0:21:15 John Reid's brother, Dan, just went on a drunken rant about President Grant. This is by far the most interesting thing that's happened so far in this movie.
0:22:17 Christopher Lloyd has just made his first appearance as Butch Cavendish with a look on his face that says, "I wish I were back on the set of Taxi right now."
0:25:45 I wish Johnny Depp were in this movie.
0:27:21 John Reid just said the words "nice party" in the clunkiest way possible. I cannot fathom a world in which another human being said this line in a worse way, though I wish I could watch that version right now.
0:30:00 We are a third of the way through this movie and have yet to see the Lone Ranger in costume.
0:33:21 OK, OK, we're finally getting somewhere. John Reid is with his brother and a few other rangers in an attempt to find this Cavendish fellow. I assume they will all be killed soon except for the character who talks funny.
0:34:47 Dan Reid just asked John to look in on his family "if anything were to happen to me." John replied, "Nothing is going to happen to you." Everything about this movie is stupid. I am physically getting angry.
0:34:53 After being told that nothing would happen to him, Dan replies, "Yeah, I suppose." Let's see how much time passes before something does happens to Dan Reid.
0:35:03 Ten seconds have passed with nothing happening to Dan Reid.
0:35:13 Twenty seconds have passed with nothing happening to Dan Reid.
0:35:23 Thirty seconds have passed with nothing happening to Dan Reid.
0:35:33 Forty seconds have passed with nothing happening to Dan Reid.
0:35:43 Fifty seconds have passed with nothing happening to Dan Reid.
0:35:53 One minutes has passed with nothing happening to Dan Reid.
0:36:23 One minute and thirty seconds have passed with nothing happening to Dan Reid.
0:36:53 Two minutes have passed with nothing happening to Dan Reid.
0:37:13 Two minutes and 20 seconds later, something is happening to Dan Reid.
0:39:28 Four minutes and 35 seconds later, Dan Reid has been shot.
0:40:02 Dan Reid is mortally wounded.
0:40:12 Dan Reid is dead.
0:40:30 Sadly, the credits have not started to roll.
0:41:35 Merle Haggard has returned to explain to me what just happened.
0:43:09 Tonto has returned.
0:45:47 Tonto has saved the life of John Reid. They remember each other from when they were children.
0:48:20 I often get Pegasus and Silver confused. I will assume that the Lone Ranger will not have a flying horse at any point in this movie.
0:51:45 Having seen the new The Lone Ranger movie, I can't believe how similar the plot is to this movie, at least up to this point.
0:51:56 Well, other than this one being excruciatingly boring.
0:53:33 There is a slow motion montage of John Reid with his fake voice "breaking" Silver. It is quite possibly the funniest thing I've seen in the last week.
0:53:49 "Uhhhhh." "Ahhhhh." "Opmh." "Ahhhh."
0:54:05 I would pay money to watch James Keach in a recording studio making those noises.
0:55:45 I just want to point out that this scene is still going strong.
0:58:13 Approximately two-thirds of the way through The Legend of the Lone Ranger, we finally see the Lone Ranger.
0:59:15 The Lone Ranger and Tonto are riding as the "William Tell Overture" plays in the background. I have no idea where they are going, but they are going there with a great deal of urgency.
1:02:55 Christopher Lloyd is strangely underused in this movie.
1:03:58 Cavendish reveals that his plan is to kill the president. Apparently no one likes President Grant.
1:05:25 For no reason whatsoever, townspeople are going to hang Tonto. Merle Haggard even jumped in and added, "I don't guess anyone stopped to ask what Tonto was guilty of." Indeed.
1:05:45 Why am I watching this?
1:05:48 Why are you reading this?
1:06:15 The Lone Ranger saved Tonto. Credits rolling?
1:06:20 Alas, The Legend of the Lone Ranger keeps going.
1:07:25 We meet President Grant and he just introduced his friends General Custer, Wild Bill Hickok and Buffalo Bill Cody. Honestly, I would not be surprised if in the next scene he says, "And this is another friend of mine, Iron Man."
1:07:30 I just realized that President Grant is being played by Jason Robards. I wish I didn't know this.
1:07:45 Richard Farnsworth is playing Wild Bill Hickok. I wish I didn't know that either.
1:13:22 I feel that I may have to cleanse myself after this by watching Max Dugan Returns.
1:15:18 The voice being used for the Lone Ranger now that he actually is the Lone Ranger is even more ridiculous.
1:16:45 There are 21 minutes left in this movie.
1:17:12 So, President Grant has been captured by Cavendish. The Lone Ranger and Tonto are trying to rescue Grant even though it's apparent that no one in this movie likes Grant.
1:18:16 Tonto just asked the Lone Ranger if his goal is to rescue Grant or if it's to get revenge on Cavendish. The Lone Ranger didn't answer. I less think this is to make him look mysterious and more think James Keach had the day off on this particular day of looping.
1:19:32 My best guess is that the Lone Ranger plans on boring Cavendish to death.
1:22:07 There are a decent number of good actors in this movie. My only guess is that they were given instructions to "make your characters as least interesting as possible."
1:24:12 The Lone Ranger just punched a man in the face. That's the first actual action he's had this whole movie. In 13 minutes this movie will be over.
1:27:46 The Lone Ranger, Tonto and President Grant just blew up Cavendish's house. I don't even care anymore.
1:29:33 The cavalry showed up and saved the day. It's actually remarkable how little the Lone Ranger does in this movie.
1:31:25 Both on horseback, the Lone Ranger is chasing Cavendish. In response, Cavendish just threw his rifle at the Lone Ranger.
1:31:58 The two are now wrestling in what looks like an early draft of the fight between Lloyd and William Shatner in Star Trek III: The Search for Spock.
1:33:35 Jason Robards just delivered the line, "Your sins will be paid for in the fires of hell" in the most "I can't believe I agreed to be in this movie"-type of contempt humanly possible
1:34:33 Jason Robards just delivered the last line of the movie, "Who is that masked man?" in a way that no human would ever confuse the fact that he doesn't care who that masked man is.
1:34:45 Take us out, Merle Haggard. "A fiery horse across the plains, and he was gone from sight. He changed the course of history as he rode. And folks would tell of one Lone Ranger, turning wrong to right. They wondered whoooooo. But they never knewwwwwwww."
1:35:36 Yikes.
Mike Ryan is senior writer for Huffington Post Entertainment. You can contact him directly on Twitter.