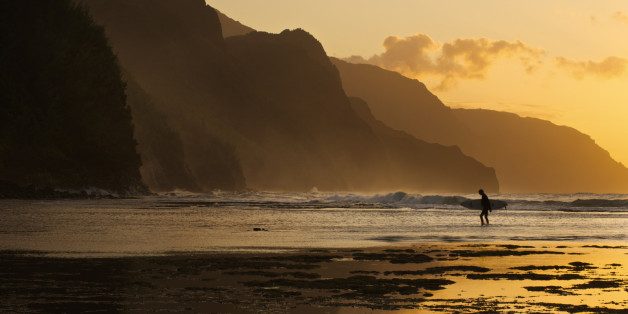 One year ago this week, my one way ticket from New York City to Honolulu left me happily stranded in Hawaii. While it's been a very strange and exciting transitional year, I'm pleased that I've been able to adapt to the ways and mores of my new hometown.
The change hasn't been as easy as I thought it would be. After all, I was moving to paradise and I told my friends, "Who's going to regret living in Hawaii for at least a couple of years of their life?" And while I stand by that sentiment, it took some time to adjust.
So here are six things that I've learned in my first year here.
1. Patience. I'm from Cleveland "Slow-hio." But I moved to Manhattan in my late 20s. And after two decades of living in a place where patience is less than a virtue, I had to find a way to turn off my inner rush rush, hurry up. The first trick was to follow everyone else's lead and wait for walk signs to turn green. Then came not jaywalking. No need to talk fast on a phone call because no one is going to understand you, let alone not connect you faster. And after I got a job, I had to learn not to jump right into talking about business, but to talk story to help people understand who I was and find out who they were. It's not a race here, so I could forget about the rats.
2. Aloha. Most people on the mainland think it means hello and goodbye, but it's much deeper than that. I felt it on my first visit back in 2006 and it was definitely in the air on subsequent trips. The Aloha Spirit has made me a friendlier person because if the choice is whether to say hello to someone, you can always err on the side of being friendly and you can't go wrong. Like the time a woman having a family celebration in a restaurant invited me to join them. Or the people who let you borrow their cell phone after you left yours in the apartment you just locked yourself out of. Or how people always wait and let the other person go first. I won't attempt to define aloha, but I can say I've enjoyed being enveloped in its warm embrace on each of my 365 days here.
3. Outdoors. Toward the end of my time in NYC, there were weekends where I'd come home on Friday night and not leave my apartment until Monday morning (thank goodness for food delivery!). But now, I think I'd get sick if that happened here. Everyone I know here spends a significant amount of time at the beach, hiking, biking, or attending an event that is inevitably held outdoors because the sun is going to be shining its warming rays upon you. Outdoors is where you #livehawaii.
4. Priorities. Work matters, but it doesn't MATTER. Money matters, but Hawaii has one of the highest costs of living and salaries that don't match those costs. Power? Yay -- you get to boss around people who could care less and would rather be outside. But ohana (family) matters. Kindness matters. Sharing a meal matters. Making music matters. All of the things that make your soul smile are the things that are deeply valued here. And while we'd all love a bigger house or a better paying job, those aren't the things that bring true happiness. People here seem to get that more than anywhere else.
5. Attire. You can basically get away with wearing anything in Hawaii. I can't recall ever seeing a "no shirts, no shoes, no service" sign here. And it's not strange to see people in bathing suits walking down the streets or gotten into or out of near the beach. It's casual and that's a good thing. However, I'm still conflicted on whether to dress up for an interview or formal occasion. I'm sorry, but for me, an aloha shirt just doesn't cut it at an awards ceremony or fundraiser. And while I learned to wear an aloha shirt for a job interview (because nothing says I don't fit in like a suit), it doesn't have that professional feeling I've come to know. But perhaps that "professional feeling" is just a pretense? So I'm keeping it real in my untucked, semi-aloha shirts (I can't get with the floral prints either, but...).
6. Sunsets. When I first got here, people would always ask to meet just before sunset at a place that had a view of the sun going down into the ocean. At first I thought that's kind of sweet - I mean that's a good time to meet and how nice of people to want to see the sunset. But sunsets here can be spectacular. And they're not like the ones in Los Angeles (chemically enhanced by the smog) or New York City (rarely seen and ting only during "Manhattanhenge").