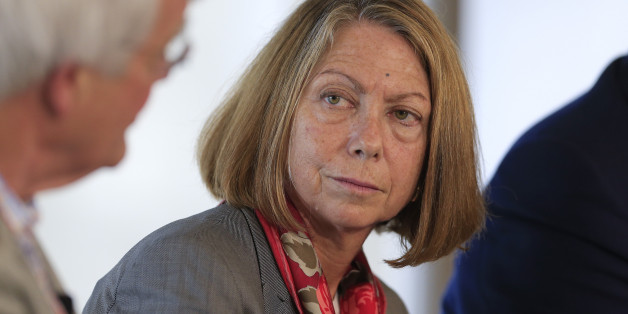 New York Times executive editor Jill Abramson has a tattoo of the Times' "T" on her back. And I thought that was kind of cool -- partly because I've been thinking about getting one to acknowledge my life in Hawaii and also because I still kind of think of tough people as the types that get tattoos.
As the leader of America's foremost daily news organization, Abramson has to have a thick skin. The "paper of record," gets picked apart and criticized daily -- sometimes legitimately, some worth discussing and often just to advance someone's political agenda. But each day she steps into the fire, takes it on, and produces a product that enlightens, educates and entertains readers.
However, Abramson has an obstacle that's stood in her way that men do not have to deal with: her gender. A recent Women's Media Center report detailed the gender breakdown of newsroom reporters and freelancers and found that men are responsible for 63 percent of all bylines we see and 71 percent in print journalism. Sadly, the report's authors write, "American media have exceedingly more distance to travel on the road to gender-blind parity."
Clearly, Abramson has successfully navigated that obstacle course. But she's not alone. In fact, I know four such women in Hawaii who are at the top of their field in online, radio, print and TV news. And the four of them -- Civil Beat editor Patti Epler, Hawaii Public Radio host and executive producer Beth-Ann Kozlovich, columnist/reporter/author Denby Fawcett and KITV reporter Catherine Cruz -- are going to get together this Tuesday, April 29 for a conversation titled "Women in Journalism: Setting the Standard." It will take place at the University of Hawaii in the Architecture Auditorium (2410 Campus Road) at 6 p.m. For people interested, there will be a free, pre-event wine and pupu mixer at 5 p.m. where students and members of the community can mingle with our distinguished panel and hear more about how they succeeded in the male dominated world of journalism. The event is sponsored by Civil Beat, the University of Hawaii Department of Political Science, Bishop & Co., the Women's Fund of Hawaii and the Scholars Strategy Network of Hawaii.
I think it's going to be a fascinating conversation and I hope people will come out to listen and ask them questions. But mostly, I want to see if they conform to my "tough people" tattoo theory. And when they do, I'm going to get mine this week.