The measure of glory and pleasure for an NCAA baseball student-athlete, particularly one unencumbered by scholarships, thoughts of becoming unionized (like with Northwestern University football players who are now before the NLRB board in D.C.) and whether he will be drafted by an MLB team, is only in years to come and certainly defined by the desire, drive and determination (the three "Ds") to play, and have played, the sport while attaining a top-notch education. Put in the elixir superstitions that ballplayers are known to have and a coach who cares about his players and you have this year's Atlanta-based Emory University's baseball team that played at the campus' Chappell Park, named after Bob Chappell, one of the nicest and unassuming guys you ever will want to meet.
It was 16 years ago that this writer last observed the Eagles of Emory play ball -- when someone, also named Zaremski, last caught for all his four years there. This year's edition of Emory baseball captured the South Region title of the Division III NCAA Baseball tournament, coming out of the loser's bracket by winning multiple back-to-back games to do so. The win took it to the double elimination, NCAA DIII World Series at Neuroscience Group Field at Fox Cities Stadium in Grand Chute, Wisconsin, a stone's throw from Appleton and home to the Milwaukee Brewer's Midwest League "A" club, the Wisconsin Timber Rattlers. To get so reacquainted with Emory baseball, this writer (and his wife) also traveled 335 miles roundtrip on each of two separate days from his hometown to Grand Chute.
Teams from all over the country showed up for this CWS, winners of their respective regions, and -- as with its run in Demorest, Georgia at Piedmont College where its regional was held -- Emory lost its first game (5-4 to Baldwin-Wallace from Ohio), but then "ran the table," beating teams in convincing fashion from just southwest of Portland, Oregon (Linfield); Cortland, New York (SUNY-Cortland State); Portland, Maine (So. Maine U.); and Minneapolis-St. Paul (St. Thomas), to advance to the championship game against the Univ. of Wisconsin-Whitewater.
The meeting with Wis.-Whitewater was a particularly important one for Emory, since seven years ago it lost the title bid in the very last game in 10 innings to Kean, a team from New Jersey. This time around, destiny was equally unfriendly to Emory, as Whitewater blanked it 7-0 in its first meeting, giving Emory its second, and final, loss in the tourney and without the need for a second game between the two teams.
Again, this is Division III where there are no athletic scholarships, no concerns about how many fans will fill the stadiums or ballparks to pay the bills, rarely worries about getting drafted, and no large crowds like the thousands, for example, that went through the turn styles at the recently completed Big Ten tournament in Omaha (though an attendance record was set in Grand Chute for the finale). But one thing is certain: the drive, determination, and desire of those who toil on the diamonds of DIII programs throughout the year and certainly the season equals those by any ball player playing America's pastime, anywhere! The Emory nine were no different with the likes of a Jared Welch, a "dirt bag" of a catcher, which in baseball lingo is a true compliment. Catchers should be the most dedicated, most driven, and most knowledgeable of players on the baseball field, and he sure was one. There was another Jared, this one named Kahn from Atlanta, who played well in the field and at the plate. There were many others who contributed to the success of the team (coming from 11 states and one Canadian province). "Team" does not have an "I" in it, since what the Eagles achieved was the result of all the players doing what they needed to do with their pitching, fielding and hitting.
Two team players deserve particular mention, not for their on-field heroics or stats, but for what they did for this particular Emory team besides with their batting and fielding. One was no. 14, Josh Bokor, the "sombrero guy"; the other was no. 42, David Coble -- the player who toted the potted plant (actually, it looked like a miniature evergreen though its moniker was the Emory "Senor bush"). Ballplayers can be a superstitious bunch, like not washing a uniform or mending a rip that continues to grow for fear a winning streak will end (Emory players included) or not stepping on a foul line going to and from the field, or even getting to a field position via a well-worn route. Even catcher Welch had a (very bushy) beard eight months old that would remind one of the unshaven face of Mike Napoli of the Boston Red Sox during their run to take the World Series title. But getting back to the sombrero, and so the story goes, it was found on the side of the road by outfielder Brett Lake, who then took it to the dugout. Josh became its keeper, mentor and wearer, that is, when he wasn't playing. As for Senor bush, according to Coble, he had a "concept," that something was needed that could grow with the team throughout the season -- its "lucky charm."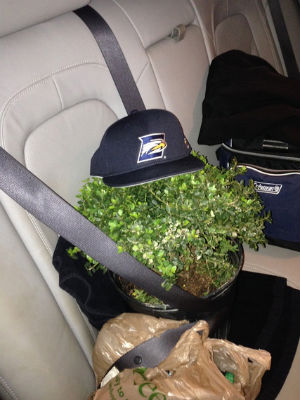 So came the plant that not only graced the Emory bench during its season and was carried into on-field team "pep rallies" before a game's start, but that was driven by freshman pitcher Jackson Weeg's parent(s) all the way from Atlanta (shown in the photo above) to the dugouts at Fox Cities Stadium, hundreds of miles away. Whatever it takes to win, huh? Guess the sombrero and plant served their purposes -- remember those superstitions -- given how Emory did throughout the post-season play up to the very last game of its journey.
One final thought and that concerns the Emory's head coach of many years, Mike Twardoski, himself quite a ballplayer from his days with the Crimson Tide of Alabama and then with the Boston Red Sox organization. In the game that took the team to the championship game, he started no. 24, Ben Hinojosa. Ben was a senior, so this would be his last game as a collegian. He pitched well, but was lifted for a reliever. Coach "T" came to the mound, took the ball from Ben, but instead of having his pitcher just walk off the mound in usual fashion, Coach first gave him a big hug, as if to say, you had one helluva career at Emory and we all personally appreciated that. Now, that is what a collegiate sports experience for student-athletes should be all about.
So, to all those who aspire to be NCAA student-athletes, and even you current ones wherever you are, use the formula and take a lesson from the Emory Eagles baseball team and its coaches this year. In life's experiences that are still a long way off, you will come to find out then that your college days on the ball diamond will be among the most satisfying and gratifying ones you will ever have. Remember, it is the journey and not the destination that matters most. And... that goes for your loved ones, parents, friends and acquaintances who followed your season too -- just ask the Emory team's supporters, and followers... including the likes of Fredricka Kahn, Bob Chappell, Mrs. Welch, and many others who traveled so far and wide to see you play.