This fall I had an out of office email auto-reply on most days, traveling across Mexico, Azerbaijan, the United Arab Emirates, South Africa, and beyond to meet with youth leaders. Four millennials I connected with along the way define leadership for our generation. These leaders have faced war, disease, poverty, discrimination, racism, and sexism. They remind me what is at stake for peers across the globe.
Energy Maburutse, student leader from Zimbabwe: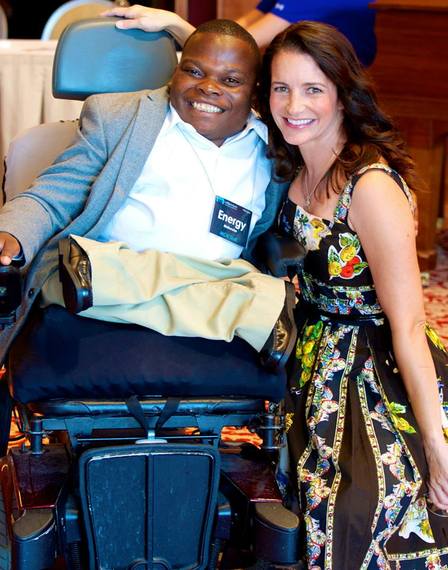 Energy Maburutse with Kristin Davis at the Millennium Campus Conference (photo credit: Sydney Putnam)
When Energy was born with brittle bone syndrome (his bones break easily), some family members thought he was a curse. He would crawl everywhere; it wasn't until he turned seven that he received a wheelchair for the first time. Energy's gift was music. He played the marimba, got spotted in Zimbabwe, toured Europe and the US, and ended up getting a full scholarship at Lynn University. When I first met Energy, I asked him about his inspiration. "My mom," he replied. He told me a story of how she pulled him aside one day and showed him mango trees. She said, "Look. That mango tree is tall. That one is short. That one is crooked. That one is fat. But they all produce delicious fruit." His mom Chimbidzikai instilled in Energy a belief that he could make a difference. When we met last winter, I learned that his mother had breast cancer that went untreated for over a year due to lack of funds. Energy then mobilized our Millennium Campus Network and Lynn communities to raise over $14,000 for her chemotherapy (just $1,000 left to go now), and his mother's health has greatly improved. Chimbidzikai empowered Energy, and Energy is now empowering his mother as he continues on his own career path: becoming a passionate advocate for people with physical differences at home and across the globe.
Netia McCray, social entrepreneur from the United States:

Netia McCray's Awards acceptance speech at the Millennium Campus Conference
Netia recently graduated from MIT. She could have gone anywhere- she had job offers from Google, Facebook, and more. Instead, she continues full-time with the organization she founded while on campus, Mbadika. Mbadika is tackling youth unemployment by unlocking the power of aspiring young innovators. Netia is in Cape Town, South Africa, helping students explore design thinking by bringing her organization's DIY USB solar power charger to the market. Netia was in our inaugural class of Millennium Fellows, and her efforts to make her organization more effective and sustainable unlocked a $7,000 grant from our sponsors The Jenzabar Foundation. We just honored Netia on stage alongside Kristin Davis, Nicholas Kristof and more global leaders. She shared, "Representation matters...To a girl in Boston, Mbadika and I represent the idea that a girl, and not just any girl- a girl who looks exactly like her- can do whatever she wants." Netia is a role model for all youth, and especially for girls and women of color. She is part of a growing number of millennials using extraordinary talents to tackle pressing challenges through social entrepreneurship.
Al-Nasir Bellah Al-Nasiry, doctor from Iraq:
Nasir's story is one of hope in the face of extreme adversity. In 2006, Nasir was shot in the leg in Baghdad (a war zone). Nasir went to the emergency room and there were no doctors on call to treat him; they were treating three wounded police officers. He was treated for a gunshot wound by a nurse without anesthesia. Today, at 26 years old, Nasir is himself a doctor working in his country. Given the instability in Iraq today, he could choose to leave. Instead, he serves his people. His leadership reminds me that millennial leadership exists in every place on earth; these are the leaders the world must invest in and unite behind.
Amos SB Jah, youth activist from Liberia: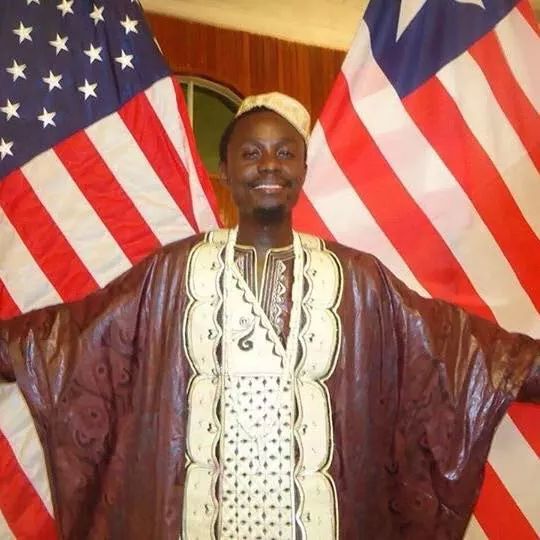 Amos SB Jah standing with the American and Liberian flags
Amos spent many years as a youth activist in Liberia. At 27 years old, Amos died this October. His friend Mac Nelson told me that Amos had a liver tumor. Unfortunately, given how pervasive Ebola has been across West Africa, Mac shared that the health system had shut down in his country. According to Mac, Amos could not get adequate care and didn't even know what he was suffering from until the day he died. Given that Mac has worked in the United States, I asked the tough question: Would Amos have passed away in the US? Mac's telling reply: "Definitely not." The fact that youth leaders like Amos are passing away is unacceptable, and it is the kind of crisis our Advisor Dr. Paul Farmer described as "the terrorism of poverty" earlier this year. Amos' legacy will live on through the work of his friends like Mac and grassroots youth organizations like PPYO and the Federation of Liberian Youth, carrying forward with educational initiatives to make a difference in his country.
With support from the US Department of State, Lynn University, and more partners, we spotlighted these four individuals at our sixth annual Millennium Campus Conference. I share these four stories to inspire our peers working to change the world: you are not alone. I also share these stories to outline what is at stake for our generation. Leaders like Energy are being ostracized and stigmatized based on physical differences. Leaders like Netia are facing discrimination based on race and gender. Nasir lived through war. And Amos lost his life.
We can collectively do so much better. If we are serious about ending extreme poverty, these four millennials and their counterparts on campuses and in communities across the globe are the leaders we need to turn to for inspiration, advice and guidance. We need to invest in them and their bold ideas. The world is counting on each of us to step up and make this happen.
Sam Vaghar serves as Executive Director of The Millennium Campus Network.