A weekly tradition was born when Top Chef first aired six years ago. Desperate for time away from the library, a small group of law students, all foodies, convened for dinner and debate in my tiny Austin apartment. We never anticipated that our ritual would continue years later in New York, where my friends practice law while I write about food and travel.
We were jubilant when Bravo announced its decision to feature Texas on season 9, and I assumed chefs would compete at the new Culinary Institute of America campus in San Antonio, where a Latin Cuisines Advisory Committee works to "elevate Latin American cuisines to their rightful place among great cuisines of the world." As I explained in Texas Monthly, CIA San Antonio is working to craft a Latin American cuisine certificate, followed by a master's program.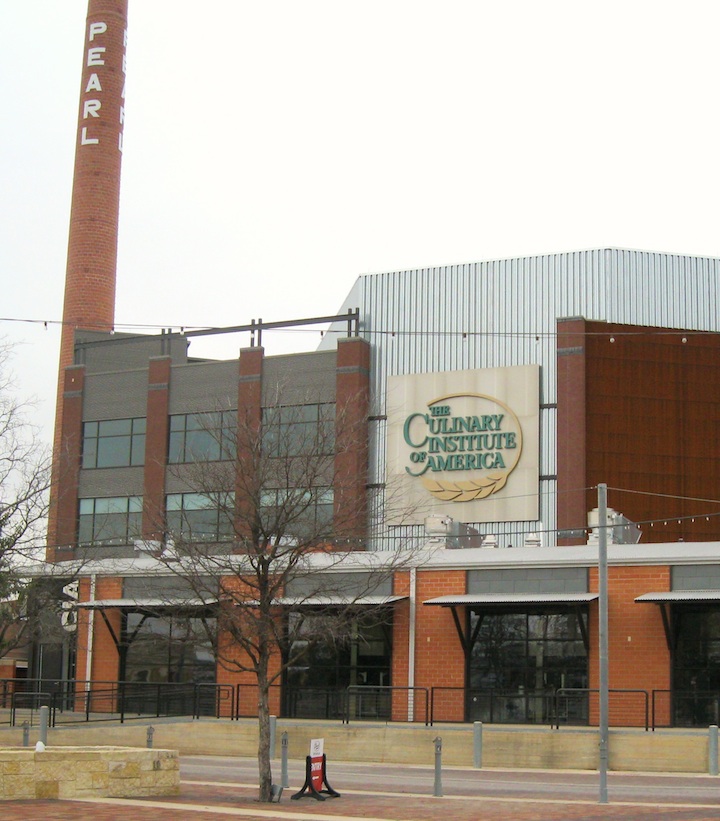 Although contestants have waged many of their battles on CIA's new turf, Bravo broke with tradition by splitting the Texas season between San Antonio, Dallas and Austin. Promising that things would be "bigger in Texas," Bravo made its first fatal error.
Production presumably suffered from Bravo's decision to cover three of the country's largest cities, with a five hour drive between two of them, but logistics and story flow weren't the only things compromised: the cities and their cultures have been relegated to cheap clichés.
Bravo lazily played up traditional Texas stereotypes (cowboys, hunting, big hair, big money), adding spice with outlandish elements that included: consumption of rattlesnake, a dinner party host who wanted to incorporate gummy bears into dessert, and guest judge Pee-Wee Herman, who couldn't tell the difference between chicken and pork but got to voice his culinary opinion nonetheless.
Mocking Texas is an age-old sport, especially in the Bush/Perry era, but we're talking about Top Chef, not the Real Housewives nor the Daily Show. Although anyone with half a brain realizes that reality television capitalizes on shortcuts and exaggeration, playing to the lowest common denominator when advantageous, Top Chef has historically dwelled in reputable terrain.
Texas viewers, like those gathered in my apartment years ago, are disappointed by how Top Chef Texas portrays their state. Attorney Emily Westridge of Dallas remarked, "I think the problem with this season is that it purports to be about 'Texas,' but it's only about Texas stereotypes and tourist hot spots. Texas is one of the most diverse states in the nation, and San Antonio, Austin, and Dallas each have a fantastic foodie culture enriched by outstanding regional cuisine and groundbreaking approaches to food and dining. For example, Austin is at the forefront of the food-trailer phenomenon. It's a shame to brand the show 'Top Chef Texas' when it doesn't portray who we are or how we eat."
Westridge's first point is perhaps the most fundamental: season 9 is the only season that purports to be about any specific place. Bravo never branded any other season, so why start now, in three disparate places, all home to unique food traditions? And why exclude Houston, the largest Texas city and one of the most multicultural in the country?
As much as they grated on me, the Dallas and Austin episodes were at least predictable, which is why I devote the majority of my article to my hometown of San Antonio. Several Dallas friends lauded Top Chef for featuring Dean Fearing and the Cattle Baron's Ball, both local to Dallas, but the Highland Park progressive party negated any positive representations of Dallas. Jenny Stewart, a Dallas native and attorney in New York, called it "laughable," an appeal to viewers who watch shows like The Real Housewives, Most Eligible Dallas, and Keeping up with the Kardashians." She bemoaned Bravo for blowing an opportunity at highlighting Dallas steakhouses, arguably the best in the country.
The Austin episodes were the most benign, and that's saying a lot, especially since Austin could have captivated viewers' attention for an entire season. Instead of featuring UT football tailgating, South Congress food-trucks, or BBQ eateries in downtown Austin, producers took contestants to the Salt Lick for pit wars. Though popular for its relaxed atmosphere, true BBQ aficionados never choose the Salt Lick over genuine eateries like those in nearby Lockhart.
San Antonio, the primarily filming location, serves as the series wild card. Perhaps because it doesn't neatly fit into any one stereotype, Bravo producers gave viewers a broader view of San Antonio, but it's there, I would argue, that Bravo also blew its biggest opportunities.
The San Antonio season began strong, with chefs preparing a Mexican feast for a Quinceañera, a Mexican festivity that rivals any American debutante ball or "Sweet 16." La Gloria chef Johnny Hernandez guest-judged, but things went south as soon as contestant Keith Rhodes decided to use flour tortillas when preparing enchiladas. That none of his teammates corrected him said a lot about the group's ability to explore Texas cuisine, namely Tex-Mex.
In selecting only one Latino-American (Chuy Valencia) and one Texas-based chef (Paul Qui of Uchiko), Top Chef producers made an ironic misstep. This season's chefs are competing inside the brand-new kitchens at CIA San Antonio, created to support local chefs and Latin-American cuisine, yet neither has been given adequate attention during this caricature of a competition.
Thankfully, all is not lost. Paul Qui is primed to win, and his victory could offset the discontentment Bravo has caused the Texas community.