Avid travelers come in all shapes and sizes, driven by a variety of expectations. Some prefer to bring the elements of their normal lives with them: these are the travelers you see toting travel pillows through airports, the ones who gravitate towards familiar hotel chains, ever-wary of the outlandish or uncomfortable travel experience. Others maneuver around the globe in quite the opposite fashion, jumping from hostel to pension to whatever arises without much forethought, happy to travel without an itinerary, even when it means crashing on the beach or a public park bench.
I fall somewhere in the middle, seeking out comfort and grittiness when I travel, a dichotomy that's difficult to attain as a pampered hotel guest. These days, my desire for genuine travel manifests itself in the form of vacation rentals (by owner, or third party intermediaries). Years of trial and error preceded my ability to hone in on the right rental, the one in the best location, at just the right time of year, with the fewest pairs of musty shoes lurking in the owner's closet. "Other people's shoes," my Dad always groans, when vetoing proposed family vacations.
My foray into vacation rentals began clumsily, during late December 2004...when the days were short and terribly frigid, just having passed the winter solstice. Friends and I were off to Venice, where fellow vacationers had booked up every affordable hotel room. I scoured the Internet for viable alternatives and stumbled upon an amateur vacation rental by owner site, probably now defunct. On it were several Venetian flats for short-term, flexible rent, including one located several blocks from the Grand Canal. The flat's location, private roof terrace, and spaciousness hooked us, along with a rental cost that easily saved us several hundred dollars during our four-night stay. There were, of course, snafus: there always are. Finding the owner (who held the flat keys) was no easy task, neither was staying warm at night, but nothing beat the views from the roof terrace. Daily meanderings led us to a local bakery and butcher shop, where we'd purchase a crispy baguette, San Danielle Prosciutto, and a bottle of cheap wine, enjoyed al fresco on starry winter evenings.
European vacation rental options were more accessible and plentiful when I organized a May 2008 trip to Tuscany, where 15 of my friends and I rented an Italian villa for a long weekend. We took over the sprawling site, its rustic gardens and swimming pool, quiet, rambling hallways and 17th century chapel where late night dance parties occurred. Early morning apologies were directed at Jesus, the aptly titled property manager, for our loud revelries and a string of broken wine glasses. The villa's location is worthy of mention: ten minutes from Siena and an hour's drive from some of Tuscany's best wineries. Costs were unexpectedly low, each of us having paid roughly 100 Euros for our 4-night retreat (a sum easily spent during a Saturday in London).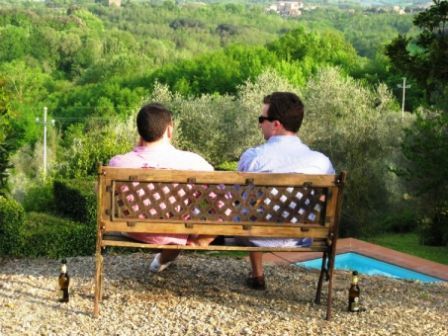 Vacation rentals are fast becoming my travel obsession: how else can travelers, especially those on a budget, really get to know a place? Spend the night cooking in with friends, rather than dining out among strangers?
The vacation rental's ability to put you in the heart of things reflects, I think, a more communal, democratized approach to travel. Concierge and crisp guest books are now replaced by Trip Advisor and countless rental websites, not to mention random queries for advice on Facebook and Twitter. Don't get me wrong: I still like to be a guest on certain occasions, but sometimes I want to be the traveler and the vacation host.
Buying milk and toilet paper has never been so gratifying.
*I find that vacation rental options are more common, sophisticated and varied in Europe (rentvillas.com is great for Western Europe, with a focus on Italy. For the UK, particularly Cornwall, try Unique Homestays). US-based company homeaway.com, which owns VRBO, offers some 540,000+ properties all over the world. Informal and budget-conscious travelers should also consider craigslist and couchsurfing.org. Airbnb, a newcomer to the vacation rental market, offers travelers all ends of the spectrum with a "couch to a castle" mentality.