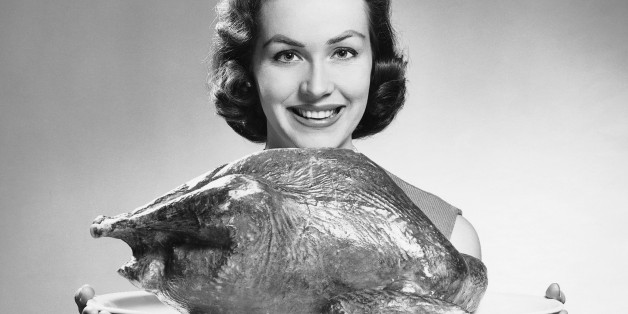 I don't know why the irony of "gobble, gobble" didn't dawn on me until recently. Considering that Thanksgiving, in its purest form, is about gratitude, isn't it funny that the term "gobble" means to swallow, eat greedily, take eagerly, or grab? Gobbling does more than capture a rather elementary behavior of the nation's fowl of choice. It perhaps quietly calls "foul" on some of our initially benign and bountiful holiday gestures that become all-consuming, all too soon.
I realize that my thoughts today may spike the season with an early shot of cynicism. That being said... just think about many of the activities leading up to and following Turkey Day -- grocery shopping, football channel surfing, snack stuffing, Black Friday bargain hunting, gift scavenging.
While many of us engage in pure holiday activities of grace and gratefulness, many of us also "gobble, gobble." Consumption, for some, reaches its highest point of the year. Our gobbling behavior suggests that we are hungry, perhaps starving. Why? Consider the following.
• We "gobble" to self-satisfy. This may sound self-indulgent. It's not. The reality is that the holiday season marks for many the end of (or at least a moratorium on) a year of hard work, relentless drive. We finally catch a break or [not so simply] allow ourselves to take one. Our craving to enjoy and bask in holiday pleasures takes on a life of its own. Boundaries between merriment fun and merriment frenzy become a little blurred.
• We "gobble" to satisfy others. Are we martyrs? No. The reality is that this is indeed the "giving" season and we seize every chance to do so. The annual floodgates open -- in the form of advertisements for blockbuster sales or new sugar cookie recipes -- and showcase opportunity after opportunity to make the people about whom we care happy, dare I say, "full." Our craving to give -- bake, shop, entertain -- takes on a life of its own. Boundaries between reasonable gestures and excessive ones become a little blurred.
Unfortunately but not surprisingly, too much gobbling is unhealthy even with the best intentions or most understandable needs. While certain foods lead to hyperactivity and others render us lethargic, consumptive behaviors of any kind have a similarly wiring or tiring effect. Any system on overload -- digestive or otherwise -- is less able to function effectively. During a period of sustained hyper holiday cheer, instead of its relishing:
• We lose perspective and, in so doing,
• We overdo and, in so doing,
• We miss out.
I'm thinking about the beautiful table and turkey dressed to the nines (or 99s). We spend so much time with its outfitting and accessories that we don't have anything left to actually enjoy its debut. We deserve a relaxed place at the table.
So... my gentle challenge for the season -- being aware of and monitoring our stuffing, the filling behaviors Not an easy task made in an environment of fun and festivity where just sometimes our effort is not worth every bite.