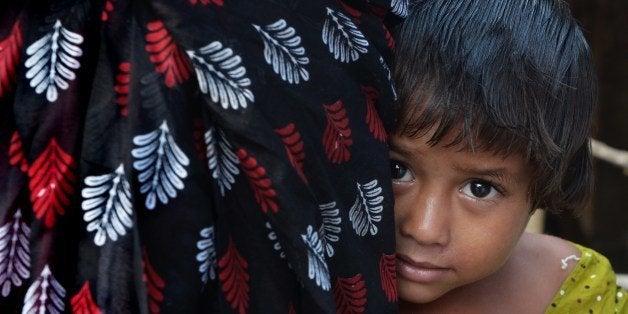 I am the first woman handcyclist in Ironman history to finish the Ironman World Championship in Kona, Hawaii. It was a storybook triumph to what seemed an almost impossible dream.
I was left in an orphanage in India shortly after I contracted polio as a very young child. The chances of me reaching adulthood as a child paralyzed by polio in India was a near statistical impossibility. But, I won the human lottery when I was four. I was adopted by an American family and came to a country where most of the diseases that still threatened me were now half a world away.
I now understand that my journey is more than the focused goals of an athlete who laces up her shoes or puts on her racing gloves. It is my opportunity to put a spotlight on another finish line that is within reach. It involves children who were like me. It is about completely eradicating polio in every corner of the planet.
The polio virus travels in water and sewage as do other illnesses, parasites and diseases. I contracted polio as an infant because I did not have access to safe water nor vaccines to protect me. Americans forget that at the height of the polio epidemic in the U.S., in 1952, nearly 60,000 people contracted the disease, with more than 3,000 fatal cases. With countrywide vaccination, polio was eliminated in the U.S. by 1979.
For much of the rest of the world, polio remained a looming threat. In the 1980s, 350,000 children a year worldwide were still being diagnosed with polio. Then in 1988, global eradication efforts began and 2.5 billion children have been vaccinated. I am proud to say that in 2012, polio was eradicated in India, considered one of the toughest places in the world to tackle this disease. Last year, there were only 405 cases. According to the World Health Organization (WHO), 10 million people are not paralyzed today who would have otherwise been.
Unfortunately, polio has made new and unexpected headlines. According to the World Health Organization (WHO), the virus has recently spread from Pakistan, Syria and Cameroon to Afghanistan, Iraq and Equatorial Guinea. The virus has even been found in sewage in Israel, although no outbreaks have occurred thanks to extensive vaccine coverage.
While only 68 cases have been diagnosed so far this year, for every diagnosed case, there are 200 asymptomatic carriers who do not know they have the virus and do not know they can spread it. This means there is potential for the virus to cross borders to countries that do not yet have universal vaccine coverage. We cannot take the eradication of polio for granted. Tremendous progress has been made and it must be protected until the world is finally rid of this disease. We are so close. What is needed now more than ever is even greater international coordination with focus and determination until we cross the finish line. This goal is achievable.
I was in my late 20s when a friend introduced me to Achilles International and the Challenged Athletes Foundation, organizations that enable challenged athletes to participate in competitive sports. I met a community of athletes doing things I never thought possible, like racing side-by-side with able-bodied athletes. Not long after my first triathlon, it became clear that the girl who was once on the sidelines was now a woman filled with the competitive fire of an endurance athlete. In six years, I've completed 25 triathlons, including Kona.
The mission to eradicate polio and stopping other preventable diseases is, in many ways, like a triathlon. It takes a relentless team, smart strategy, planning and persistence, funding, and the flexibility to overcome unexpected challenges. It also takes public support. Looking at the size of the task, many people would never try. But we must.
I certainly would not be here without the generosity of the American spirit. Nor would millions of others.
The U.S. allocates just one percent of the federal budget to foreign aid and it is some of the most effective money we spend. For every child whose life is saved and improved, this one percent equates to his or her win in the human lottery. Six million fewer children will die this year than in 1990, due in large part to U.S. foreign assistance leadership and funding.
But clearly there is more work to be done. Here's how you can help:
There is already bipartisan support in Congress for the Water for the World Act, legislation that strengthens America's ability to provide safe water and sanitation systems around the world. This smart legislation requires no additional funding, but re-allocates U.S. water policy to places most in need. We must make sure Congress passes this important legislation this year.
We can realize this once-in-our-lifetime opportunity to help rid the world of polio forever. Right now, through GlobalCitizen.org, a large coalition of nonprofit organizations is asking USAID to do more to save children's lives with its aid budget. Join us in calling on Dr. Raj Shah, Administrator of USAID, to increase the impact and effectiveness of U.S. aid investments for ending polio and all preventable child deaths.
I cannot help but wonder how many people are still out there, like I once was, little girls (and boys) who may never reach their potential because preventable diseases steal it away. We can continue to lament the many children who will never get to complete life's marathon. Or, we can celebrate the many more who will!