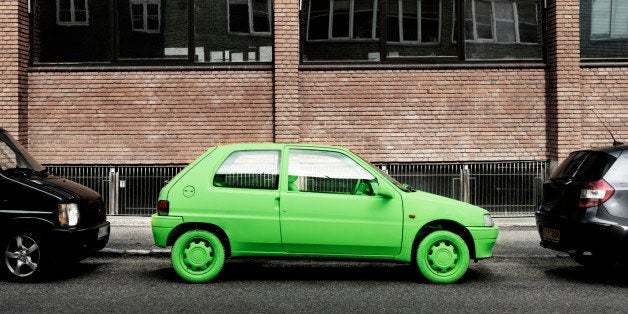 Some snapshots from across this legendarily car-loving nation:
Nevada just beat out Texas, Arizona and California in a fierce competition to host a giant electric-vehicle battery factory designed to slash battery costs and electric car prices. As Forbes notes, the $5 billion factory's annual output -- expected to be 500,000 per year -- will top last year's lithium-ion battery production for the entire world.
The first of several large-scale cellulosic ethanol plants planned for the Midwest opened this month in Iowa. Agricultural waste from hundreds of farms is being turned into fuel.
These are just a few of the thousands of deals, large and small, designed to cash in on the economic opportunity inherent in America's drive for cleaner transportation. In the United States alone, billions of dollars are being invested in advanced batteries, next-generation biofuels, hybrid cars, electric vehicles, and more-efficient conventional vehicles and trucks.
For the auto industry and fuel providers, a mix of consumer demand, tougher national fuel economy and emissions standards, and new California rules on cleaner low-carbon fuels is transforming business as usual. For America, it's an essential element in cutting the pollution that is causing climate change.
Here in the U.S., our transportation sector produces more carbon dioxide emissions than any other nation's entire economy, except for China and India. Two-thirds of the oil Americans use goes to fuel transportation, with 40 percent of it gassing up personal cars and trucks.
Making cars and trucks dramatically more efficient and developing alternatives to petroleum is a sea change. It is an epic transformation along the lines of switching from the horse and buggy to the horseless carriage, or from landlines to smart phones. Entrepreneurs, investors, and corporations are sniffing out opportunities. Bets are being placed. Fortunes will be made.
And we need to be doing even more. According the International Energy Agency, global investment in all forms of clean energy must quadruple to more than $1 trillion annually -- what we at Ceres call the "Clean Trillion" -- by 2030 if the world is to hold global warming to no more than two degrees Celsius (3.6 degrees Fahrenheit) by 2050. That is the goal set by world leaders and scientists who will be meeting at the United Nations in New York Sept. 23 to prepare for next year's international climate negotiations in Paris.
If investment continues at current levels of about $250 billion per year, the IEA warns, global average temperatures could rise by four to five degrees Celsius, or up to nine degrees Fahrenheit. That could be devastating not only to the world's environment, but also to the economy.
The smart money knows that investments that cut emissions from the transportation sector represent attractive opportunities. As nations around the world commit to cutting their carbon footprints, the global market for cleaner transportation options is growing.
Auto industry analyst Alan Baum projects that electric, hybrid and fuel cell vehicles, which are on track to represent 3.8 percent of new U.S. auto sales this year, will account for 5.7 percent of vehicles sold in 2018. Add more fuel-efficient conventional cars to the mix -- thanks in large part to higher federal fuel economy standards for U.S.-made vehicles -- and Baum says American automakers can look forward to a growing slice of the expanding international market for cars and trucks.
"The standards that are in place in the U.S. are increasingly consistent with what is going on in the world, Europe and Japan in particular, and that's good for the automakers, and they understand that," Baum told me earlier this month. "The auto industry is becoming more global and demand is growing faster outside of the U.S., in countries like China."
In transportation, as in so many economic sectors, the needs of the planet and the demands of capitalism are pulling in the same direction. An investment in fast-growing clean transportation technology is an attractive business proposition. It is also a down payment on a more stable climate and a stronger global economy.
This post is part of a month-long series produced by The Huffington Post in conjunction with a variety of events being held in September recognizing the threats posed by climate change. Those events include the UN's Climate Summit 2014 (to be held Sept. 23, 2014, at UN headquarters in New York) and Climate Week NYC (Sept. 22-28, 2014, throughout New York City). To see all the posts in the series, read here.