Being a wedding planner to the stars, I've seen it all -- from the fun and quirky to the romantic and classic. Most brides and grooms have a million ideas going through their heads as they peruse magazines, blogs and Pinterest for inspiration. But how do you bring all your inspiration to life? Whether you're turning to a wedding planner, event designer or dabbling in DIY these are some of my favorite tips on how to make sure your personal style is represented at your event:
Inspiration Boards -- First up: manage all that inspiration! Once you've decided on a theme, create a visual "mood board" that represents the look you want. Create a collage of magazine clippings or even a Pinterest board (just remember to set this to private if you're keeping things under wraps) to share with vendors that demonstrates your general motif. Are there any particular colors, shapes or textures that grab your attention? Add it in!
Stationery -- Your save the dates and wedding invitations set the tone for your affair so make sure the design aligns with your style. Choose colors, fonts and an overall concept that coordinates with your theme.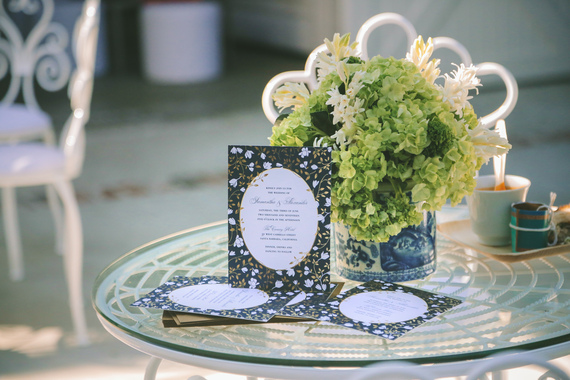 This invitation from my collection for Wedding Paper Divas is perfect for a more formal celebration! (Photo courtesy of Dennis Kwan Photography)
Florals -- Flowers can make a huge impact on your aesthetic. From centerpieces to flower crowns and accent pieces, you can choose flowers in certain colors and forms to emulate your vision.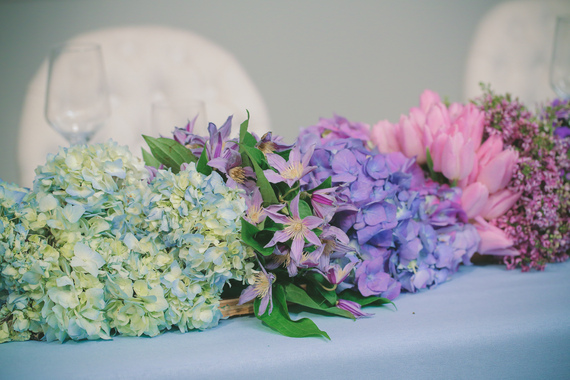 Going for a springy pastel or watercolor theme? Try a long floral piece at your head table arranging colors from lightest to darkest. (Photo courtesy of Dennis Kwan Photography)

Tablescapes -- Guests spend a lot of time at the table, so it's the perfect place to represent your concept with linens, place cards, menu cards, glassware and more. If budget allows, rental companies can provide table settings that match your taste perfectly -- your caterer can help you decide exactly what you need.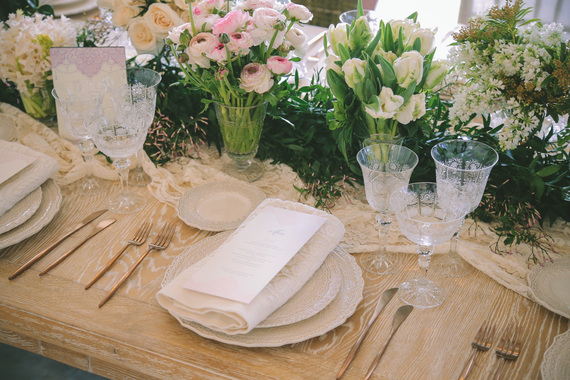 Layered fabrics with vintage dinnerware are excellent for achieving a classically romantic look. (Photo courtesy of Dennis Kwan Photography)
Furniture -- Furniture is especially key for venues where you need to bring it all in (a park or vacant loft, for example). For a rustic look, choose farmhouse style or wooden tables. If you're going modern, try furniture with some metallic accents.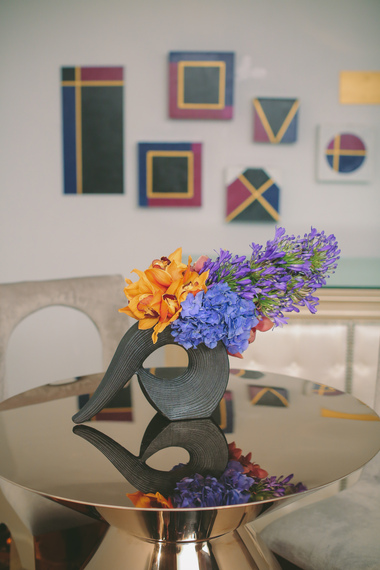 Metal bar tables like these would work great for a chic cocktail hour. Dim lighting and bold florals add a striking effect. (Photo courtesy of Dennis Kwan Photography)

Props -- Bringing in extra props is a fun way to amp up your event theme. Think statement pieces fountains or antiques. If your space allows, bring in lighting fixtures that match your style. For example, candles give a romantic ambience while large crystal chandeliers add a hint luxury.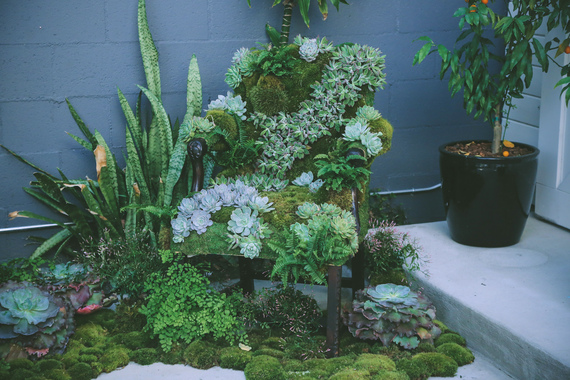 This statement chair covered in succulents and greenery by Mark's Garden is my absolute favorite! (Photo courtesy of Dennis Kwan Photography)
Food and Drink -- Don't stop at décor! Bring your inspiration to life with food and drink. A nautical beach wedding, for example, can serve mini lobster rolls and a maritime martini. Or warm your guests up with some spiced Irish coffee at a winter wonderland soiree.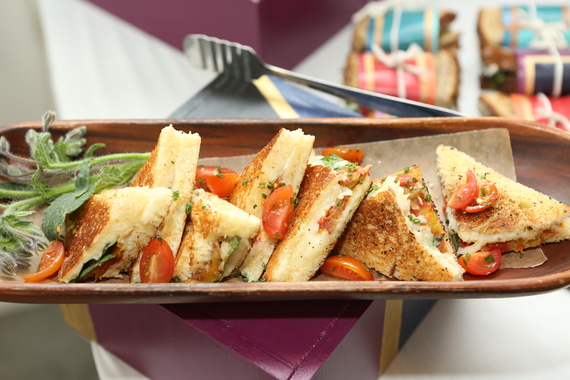 Grilled cheese, anyone? Serve 'em up at a country chic wedding for a mellower atmosphere. Guests would savor them an appetizer, late night snack, or even as part of the main event! (Photo courtesy of Tiffany Rose/Getty Images)

Just remember, while it's valuable to pay attention to the small details of your wedding, the goal is to celebrate your love with those closest to you! So be sure to soak it all in.