It's official -- women speak better English than men. EF's English Proficiency Index's (EF EPI) recent survey of 1.7 million adults from 54 countries has concluded that when it comes to adopting the world's lingua franca, females are outperforming males. (Full disclosure --- I am both female and work at EF Education First, the international education company which publishes the index).
Why do women perform better than men in English language?
Worldwide, women's English proficiency outpaces men's by a measurable margin (see chart). There are a myriad of possible reasons for this, the more convincing ones linked to educational trends as reported by UNESCO: women now outnumber men in worldwide university enrollments and graduation rates. In many countries, female students tend to be over-represented in the humanities. As Forbes reports, in U.S. higher education, women make up 56 percent of the student population -- the highest percentage on record in this country.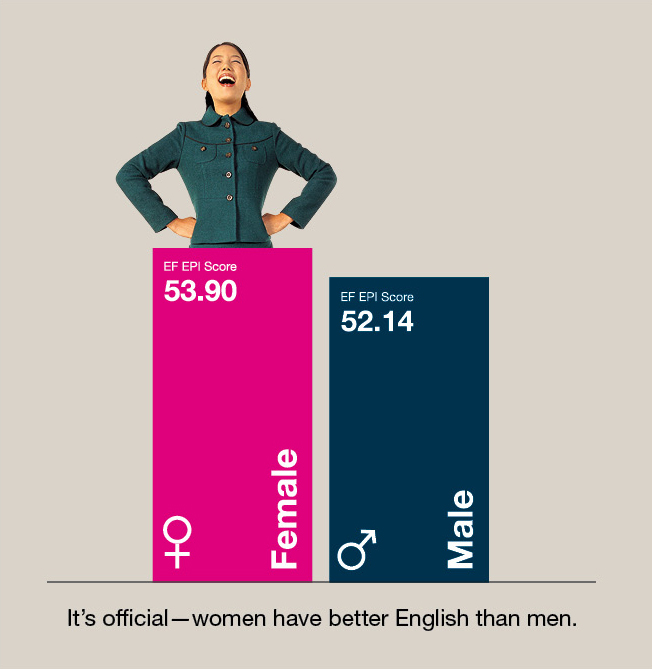 Women hold up half the sky
The gender gap in English is the widest in the Middle East. Women in the Middle East and North Africa score more than five points above men. In this region, where gender equality lags behind worldwide standards, there is a certain justice in knowing that women are outperforming men. The world's largest women-only university, Princess Nora University, opened in Saudi Arabia to great fanfare last May and is a promising start to that region's recognizing the potential of their female population.
Women's strong performance in English isn't merely a triumph for women's rights. English, as the key to global communication and international business, can help raise the competitiveness of industries, countries and entire regions.
All is not lost for man-kind
Out of the 54 countries included in the global English rankings, there are a few outliers, like Sweden, Chile, Portugal, and Switzerland where men are seen scoring slightly better in English than females. The EF EPI report this year also shows the ranking between 54 countries, the Nordics topping the list and Libya finishing in last place.
For more information and to see age, country and the full set of English proficiency rankings please go to www.ef.com/epi.