After the last fantastic year in picture books, it was hard to imagine 2014 reaching the same heights. And indeed, my initial impression was that this year's offerings fell short of 2013's stellar crop. However, as I sifted and sorted through the piles of books to put this end-of-year post together, the list of quality books kept growing. By the end, I was as convinced as ever that we are living in a new golden age of picture books.
Many of the wonderful titles below could stand shoulder to shoulder with the best of any year, and leading the charge is a marshmallowy fellow with a scotch-taped crown determined to do the unimaginable.

Best Overall
The Adventures of Beekle: The Unimaginary Friend by Dan Santat (Little Brown)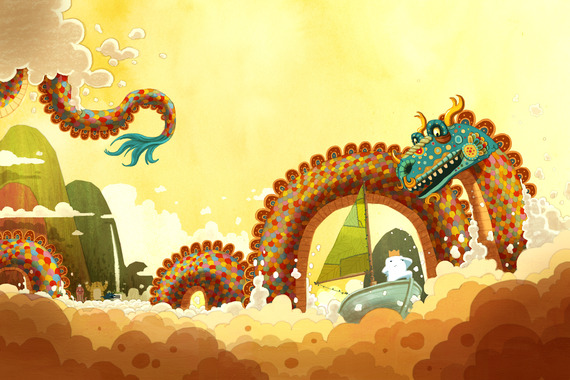 As the categories for this post emerged (Most Charming, Best Adventure, Most Touching, etc.), it became clear that Beekle was my choice for the Best Overall because it could have easily topped almost every category (I admit, Best History/Non-fiction would have been a bit of a stretch).

The story opens on an island where imaginary friends are born and takes us on a journey that navigates themes of loneliness and the power of the imagination while also folding in some deft postmodern flourishes and playful skewering of the adult world. Santat harnesses all of his prodigious talents for a story that is both deeply personal (he was inspired by the birth of his first child) and brilliantly universal.
Best Biography (Artist)
Josephine: The Dazzling Life of Josephine Baker by Patricia Hruby Powell, ill. Christian Robinson (Chronicle)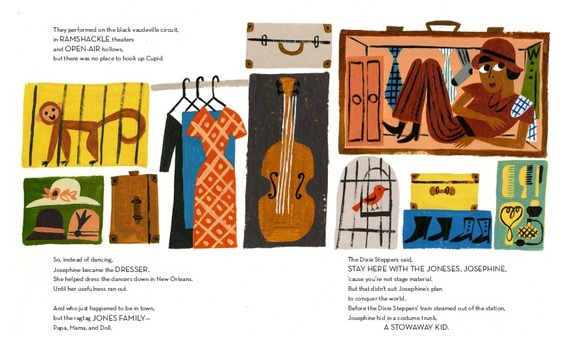 With its winning combination of style and substance, Josephine stands out in this particularly deep category (both Viva Frida and The Iridescence of Birds are strong contenders for children's lit awards). Powell's text dances across the page and Robinson's illustrations leap forth with playful vitality, together painting a complex portrait of how Baker was shaped by society and how she in turn transformed society for the better.

Note: If Robinson (who has several notable books out this year) doesn't win this year's Caldecott, then next year could be the one with his name on it. His remarkable Last Stop on Market Street (with Matt de la Peña), is an early favorite for the best picture book of 2015.

(Honorable Mention: Viva Frida by Yuyí Morales, photos by Tim O'Meara; The Iridescence of Birds: A Book about Henri Matisse by Patricia MacLachlan, ill. Hadley Hooper; Little Melba and Her Big Trombone by Katheryn Russell-Brown, ill. Frank Morrison; The Noisy Paintbox: The Colors and Sounds of Kandinsky's Abstract Art by Barb Rosenstock, ill. Mary GrandPré; The Cosmobiography of Sun Ra by Chris Raschka; Firebird by Misty Copeland, ill. Christopher Myers)

Best Biography (Non-Artist)
The Right Word: Roget and His Thesaurus by Jen Bryant, illustrated by Melissa Sweet (Eerdmans)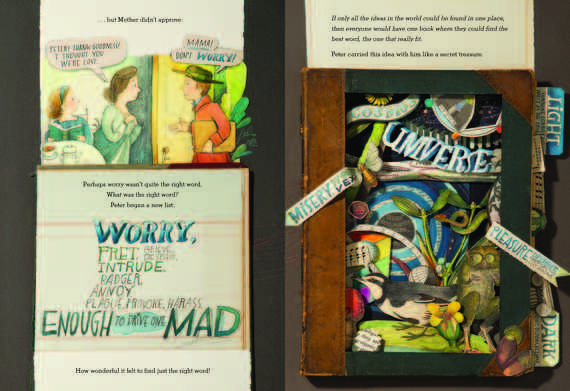 Finding order in the world around you is one of the primary objectives of childhood, but for someone like Roget, it was a lifetime occupation/obsession. The dynamic duo of Bryant and Sweet (who previously collaborated on biographies of Horace Pippin and William Carlos Williams) artfully capture the magnitude of Roget's achievement and blows the dust off that often overlooked reference book sitting on your shelf.

(Honorable Mention: Separate Is Never Equal: Sylvia Mendez and Her Family''s Fight for Desegregation by Duncan Tonatiuh; The Pilot and the Prince: The Life of Antoine De Saint Exupéry by Peter Sís; A Boy and a Jaguar by Allan Rabinowitz, ill. CaTia Chen; Ivan: the Remarkable True Story of the Shopping Mall Gorilla by Katherine Applegate, illustrated by G. Brian Karas; Grandfather Gandhi by Arun Gandhi and Bethany Hegedus, ill. Evan Turk; I am Jazz by Jessica Herthel and Jazz Jennings, ill. Shelagh McNicholas; Star Stuff: Carl Sagan and the Mysteries of the Cosmos by Stephanie Roth Sisson)

Best Friendship
The Farmer and the Clown by Marla Frazee (Simon & Schuster)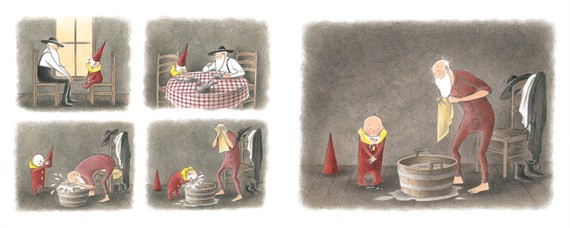 Though we may not use as much makeup as the clown in this story, the truth is that we all wear masks of one kind or another. Frazee's wordless masterpiece reminds readers that it's not until we take off our masks and make ourselves vulnerable that our relationships truly have a chance to thrive.

(Honorable Mention: The Lion and the Bird by Marriane Dubuc; The Storm Whale by Benji Davies; A Letter for Leo by Sergio Ruzzier; Madame Martine by Sarah S. Brannen; Where's Mommy? by Beverly Donofrio, ill. Barbara Rosenstock; Waiting is Not Easy! by Mo Willems)

Best Adventure
Sam and Dave Dig a Hole by Mac Barnett, illustrated by Jon Klassen (Candlewick)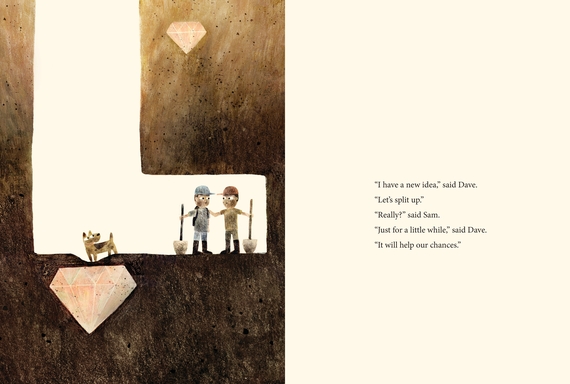 SAM AND DAVE DIG A HOLE. Text copyright © 2014 by Mac Barnett. Illustrations copyright © 2014 by Jon Klassen. Reproduced by permission of the publisher, Candlewick Press, Somerville, MA.

Sam and Dave dig a hole, hoping to find something spectacular. Luckily, Barnett and Klassen deal regularly in the spectacular, ensuring that Sam and Dave (and readers) do not walk away disappointed. Part wry comedy of errors, part Twilight Zone, if you're digging through your shelves for something spectacular, look no further.
(Honorable Mention: Three Bears in a Boat by David Soman; Quest by Aaron Becker; Lindbergh: The Tale of a Flying Mouse by Torben Kuhlmann; Peggy: A Brave Chicken on a Big Adventure by Anna Walker; Flashlight by Lizi Boyd; Sebastian and the Balloon by Philip C. Stead; Hopper and Wilson Fetch a Star by Maria Van Lieshout; Blizzard by John Rocco)

Most Charming
Little Elliot, Big City by Mike Curato (Macmillan)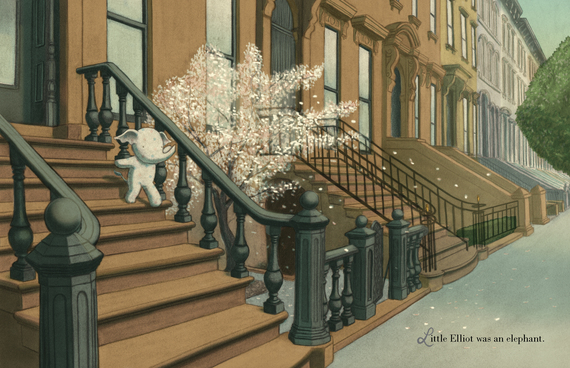 Little Elliot may be a shy little elephant, but don't be surprised to see him take the world by storm. One of the more endearing children's book characters to come along in a while, imagine Corduroy wandering into an Edward Hopper painting and you'll get a sense of the magic that is Little Elliot.

(Honorable Mention: Gaston by Kelly DiPucchio, ill. Christian Robinson; 100 Things That Make Me Happy by Amy Schwartz; The Jacket by Kirsten Hall, ill. Dasha Tolstikova; Number One Sam by Greg Pizzoli; A Gift for Mama by Linda Ravin Lodding, ill. Alison Jay; Hi Koo! A Year of Seasons by Jon J. Muth; The Boy on the Page by Peter Carnavas; The Acrobat by Alborozo)

Best Concept Book
1 to 20, Animals Aplenty by Katie Viggers (POW!)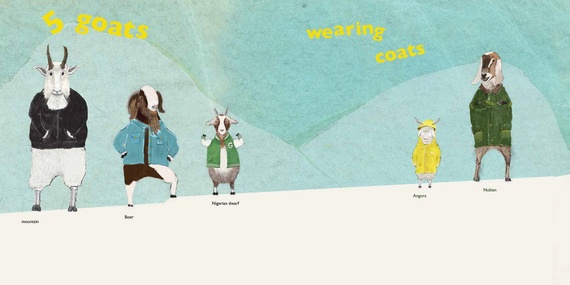 From pigs wearing wigs to chickens reading Dickens, Viggers peppers each page with enough whimsical detail and dry wit to make counting to twenty feel like spending an afternoon sipping chai tea with Wes Anderson.

(Honorable Mention: Once Upon an Alphabet: Short Stories for All the Letters by Oliver Jeffers; Work: An Occupational ABC by Kellen Hatanaka; Take Away the A by Michaël Escoffier and Kris Di Giacomo; Awake Beautiful Child by Amy Krouse Rosenthal, ill. Gracia Lam; Alphabetabum: An Album of Rare Photographs and Medium Verses by Vladimir Radunsky and Chris Raschka; Hands & Hearts: With 15 Words in American Sign Language by Donna Jo Napoli, illustrated by Amy Bates)

Best Dark/Mysterious
Elsa and the Night by Jöns Mellgren (Little Gestalten)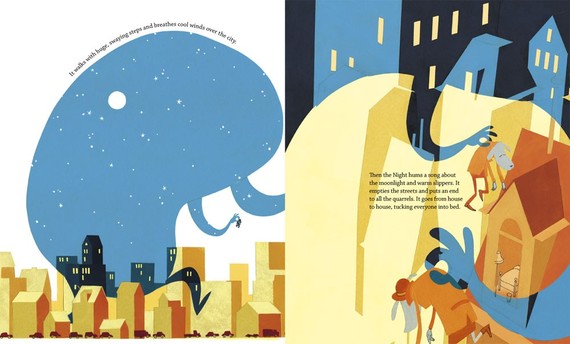 By Jöns Mellgren from Elsa and the Night copyright Gestalten 2014

In this beautifully dark and touching tale, Elsa struggles to cope with the loss of a dear friend (a struggle that manifests itself in an epic 30 year bout of insomnia). With the help of a mysterious visitor, she is finally able to put her grief to rest and find enough peace to accept a good night's sleep.

(Honorable Mention: The Fox and the Crow by Manasi Subramaniam, ill. Culpeo S. Fox; The River by Alessandro Sanna; The Promise by Nicola Davies, ill. Laura Carlin; Rules of Summer by Shaun Tan; Aviary Wonders by Kate Samworth; Wall by Tom Cholosy Cole; Fox's Garden by Princesse Camcam)

Best about Family
Nana in the City by Lauren Castillo (Houghton Mifflin Harcourt)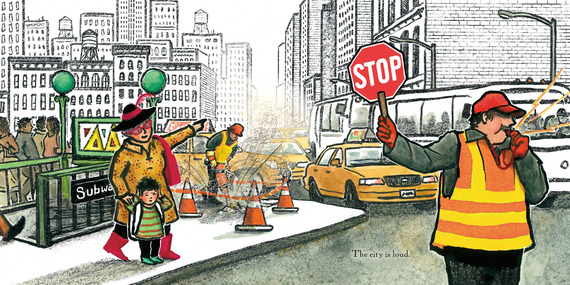 A little boy spends the night with his nana in a city that he finds busy, loud and scary -- in short, no place for a nana to live. However, the boy (with the help of a homemade cape) learns to see the city from a different perspective, and in the process sees his dynamic Nana in a whole new light.

(Honorable Mention: Me First by Max Kornell; Abuelo by Arthur Dorros, ill. Raúl Colón ; Hands Say Love by George Shannon, ill. Taeeun Yoo; Here is the Baby by Polly Kanevsky, ill. Taeeun Yoo; My Grandfather's Coat by Jim Aylesworth, ill. Barbara McClintock; Gus & Me: The Story of My Granddad and My First Guitar by Keith Richards, ill. Theodora Richards; Forget Me Not by Nancy Van Laan, ill. Stephanie Graegin; Bad Bye, Good Bye by Deborah Underwood, ill. Jonathan Bean)

Most Fun/Silliest
Churchill's Tale of Tails by Anca Sandu (Peachtree)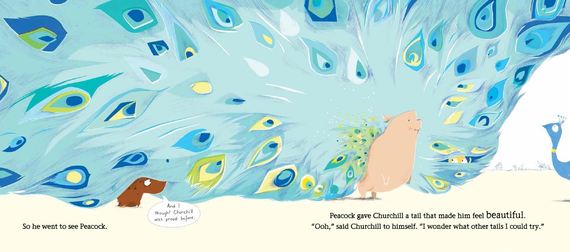 Text and illustrations © 2012 by Anca Sandu. Permission to reproduce granted by Peachtree Publishers.

A pig loses his tail and becomes preoccupied with trying on replacements. I'm not familiar enough with British history to tell you if the "Churchill" reference belies an underlying political message, but regardless of any historical implications, the pure silliness of Churchill's search makes this British import a winner.

(Honorable Mention: Shh! We Have a Plan by Chris Haughton; Hug Machine by Scott Campbell; Louise Loves Art by Kelly Light; Thank You, Octopus by Darren Farrell; A Perfectly Messed-Up Story by Patrick McDonnell; Pigeon Needs a Bath! (I Do Not.) by Mo Willems; My Teacher is a Monster (No, I Am Not.) by Peter Brown)

Best History/Non-Fiction
Sugar Hill: Harlem's First Historic Neighborhood by Carole Boston Weatherford, illustrated by R. Gregory Christie (Albert Whitman)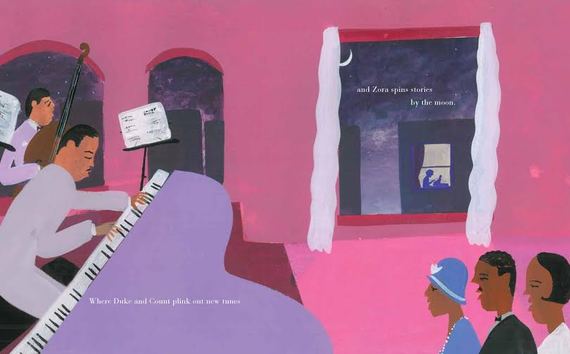 It is impossible not to be blown away by the staggering collection of talent and intellect gracing the streets of Sugar Hill. Weatherford and Christie's portrait of the historic neighborhood will give readers a new appreciation for the rarefied air of the Harlem Renaissance.

(Honorable Mention: Shackleton's Journey by William Gill; Harlem Hellfighters by J. Patrick Lewis, ill. Gary Kelley; Summoning the Phoenix by Emily Jiang, ill. April Chu; Gravity by Jason Chin; Creature Features: Twenty-Five Animals Explain Why They Look the Way They Do by Steve Jenkins and Robin Page; Neighborhood Sharks by Katherine Roy)

Most Touching/Heartwarming
I Know a Bear by Mariana Ruiz Johnson (Random House)

c/o Random House Children's Publishing.
Children's literature is crowded with books set in zoos -- which only makes sense because they offer a convenient setting in which to showcase a broad array of animals. I Know a Bear is a refreshing counterbalance that considers the melancholy side of the zoo through the eyes of a young child who befriends a bear living in captivity.
(Honorable Mention: The Girl and the Bicycle by Mark Pett; Star Child by Claire Nivola; The Dandelion's Tale by Kevin Sheehan, ill. Rob Dunlavey; Here I Am by Patti Kim and Sonia Sánchez; Dance Like Starlight: One Ballerina's Dream by Kristy Dempsey, ill. Floyd Cooper; Morris Micklewhite and the Tangerine Dress by Christine Baldacchino, ill. by Isabelle Malenfant; Coming Home by Greg Ruth; King for a Day by by Rukhsana Khan, ill. Christiane Krömer; Hug Me by Simona Ciraolo; Emily's Blue Period by Cathleen Daly, ill. Lisa Brown)

Best Bedtime
Sweetest Kulu by Celina Kalluk, illustrated by Alexandria Neonakis (Inhabit Media)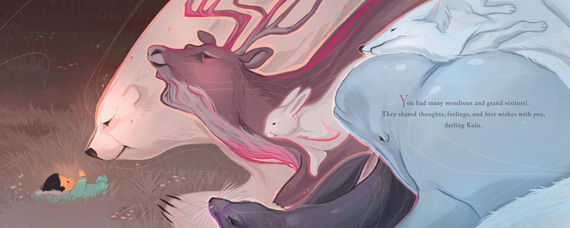 Shimmering with musical text (Kalluk is a renowned Inuit throat singer) and stunning illustrations, Sweetest Kulu shows the hopes and dreams that accompany the arrival of a new child. For those who consider the bedtime story to be sacred, it's hard to do better than ending the day with the whispered incantation: "because you are true love."

(Honorable Mention: May the Stars Drip Down by Jeremy Chatelain, ill. Nikki McClure; Hannah's Night by Komako Sakai; Naptime by Iris De Mouy; Goodnight Songs by Margaret Wise Brown, ill. Misc.; Time for Bed, Fred by Yasmeen Ismail; Mama Built a Little Nest by Jennifer Ward, ill. Steve Jenkins)

Best Read Aloud
Hooray for Hat! by Brian Won (Houghton Mifflin Harcourt)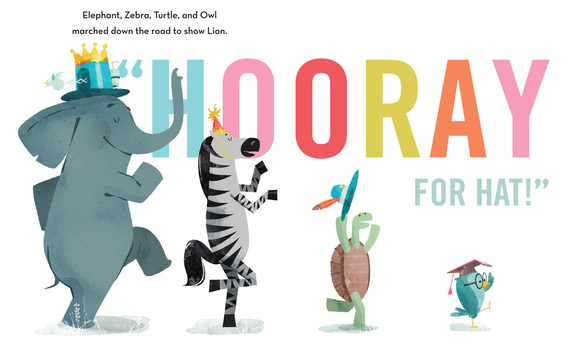 I'm not sure what's more fun to recite, the dour "Go Away, I'm Grumpy!" or the exuberant "Hooray for Hat!" Either way, Won's beautifully designed debut is utterly infectious and a treat to read aloud.
Note: When I wrote about Hooray for Hat! earlier in the year, I said that the illustrations "make you want to have a baby just so you can decorate the nursery and parade around in silly hats." So you can imagine my delight when I heard about Live in a Story and found out that universe was one step ahead of me. This new company (started in part by authors and illustrators) sells wall decals that allow you to decorate your home with art from some of your favorite illustrators, including the characters from Hooray for Hat!. Brilliant.

(Honorable Mention: The Book with No Pictures by B.J. Novak; Have You Heard the Nesting Bird by Rita Gray, ill. Kenard Pak; Telephone by Mac Barnett, ill. Jen Corace; If You Were a Dog by Jamie Swenson, ill. Chris Raschka; Don't Play With Your Food! by Bob Shea; Mix It Up! by Hervé Tullet)

Best Miscellaneous
Breathe by Scott Magoon (Simon & Schuster)


Whether you are a small child or a grown adult, we can all use the occasional reminder to take a deep breath. Magoon's book does just that, pacing his spare text with gentle reminders to breathe. I swear there is magic in this book. I've personally seen it diffuse full-on toddler meltdown and I'm pretty sure medical trials would show that the book lowers your blood pressure.
(Honorable Mention: The Monster Book by Alice Hoogstad; Issun Boshi by Icinori; Firefly July by Paul B. Janeczko, ill. Melissa Sweet; Migrant by José Manuel Mateo, ill. Javier Martínez Pedro; Draw! by Raúl Colón; Brother Hugo and the Bear by Katy Beebe, ill. S.D. Schindler; Hana Hashimoto: Sixth Violin by Chieri Uegaki and Qin Leng; Nancy Knows by Cybèle Young; Call Me Tree by Maya Christina Gonzalez; Books Always Everywhere by Jane Blatt, ill. Sarah Massini)