One of the reasons I'm drawn to children's literature is that the right book really is a gift that can last a lifetime. For me, one of those books is A Chair for My Mother by Vera B. Williams. So when the sad news of Williams' passing broke this year, I opened up my tattered copy and was immediately hit by a wave of nostalgia.
I remembered the feeling of reading that book with my family as a kid. I felt the mother's exhausted posture after a long day of work, the satisfaction when they finally filled their huge jar with coins, and the giddiness of the grandmother giggling as she tried out new chairs. And now, as a father who gets to create new memories by reading that same book to my sons, I have a new appreciation for the term "a gift that keeps on giving."
So, while you can't replace a legend like Williams, it seems somewhat fitting that in such a dazzling year for picture books, the one that stood out the most for me was Last Stop on Market Street, a touching story that carries on the tradition of emotionally honest and compelling family stories that was her trademark.

Best Overall
Last Stop on Market Street by Matt de la Peña, ill. Christian Robinson (Penguin)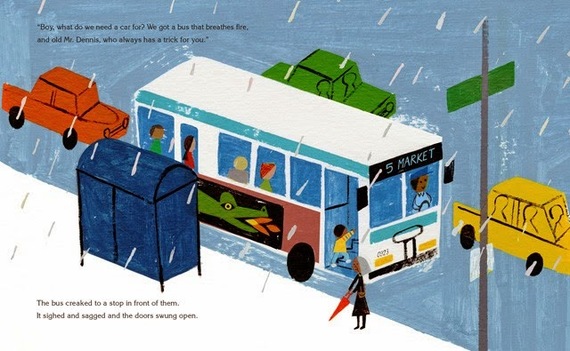 The first time I read this book, its generosity of spirit instantly evoked memories of A Chair for My Mother. Under the guiding influence of his kind but no-nonsense Nana, young CJ learns to see the world around him with greater empathy. So many books for children focus on the power of the imagination, but often in the service of the fantastical or the outrageous. Through de la Peña's deft narrative and Robinson's timeless illustrations, Last Stop on Market Street invites readers to train their imaginative powers on the real world in order to see more deeply and with greater compassion.

Best Family
Wolfie the Bunny by Ame Dyckman, ill. Zachariah OHora (Little, Brown)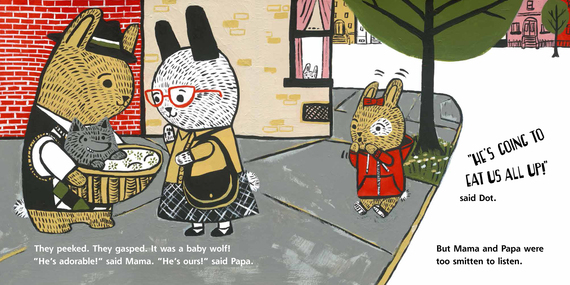 The delightful Wolfie the Bunny has captured a lot of hearts this year and with Dyckman's perfect comic timing and OHora's distinctively bold style, it's no wonder. For any family, adjusting to a new arrival is a huge adjustment. But like Wolfie, given time the newest addition will win you over... assuming he doesn't eat you all up first.
(Honorable Mention: Finding the Music: En pos de la Música by Jennifer Torres, ill. Renato Alarcão; How to Share with a Bear by Eric Pinder, ill. Stephanie Graegin; Little Elliot, Big Family by Mike Curato; Mango, Abuela, and Me by Meg Medina, ill. Angela Dominguez; The New Small Person by Lauren Child; One Family by George Shannon, ill. Blanca Gomez; Stella Brings the Family by Miriam B. Schiffer, ill. Holly Clifton-Brown; The Story I'll Tell by Nancy Tupper Ling, ill. Jessica Lanan; Wait by Antoinette Portis)

Best Surprise
In a Village by the Sea by Muon Van, ill. April Chu (Creston)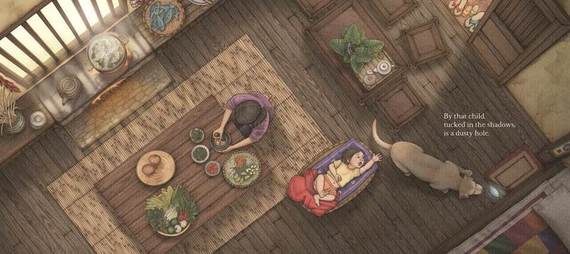 At first glance, In a Village by the Sea appears to be a straightforward story about family, but Van's clever nesting doll narrative and Chu's playful illustration sprinkle the story with a healthy dusting of magic and surprise.
(Honorable Mention: The Bear Ate Your Sandwich by Julia Sarcone-Roach; Robo-Sauce by Adam Rubin, ill. Daniel Salmieri; The Skunk by Mac Barnett, ill. Patrick O'Donnell; Use Your Imagination by Nicola O'Byrne; The Whisper by Pamela Zagarenski)

Best Biography
Voice of Freedom: Fannie Lou Hamer by Carole Boston Weatherford, ill. Ekua Holmes (Candlewick)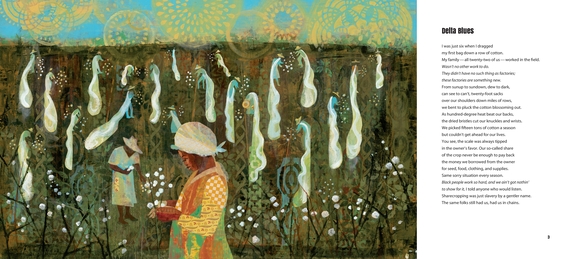 (VOICE OF FREEDOM. Text copyright © 2015 by Carole Boston Weatherford. Illustrations copyright © 2015 by Ekua Holmes. Reproduced by permission of the publisher, Candlewick Press, Somerville, MA.)
Told in a lyrical first person narrative by the prolific Weatherford, Hamer's inspiring life story is further elevated by Holmes' powerful artwork. A fine artist making her debut in children's literature, Holmes' work is both grounding and transcendent, somehow taking the tactile qualities of collage and paint and infusing them with the otherworldly glow of a stained glass window. A fitting tribute to the woman known as "the spirit of the civil rights movement," Hamer's story feels as timely as ever.
(Honorable Mention: Ada Byron Lovelace and the Thinking Machine by Laurie Wallmark, ill. April Chu; The Amazing Age of John Roy Lynch by Chris Barton, ill. Don Tate; Gordon Parks: How the Photographer Captured Black and White America by Carole Boston Weatherford, ill. Jamey Christoph; Growing Up Pedro by Matt Tavares; Tricky Vic: The Impossibly True Story of the Man Who Sold the Eiffel Tower by Greg Pizzoli; Wangari Maathai: The Woman Who Planted Millions of Trees by Franck Prevot, ill. Aurelia Fronty)

Best Biography (Artist)
Enormous Smallness: A Story of E.E. Cummings by Matthew Burgess, ill. Kris DiGiacomo (Enchanted Lion)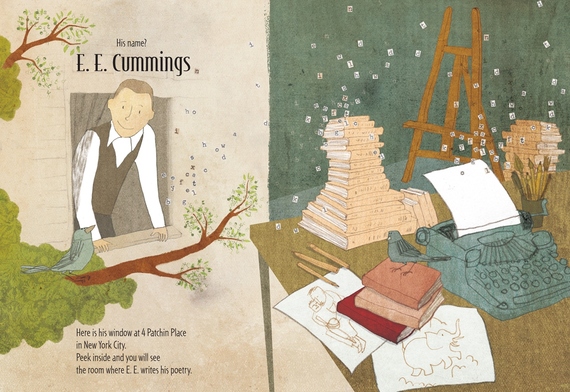 The title of this book (Enormous Smallness) is perfectly fitting. Many of us think of poems as small things, but as much as anyone, E. E. Cummings showed us that even the smallest stanza could hold enormous meaning. Lovingly written (Burgess is himself a poet) and ingeniously illustrated, this book is a treasure for fans of Cummings, as well as those discovering his poetry for the first time.
(Honorable Mention: Draw What You See: The Life and Art of Benny Andrews by Kathleen Bendon, ill. Benny Andrews; Poet: The Remarkable Story of George Moses Horton by Don Tate; Swan: The Life and Dance of Anna Pavlova by Laurel Snyder, ill. Julie Morstad; Talkin' Guitar: A Story of Young Doc Watson by Robbin Gourley; Trombone Shorty by Troy Andrews, ill. Bryan Collier)

Most Heartwarming (and/or Heartwrenching)
Sonya's Chickens by Phoebe Wahl (Tundra)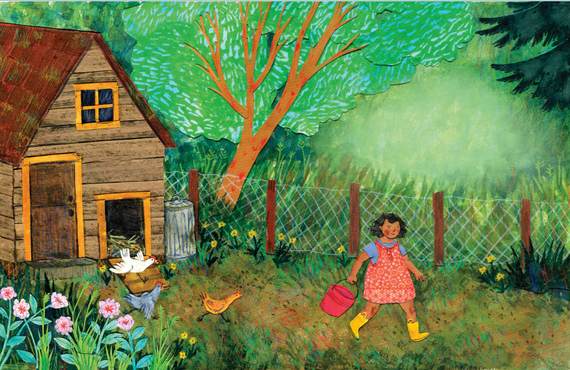 Sonya raises chickens on her home farm, but following a deadly fox attack, she must learn to cope with loss. With the help of her father's timely storytelling, she receives a valuable lesson about empathy. A warm hug on a crisp morning, Sonya's Chickens is The Lion King's Circle of Life... minus the soaring orchestral arrangement.
(Honorable Mention: Boats for Papa by Jessixa Bagley; Counting Lions by Kate Cotton, ill. Stephanie Walton; Mama's Nightingale by Edwidge Danticat, ill. Leslie Staub; Marguerite's Christmas by India Desjardins, ill. Pascal Blanchet; The Only Child by Guojing; Two White Rabbits by Jario Buitrago, ill. Rafael Yockteng; Wish by Matthew Cordell; Yard Sale by Eve Bunting, ill. Lauren Castillo)

Best on Kindness
If You Plant a Seed by Kadir Nelson (Harpercollins)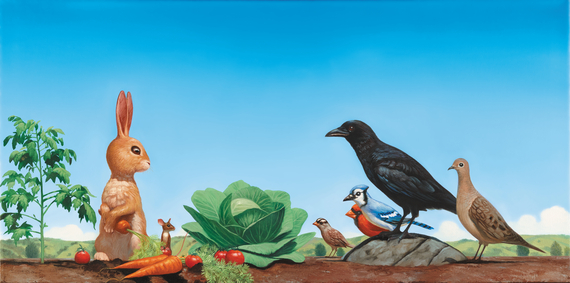 Every interaction we have presents us with a choice about how we behave toward each other. Here Nelson (whose artwork is, as always, stunning) presents us with a simple but dramatic reminder about the power of choosing kindness.
(Honorable Mention: Peace is an Offering by Annette Le Box, ill. Stephanie Graegin; Sidewalk Flowers by Jon Arno Lawson, ill. Sydney Smith; Strictly No Elephants! by Lisa Mantchev, ill. Taeeun Yoo; Tiptoe Tapirs by Hanmin Kim)

Most Charming
Float by Daniel Miyares (Simon & Schuster)

Following the rainy day adventures of a boy and his newspaper boat, every square inch of this book is a treat. Though drama and disappointment hit when the boy's boat floats away, an uplifting twist leaves readers with their spirits soaring.
(Honorable Mention: Leo: A Ghost Story by Mac Barnett, ill. Christian Robinson; Lizard from the Park by Mark Pett; One Bear Extraordinaire by Jayme McGowan; Toys Meet Snow by Emily Jenkins, ill. Paul O. Zelinsky; Waiting by Kevin Henkes)

Best Concept Book
Red, Yellow, Blue (And a Dash of White Too!) by C.G. Esperanza (Sky Pony Press)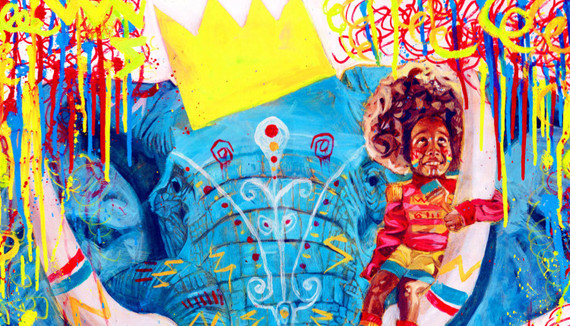 A book that is ostensibly about mixing colors, this is a true feast for the senses. The first thing I thought of while flipping through this book was Basquiat after a Skittle binge. There is a level of confidence to Esperanza's style that is unique in a debut author -- his control of the page is such that he is unafraid to loosen the reins and let the colors run a little wild. The result is thrilling and hypnotic.
(Honorable Mention: An Ambush of Tigers: A Wild Gathering of Collective Nouns by Betsy R. Rosenthal, ill. Jago; Big Bear, Little Chair by Lizi Boyd; Hooray for Hoppy! by Tim Hopgood; Ten Pigs: An Epic Bath Adventure by Derek Anderson; A Tower of Giraffes: Animals in Groups by Anna Wright; What's the Opposite? by Oliver Jeffers)

Most Inspiring
Drum Dream Girl: How One Girl's Courage Changed Music by Margarita Engle, ill. Rafael López (Houghton Mifflin Harcourt)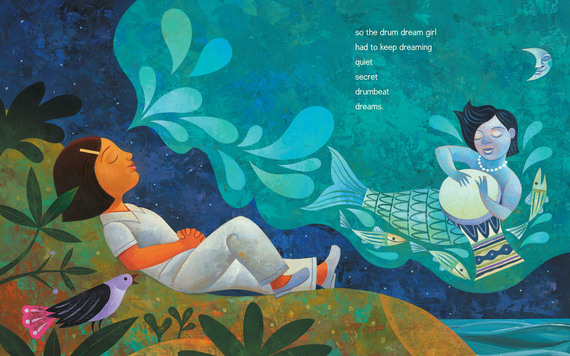 Some people can't help but march to the beat of a different drummer, but this is the story of someone who wants to actually be that different drummer. Based on a true story, a young girl dreams of playing the drums despite social norms forbidding her from doing so. Rather than allowing tradition to discourage her, she pursues her dream and through her determination, makes it easier for others to follow their own dreams.
(Honorable Mention: The Book Itch: Freedom, Truth, and Harlem's Greatest Bookstore by Vaunda Micheaux Nelson, ill. R. Gregory Christie; I Used to Be Afraid by Laura Vaccaro Seeger; My Pen by Christopher Myers; Red by Jan De Kinder)

Best on the Environment
The Little Gardener by Emily Hughes (Flying Eye)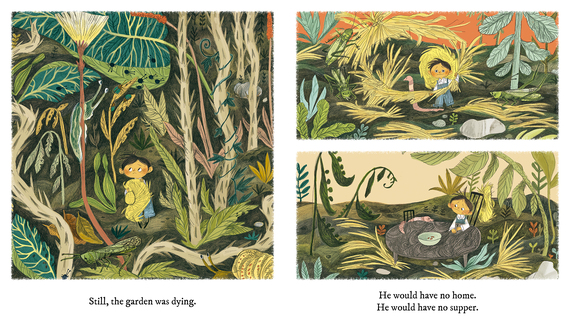 Through economical text and luscious illustrations, Hughes captures the daunting challenge (and sometimes despair) of environmental stewardship. However, she ends her story on a hopeful note as the Little Gardener's seemingly futile efforts inspire others to take up the cause.
(Honorable Mention: Finding Spring by Carin Berger; Flowers Are Calling by Rita Gray, ill. Kenard Pak; Over in the Wetlands by Caroline Star Rose, ill. Rob Dunlavey; Tree of Wonder by Kate Messner, ill. Simona Mulazzani; Up in the Garden and Down in the Dirt by Kate Messner, ill. Christopher Silas Neal; Welcome Home, Bear by Il Sung Na)

Best Personality
Bernice Gets Carried Away by Hannah E. Harrison (Penguin)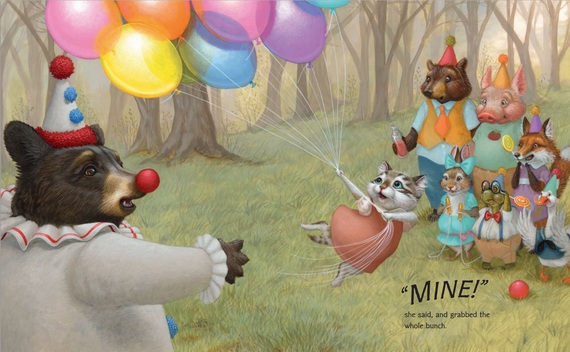 Compared to the limited emotional range of media-darling Grumpy Cat, Bernice is the Meryl Streep of the animal kingdom. Harrison's vibrant art and clever (but not too clever) play on words makes Bernice the perfect companion for any mood.
(Honorable Mention: How to Catch a Mouse by Philippa Leathers; Max the Brave by Ed Vere; McToad Mows Tiny Island by Tom Angleberger, ill. John Hendrix; One Word from Sophia by Jim Averbeck, ill. Yasmeen Ismail; Special Delivery by Philip C. Stead, ill. Matthew Cordell; Tiger in My Soup by Kashmira Sheth, ill. Jeffery Ebbeler)

Best Non-Fiction
Water is Water by Miranda Paul, ill. Jason Chin (Macmillan)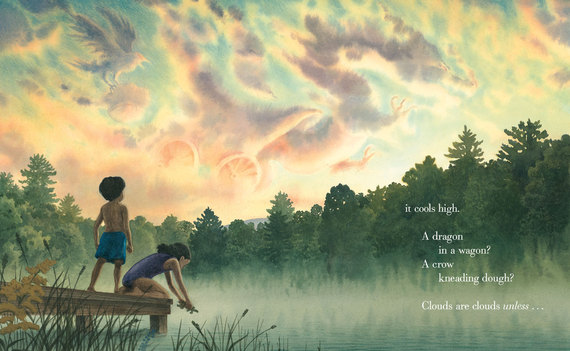 Creative nonfiction at its best. Chin has a confident yet subtle style that brings to mind a modern day Norman Rockwell. Paired with Paul's rhythmic text, this exploration of the water cycle will not only teach today's children, but will also serve as a useful refresher for older readers as well.
(Honorable Mention: The Case for Loving: The Fight for Interracial Marriage by Selina Alko, ill. Sean Qualls and Selina Alko; Drowned City: Hurricane Katrina and New Orleans by Don Brown; Finding Winnie: The True Story of the World's Most Famous Bear by Lindsay Mattick, ill. Sophie Blackall; Funny Bones: Posada and His Day of the Dead Calaveras by Duncan Tonatiuh; Lillian's Right to Vote: A Celebration of the Voting Rights Act by Jonah Winter, ill. Shane W. Evans; Mesmerized: How Ben Franklin Solved a Mystery that Baffled All of France by Mara Rockliff, ill. Iacopo Bruno; This Bridge Will Not Be Gray by Dave Eggers, ill. Tucker Nichols)

Best Read Aloud
Where Bear? by Sophy Henn (Penguin)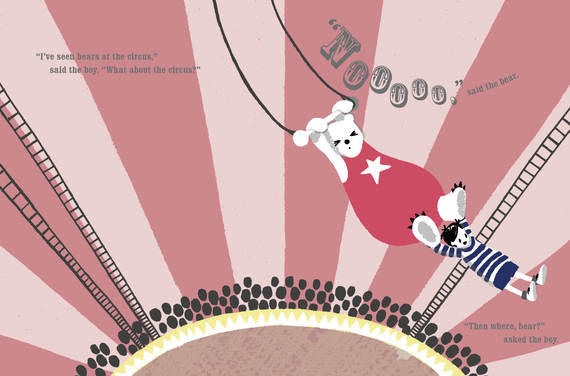 Our book begins with a bear cub and a boy who live together, but when the bear grows too big for the house, the two friends shift into problem solving mode. While the two search for Bear's new home, Henn's keen eye for design and effective see-sawing dialogue ensures that Where Bear? will always have a home at storytime.
(Honorable Mention: Boats Go by Steve Light; Boo-La-La Witch Spa by Samantha Berger, ill. Isabel Roxas; Goodnight Already! by Jory John, ill. Benji Davies; Hoot Owl: Master of Disguise by Sean Taylor, ill. Jean Jullien; I Don't Like Koala! by Sean Ferrell, ill. Charles Santoso; Supertruck by Stephen Savage)

Best Dark/Mysterious
The Dog that Nino Didn't Have by Edward van de Vendel, ill. Anton Van Hertbruggen (Eerdmans)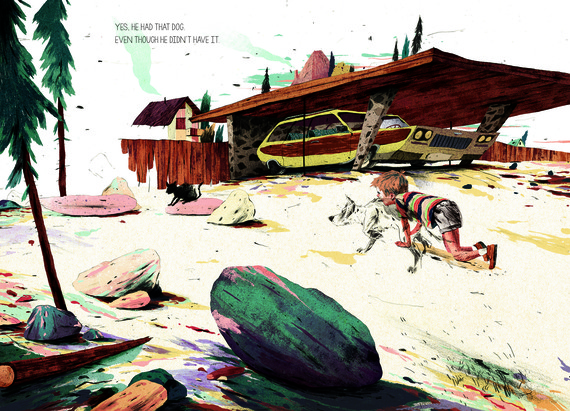 A story about an imaginary friend that is interwoven with fraying threads of realism, Nino is a refreshing change of pace in the expansive imaginary friend genre. Rendered in scorching earth tones, this Dutch import might be the most visually jaw-dropping book of the year.
(Honorable Mention: I am Henry Finch by Alexis Deacon, ill. Viviane Schwarz; Night Animals by Gianna Marino; Orion and the Dark by Emma Yarlett; The Tea Party in the Woods by Akiko Miyakoshi; The Tiger Who Would Be King by James Thurber, ill. JooHee Yoon)

Best Design
The Potato King by Christoph Niemann (Owl Kids)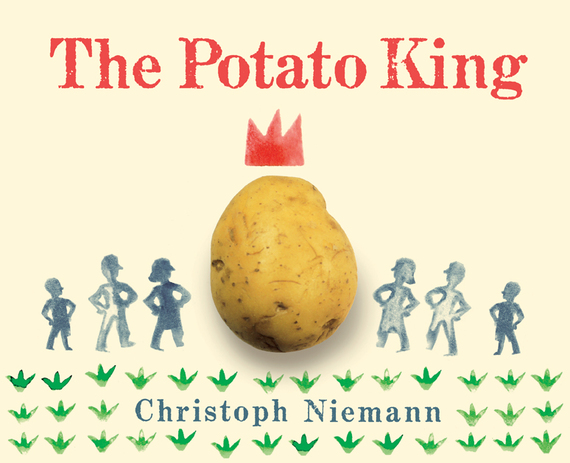 Niemann, an award winning graphic designer, ingeniously uses the overlooked art of potato stamping to tell the (probably apocryphal) story of how King Frederick of Prussia introduced the potato to his country's cuisine. In addition to its delightful design, The Potato King is also a useful study on how to use reverse psychology and behavioral science to get people to eat their vegetables.
(Honorable Mention: Beautiful Birds by Jean Roussen, ill. Emmanuelle Walker; Black Cat, White Cat by Silvia Borando; Some Things I've Lost by Cybèle Young; Spots in a Box by Helen Ward; The Story of Snowflake and Inkdrop by Pierdomenico Baccalario, ill. Alessandro Gatti; The White Book by Silvia Borando, Elisabetta Pica, and Loreno Clerici)

Best Deep Dive
The Specific Ocean by Kyo Maclear, ill. Katty Maurey (Kids Can Press)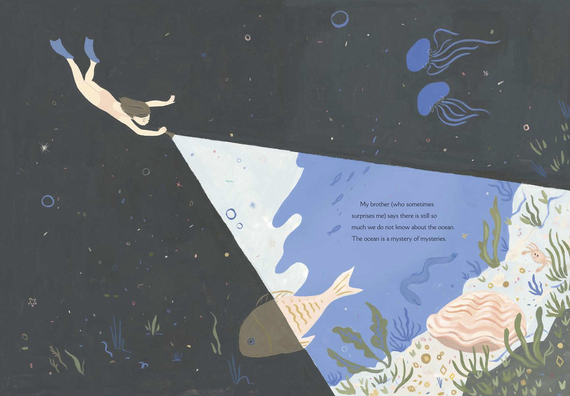 If you pay attention, you'll find that each year books happen to cluster around particular themes. This year there happened to be a good number of wonderful books featuring the ocean/water, my favorite of which was The Specific Ocean. Like the ocean itself, this book shimmers quietly on the surface but contains an unexpected depth. A valuable reminder that just because you can't take something with you, doesn't mean you have to leave it behind. (Note: There was also a bizarre clustering of books about Yetis this year... but even I couldn't bring myself to create a category for Best Yeti).
(Honorable Mention: The Bear Report by Thyra Heder; The Blue Whale by Jenni Desmond; The King and the Sea by Heinz Janisch, ill. Wolf Erlbruch; Pool by JiHyeon Lee; To the Sea by Cale Atkinson; Trapped! A Whale's Rescue by Robert Burleigh, ill. Wendell Minor)

Funniest
It's Only Stanley by Jon Agee (Penguin)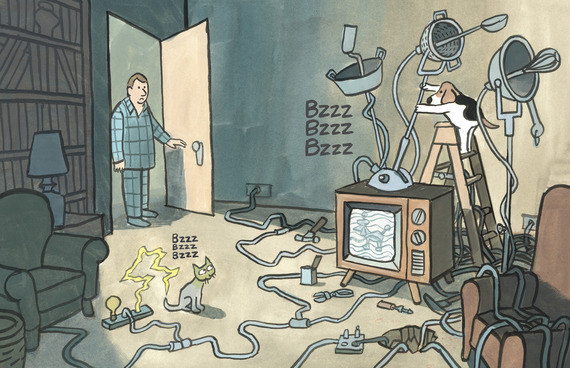 It's only Stanley. It's only a mystery. It's only a slapstick comedy. It's only science fiction. It's only a love story. It's only all of these things, which makes it only one of the best picture books of the year. Also, if there were an award for Best Supporting Character, the beleaguered cat in this story definitely deserves it.
(Honorable Mention: The Day the Crayons Came Home by Drew Daywalt, ill. Oliver Jeffers; Mother Bruce by Ryan T. Higgins; The Princess and the Pony by Kate Beaton; Rude Cakes by Rowboat Watkins)

Best Friendship
Two Mice by Sergio Ruzzier (Houghton Mifflin Harcourt)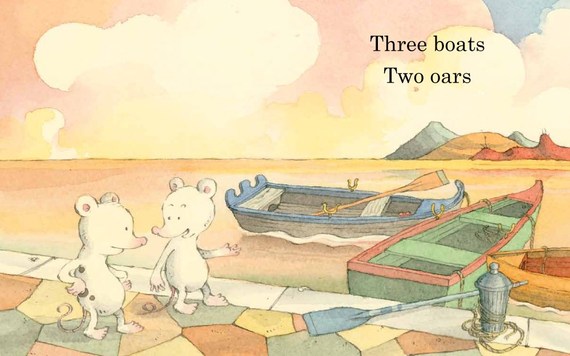 It's impressive how much personality, drama, and adventure Ruzzier manages to fit into such a seemingly slight book. For a counting book that only goes as high as three, the friendship in Two Mice feels satisfyingly rich and well-developed.
(Honorable Mention: By Mouse and Frog by Deborah Freedman; Crow Made a Friend by Margaret Peot; Crunch by Carolina Rabei; Imaginary Fred by Eoin Colfer, ill. Oliver Jeffers; Juna's Jar by Jane Bahk, ill. Felicia Hoshino; Lenny & Lucy by Philip C. Stead, ill. Erin E. Stead; We Forgot Brock! by Carter Goodrich; What James Said by Liz Rosenberg, ill. Matthew Myers)

Best Bedtime
The Wonderful Things You Will Be by Emily Winfield Martin (Random House)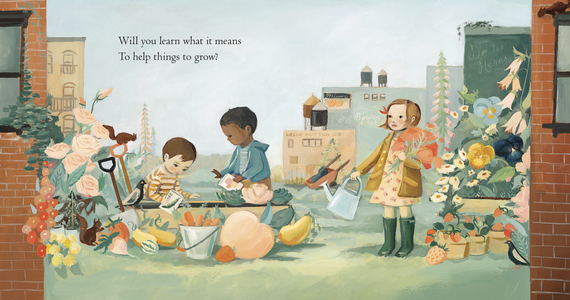 Martin didn't just write a book, she took all the hopes and dreams that we have for our children and turned that into a heat-seeking missile aimed straight at the heart. If you're in the market for a baby shower gift, look no further than this stylish book about loving someone no matter who they grow up to be.
(Honorable Mention: Beep! Beep! Go to Sleep! by Todd Tarpley, ill. John Rocco; Good Night, Firefly by Gabriel Alborozo; Little Baby Buttercup by Linda Ashman, ill. You Byun; The Moon is Going to Addy's House by Ida Pearle; Thank You and Good Night by Patrick McDonnell; You Nest Here With Me by Jane Yolen, ill. Heidi Stemple)

Best Miscellaneous
This is Sadie by Sara O'Leary, ill. Julie Morstad (Tundra)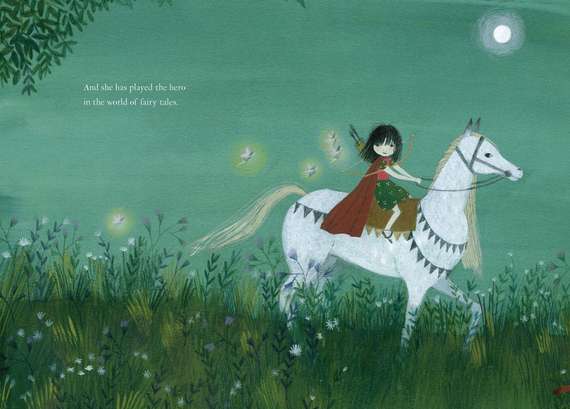 It seemed appropriate to reserve the "miscellaneous" category for Sadie, a character who defies easy categorization. A young girl who revels in the power of her imagination, Sadie scoffs at silly things like traditional gender constructs. The dynamic duo of O'Leary and Morstad have crafted a quiet but powerful celebration of childhood with a heroine who is a role model for all children. Readers should be prepared to reserve a special place on their shelves -- and in their hearts -- for the incomparable Sadie.
(Honorable Mention: Her Idea by Rilla Alexander; The Good Little Book by Kyo Maclear, ill. Marion Arbona; One Day, The End by Rebecca Kai Dotlich, ill. Fred Koehler; Sail Away by Langston Hughes, ill. Ashley Bryan; What a Wonderful World by Bob Thiele and George David Weiss (as sung by Louis Armstrong), ill. Tim Hopgood)