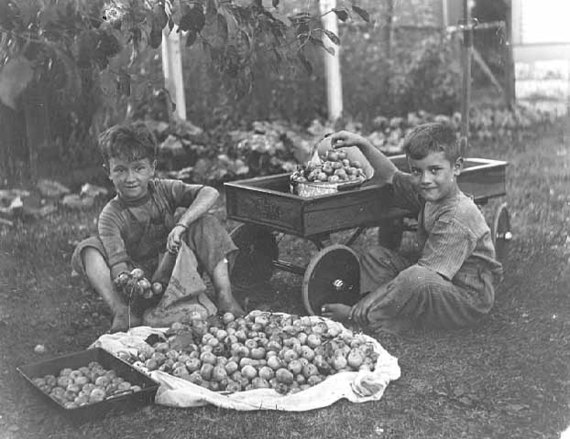 Autumn is in full swing and since most of us have probably overdosed on assorted foods and beverages flavored with pumpkin spice, it's a good time to remember another taste of fall - a crisp, red apple, fresh off the tree! September and October in Minnesota are the perfect time to visit a local apple orchard, pick some apples, and fight the slight chill in the air with a sip of warm apple cider. The boys in the above photograph circa 1915 were enthusiastic with their apple picking and have heaps of apples ready for eating and baking.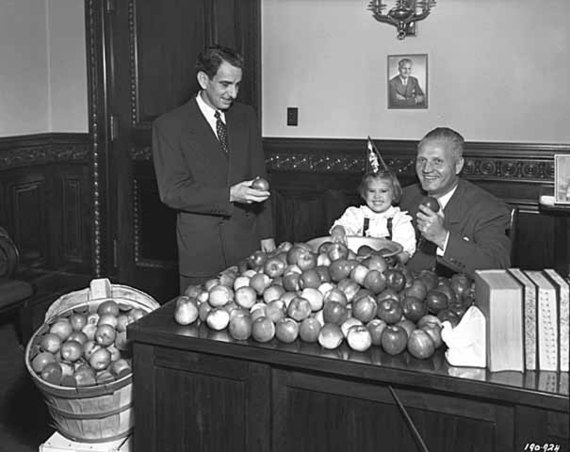 The University of Minnesota develops many varieties of apples that we love, from Haralsons to Honeycrisps, so it's natural that state officials actively promote the state's role in the apple industry. In this image from 1949, Governor Youngdahl promotes some delicious looking apples with some help from this little girl.
What would apples be without apple pie, though? This scrumptious display incorporates apples and apple pie! I think, however, that many eyes will gravitate to the sign that advertises a slice of homemade apple pie with two scoops of ice-cream for only 20 cents. While the prices may have changed since 1949, the clamoring for pie a la mode certainly has not.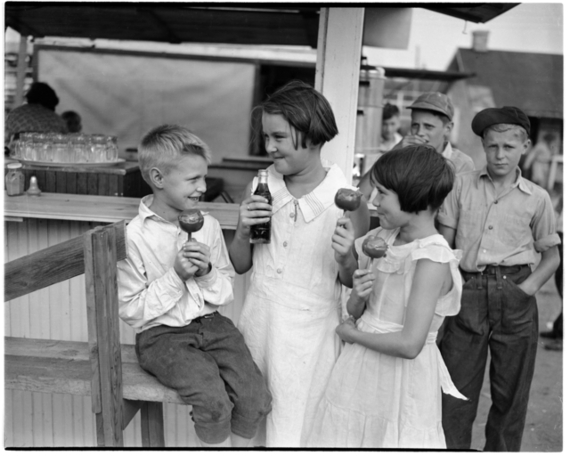 Another fall-time apple favorite is caramel apples. Whether dipping apple slices in a bowl of caramel dip, or eating a whole apple dunked in a caramel coating like these children circa 1935, the pairing of apples and caramel is always an excellent idea.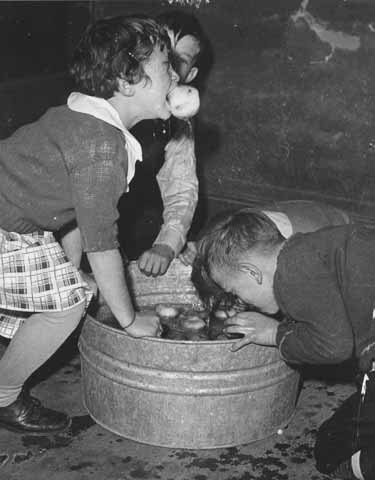 Even if folks are not fans of eating apples or any of the various treats that include them, it's still possible to enjoy apples in seasonal activities. Harvest and Halloween parties often include a round or two of bobbing for apples, much like this Halloween party in 1935. This girl appears thrilled that she was able to get her apple first.
So before autumn fades completely, enjoy a fresh apple or two - it may even be an apple with ties to Minnesota!
See more images of apples in Collections Online from the Minnesota Historical Society.