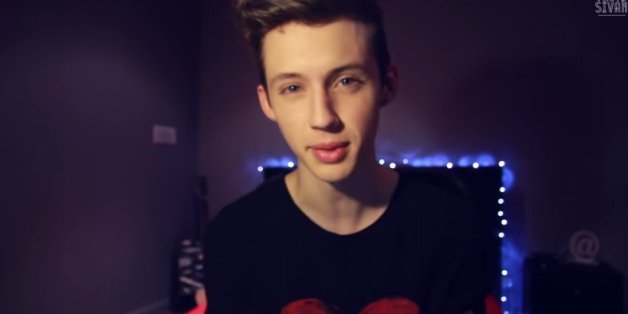 If you are an avid YouTube fan or creator like myself, you'll know all about the long nights of binge-watching that accompany YouTube fandom. You'll also know about the post-YouTube depression that kicks in once you realize that the people you spend all of your time getting to know are not your actual friends. When that moment hits, you're going to need a plan. There are certain YouTubers and channels that never fail to put me in a good mood, so I thought I'd compile a list of some that I recommend highly. YouTube frequenters, you've probably heard of these guys, but newbies, allow me to bring you into the endless and beautiful world that is YouTube.
1. Troye Sivan
Australian YouTuber Troye Sivan is most popularly known for his "Coming Out" and "The Fault In Our Stars" videos. However, he also sings (he just released his first EP, TRXYE), and he makes comedy sketches that will bring beautiful Tumblr-y light to your world.
Connor is an American YouTuber, originally from the midwest, and he is known for his wholesome comedy sketches. He is a former member of YouTube collab channel, Our 2nd Life, but he now only makes videos on his main channel. He is slowly getting more and more profane and comfortable on camera, and I'm loving it. Plus, he's totally adorable!
Anna is a British beauty guru who is an expert in all things practical beauty. She makes tutorial videos, along with stylish weekly vlogs and fashion videos. She also films beauty Q&A videos with her bestie, Lily Pebbles, which are so fun to watch!
4. it's Grace
Grace Helbig, the artist formerly known as Daily Grace, is a YouTube comedian who posts a new video every day of the week. She follows theme days, discussing a variety of topics in her traditional hilarious way. She's coming out with a book soon, and is also filming a new TV show after several appearances on @midnight.
Mamrie Hart, the mixologist behind You Deserve A Drink, or YDAD, is a comedic genius serving up pop culture themed alcoholic beverages complete with a built in drinking game. Younger watchers can appreciate her humor (stay out of trouble, kids), but of-age audiences can follow along and listen to her hilarious puns along the way.
Will is a British YouTuber who makes thought-provoking films about whatever he wants, really. His videos are well-shot, well-edited, and well-amazing if you ask me. He speaks on a number of life's important topics, and I'm always excited to see what he's been cooking up.
Charlie is one of the elderly founding fathers of YouTube. He's been at it for years, making primarily comedy videos, then venturing into the realm of science and short film. He's incredibly intelligent and charming, and his videos never cease to impress.
This Irish/British family of four vlogs about their life in England. Mom is a beauty guru and dad is a vlogger and their kids are downright adorable. They also have six puppies. I repeat. Six. Their videos are just lifestyle vlogs about their day-to-day life, but they are absolutely addictive.
9. Zoella
Zoe Sugg is a twenty-something British beauty guru who makes videos about beauty, life, and happiness. She's made a few amazing videos about dealing with anxiety which I highly recommend that you watch. She's an incredibly intelligent and likable girl. Oh, and she's adorable.
10. Anna Akana

Anna is an American vlogger who makes sketches on YouTube of various genres. She also is an actress and director. She's made a few great short films, which she's posted on her channel, and I find that she always has something interesting to say.
11. JacksGap
Jack and Finn Harries, two twins from England who make comedy videos on a variety of subjects. Jack started the channel as a way to pass the time during his gap year, and it evolved into a massive success after he was joined by brother Finn. The channel recently has been taking a turn towards charity work and travel vlogs, which are filmed incredibly.
12. Vlogbrothers
Last but not least, how could I not include the kings of YouTube themselves, John and Hank Green? Writer John Green and science afficionado Hank Green started this channel as an experiment in communication. Speaking only through their videos, the two created a YouTube empire through their witty videos on pop culture, science, politics, and fun. They have a playlist of their essentials which is perfect for beginners.
Do you love YouTubers? Who are your favorites?
Follow HuffPost Teen on
Twitter |
Instagram |
Tumblr |
Pheed |