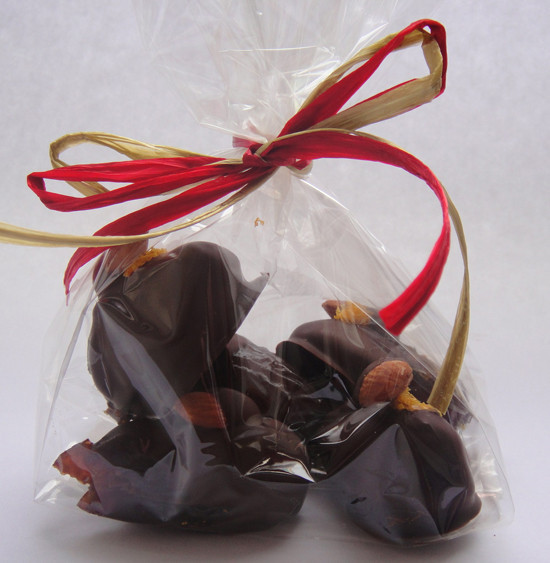 Gift-giving is the bully of the holiday season. Everywhere you look there seems to be someone you need to thank or an offering you need to reciprocate (or one-up). Not only is it exhausting and annoying, it is also bank-breaking. These presents have nothing to do with the gifts you actually want to give, the ones you've put thought and care into, the ones you hope will elicit wide eyes and excitement from your loved ones.
I know, it's better to give than to receive but really, when did all of this giving start? When I was a kid there was no such thing as a "teacher gift." Now that's all my friends complain about. The classroom, piano and ballet teachers, the tutor, the coach and the babysitter all seem to require a little tangible appreciation. You're already hundreds of dollars in and you haven't even dealt with your residence. If you live in an apartment you have the staff, some of whom you've never laid eyes on (they should actually be tipped the most generously since they spend their days toiling in the grey walled labyrinth of your building's innards), and all of whom compare and contrast how they are remembered by each resident. If you are lucky enough not to clean your own home you have the cleaning person, if you have a car there are the garage guys and if you like to lean over and pick up your newspaper in your pajamas there's the delivery service. If you live in a house don't forget the lawn care people or the neighbor who fed your cat while you went out of town for that weekend. Basically anyone who makes your life livable needs a pat on the back, and I don't mean that literally.
At this point your wallet is flat, your account balance on the fast track to overdrawn and you have barely begun. Let's hope you've set aside some funds for your nearest and dearest. But there's still a group we haven't addressed: the hosts. Rumor has it some people are dizzy from their holiday whirl. A party every Saturday for a month leading up to the big 12/31 is bound to take a toll in more ways than one. Not only will you be hung-over every Sunday for a month but don't even think of showing up empty handed. Here's where things get tricky. You need to know who you're dealing with. I used to be invited to a Christmas party (wait, 'used to' not because I did something offensive but because they no longer give the party) where every year I brought the hosts a nice house-gift from a store the hostess frequented. And not once did anyone say thank you. I get it, the party was crowded, the present joined others under the tree and really weren't they keeping me in food and drink and what did I expect them to do, say thank you to me for saying thank you to them? You could go back and forth for years. But still, some acknowledgment would have been nice. The fact is, I probably could have gotten away with giftlessness and spent the $25 on another deserving soul but I wasn't raised to be a mooch.
At this point, I'm all about the homemade house gift. You have to know your customer though. I once made my granola (glassine bag, tied with a satin ribbon -- a very elegant presentation if I do say so myself) and when I handed it to the fancy hostess she said, "Oh, pot pourri!" in a you-shouldn't-have-and-I-wish-you-hadn't kind of way. No lady, it's not 1986 and I'm not busy drying flowers in my closet.
I've done the toasted, spiced nuts thing which can be treacherous if your sister calls while the nuts are in the oven and you forget about them until you smell them at which point are you better off showing up with no gift or a bag of burnt pecans? The choice is yours. When I saw this recipe it followed on the heels of my date discovery and it looked so good I saved it for gift-giving time. These are so easy to make (just set up an assembly line) and all about contrast: a spicy, salty, crunchy almond, a chewy, sweet almost creamy date and the deep je ne sais quoi of dark chocolate. Just be sure to make an extra batch. It's still nice to receive, even if it's from yourself.
For more stories with your recipes please visit In Sweet Treatment
Better-to-Give Chocolate Dipped Almond Stuffed Dates
From Bon Appetit, November 2010
Ingredients
36 salted roasted almonds, divided
2 teaspoons finely grated orange peel, divided
1 teaspoon honey
1/2 teaspoon ground cinnamon
1/4 teaspoon ground allspice
12 Medjool dates
3/4 cup bittersweet chocolate chips
Directions
Line small baking sheet with foil, set aside.
Toss 24 almonds, 1 teaspoon orange peel, honey, and spices in small bowl. Set aside.
Cut slit in each date and remove pit.
Press 2 spice-coated almonds into each slit and enclose nuts in date.
Melt chocolate in small microwave-safe bowl until melted, about 20 seconds, stopping once to stir.
Grasp end of 1 stuffed date and dip 3/4 into melted chocolate. Shake off excess chocolate. Place date on foil. Repeat with remaining dates.
Sprinkle remaining orange peel over chocolate-dipped dates.
Dip 1 plain almond halfway into chocolate; place atop 1 date. Repeat with remaining almonds and dates.
Chill until chocolate sets, 30 minutes.
Yield: 12 dates