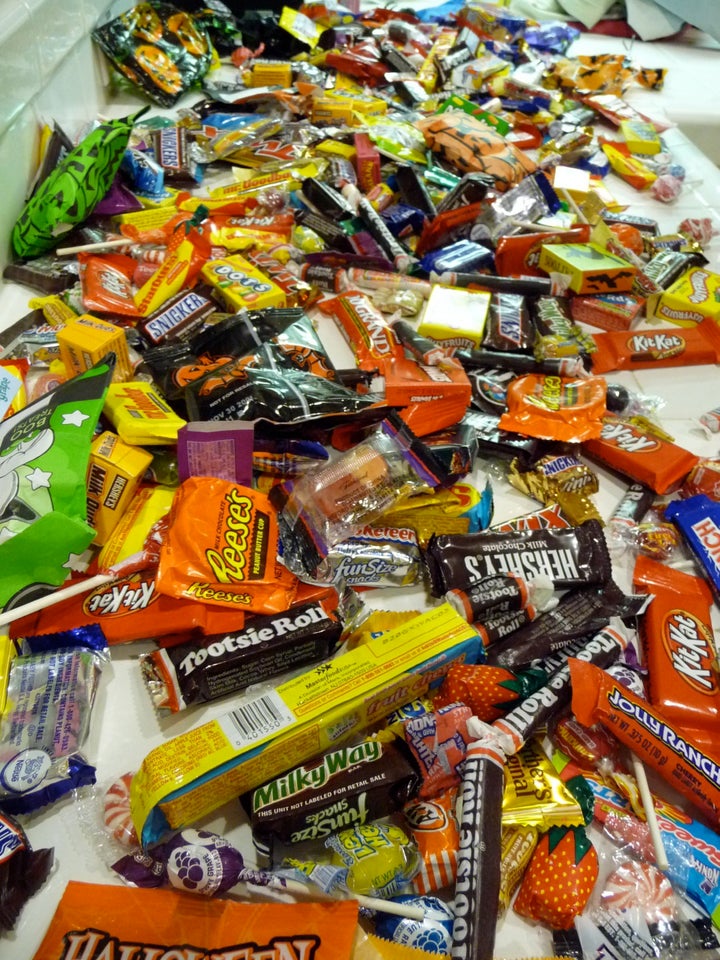 The truth is, candy tastes really good, and I know I'll be fighting inner demons tempting me to raid my kids' loot bag after trick-or-treating on Halloween. It makes genetic sense that my two girls love sweets -- I, too, was born with a sweet tooth. Being a responsible parent, as well as a healthy cookbook author known as The Sneaky Chef, has made me wrestle with my own inner candy monster and I have, over the years, found some sneaky and not-so-sneaky ways to mitigate the damage unlimited candy can cause even the most well-intentioned children and parents. Here are some tips to enjoy a happy Halloween with just the right amount of responsible restraint and plenty of sweets for all. Enjoy!
BEFORE HALLOWEEN
Put off buying candy until the day before Halloween. You know those bears at Yosemite that rip open your tent to grab the granola bar they smell, even though you put it into a plastic container? Well, kids are even better at sniffing out candy stashes. By delaying your candy purchase, you will not only thwart your cubs; you will probably get your candy on sale.
Do NOT buy family favorites. This way, if there are leftovers, your children will not mind if you dump or donate them.
Don't focus on candy -- instead, focus on costumes, ghost stories, games and all the other Halloween traditions. If you notice candy-obsessed dialogue, bring up the other sides of Halloween: those cool costumes, scary-looking houses, telling ghost stories by flashlight, bobbing for apples and other Halloween traditions.
DURING
Give kids a good breakfast, lunch and dinner on Halloween. By "good," I mean food your kids will happily eat that is nutritious (high in protein and fiber, and low in -- duh! -- sugar!). Make them feel full and satisfied, which lessens their need to overeat candy during their trick or treating. Start their day with pumpkin pie hot cereal (see recipe below) and you'll be their Halloween Queen. If you have trouble coming up with a lunch and supper menu that is as nutritious as it is delicious, visit my website where you'll find scores of free recipes.
Chew gum while trick or treating -- If your kids want to dip into their goods between houses, limit them to chewing gum, which will keep their mouths happy and occupied for a relatively long time for just a few calories.
Consider handing out non-food treats. I'm not trying to get your house egged, just the opposite! Be the cool house that gives out little toys instead of candy. Here's some ideas of items that can be purchased for very inexpensively at party stores, dollar stores, or discount sites online: temporary tattoos, bubbles, glow-in-the-dark items, crayons, silly putty, bouncy balls, crazy straws, etc.
You can't skip the holiday, so keep on skipping. As your kids dip into their booty, avoid sugar spikes and mood-busting crashes by burning some sugar-fueled calories off. Skip or hop from house to house. Enjoy setting the example, and savor seeing your youngsters following. The giggles will be well worth the effort!
AFTER
Be charitable. So now your youngsters have poured out their pumpkin-basket of goodies and are gloating over their bounty. Believe it or not, they are probably willing to give some of it away. Besides donating to your church, synagogue, or homeless shelters, there are some non-profit organizations that collect extra candy for the troops overseas. Even if your children choose to give just one or two bonbons away, they are learning the joy of being charitable. Here is an adorable sneaky twist to the holiday that I heard about: One clever mom came up with a "Switch Witch" tradition. She collects the candy the children don't want or can give up, leaves it on the front step after Halloween, and the next morning the "Switch Witch" has taken the candy and left a small toy for each kid.
Out of sight, out of mind (and tummy). To lessen temptation, keep the candy somewhat out of sight. Put it in a non-see-through bowl on an obscure counter top (a little too high for the youngest ones to reach!).
Refocus. Help your kids remember what the fun was all about: the silly skipping, the fab costumes, the scary houses, the great feeling of giving some of the candy away...ask them what their best memory was, and whip them up to expect even better times ahead. No ifs, ands, or boo's about it: Halloween can be fun!
PUMPKIN PIE HOT CEREAL
One of the unsung healthy heroes in the ready-made food world is 100% canned pumpkin. It's also an excellent source of the vitally important antioxidant beta-carotene. Fun fact: Did you know pumpkin is a fruit?
Makes 2 servings
2 packets (about 2/3 cup) Instant Healthy Grain Original Cream of Wheatᅡᆴ, unsweetened
6 tablespoons canned 100% pure pumpkin
2 cups low fat milk
2 tablespoons pure maple syrup
1 teaspoon pumpkin pie spice or cinnamon
1/8 teaspoon salt
2 graham crackers
Add all ingredients except the graham crackers into a pot, stir, and bring to a boil. Reduce heat to low, stir, cover and cook for about five minutes until cereal has thickened. Place graham crackers in a plastic bag and using a rolling pin or your hands, gently crush crackers into coarse crumbs. Pour hot cereal mixture into bowls and top each with graham cracker crumbs, spreading evenly over the top.