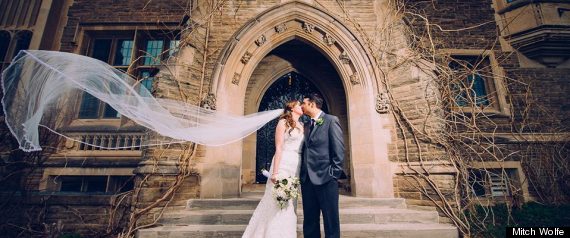 Recently I heard, from reliable sources, of an incredible wedding (175 guests) which took place in the city of Somerville, New Jersey, that was considered by those in attendance, the perfect wedding.
What was most impressive about this whole affair, was that it was entirely planned, organized, directed and produced by the 26 year-old bride and co-produced by the groom.

Their successful collaboration on this complex project demonstrated just how suitable they are for their lifelong partnership.
Although working with a small budget, the bride and groom managed to produce a very elegant, warm and joyous occasion on time and under budget.
Like a perfect low-budget indie flick.
Now, I have no experience planning and organizing a large wedding.
But I have had some experience producing and financing small independent films.
So the story of this young woman, who wrote, produced, directed and starred in her own wedding, reminded me of the multi-talented efforts of such legendary film makers as John Cassavetes, Warren Beatty and Woody Allen.
So within this cinematic context, here are lessons to learn from this special Franco-Italian American wedding.
Casting.
Casting is key in any wedding, especially, a wedding that is character-driven and not overly reliant on computer-generated cast of thousands or alien exploding gobots.
The bride to be, Nicole, at the tender age of 17, during frosh week at New York University, met her groom to be, Paul, also a freshman at NYU.
There was clearly chemistry between them. Also biology, physics and applied math. As they were both initially pre-med, then psych majors.
Both parties are intelligent, fun-loving, warm, good-hearted, good-natured, attractive and grounded.
In this case, equals, not opposites, attract.
Nicole and Paul were officially together as undergrads and throughout their master/Ph.D programs at NYU. But the roles of bride and groom were not officially nailed down until Paul proposed and Nicole accepted.
About eight years after their first meeting. Now that is one long tough audition.
And then Nicole, with her leading man embarked on an 18 month campaign to produce the perfect wedding.
Now this is where things become interesting.
Nicole was born and raised in New Jersey. Nicole's mother is from Quebec City. From an established family dating back 11 generations. 1600s Nouvelle France. We're talking pure laine ici, mes amis.

Paul born and raised in Somerville, New Jersey is Italian and has a large family and many close family friends.
Thus the theme of a retro-inspired Franco-Italian wedding emerged, based on culture, tradition and a love of learning.
The common traits of all successful indie film writer/director/ producers, are that they are visionary, creative, pragmatic, flexible, focused, fiscally prudent and have the ability to organize and execute effectively on a limited budget. Inherently conflicting qualities, but all necessary for a successful film. And also necessary for a successful wedding.
Nicole, as wedding planner/co-producer/organizer and chief negotiator, possessed all these rare qualities, and more.
Location, location and location
In an indie film, the story and major characters drive the location.
But the perfect location, for the ceremony, photos and reception, is more difficult to secure in a wedding scenario. The most natural wedding location for Nicole and Paul would have been in and around NYU, the university where they met and fell in love. Also where many of their friends lived and worked.
But unlike in an indie film, the supporting characters, ( family members) and the tons of extras ( friends and extended family members) are critical to the wedding's success. So Nicole and Paul spent weeks checking out sites and locations throughout New Jersey for the wedding.
For the ceremony they chose Paul's family church in Somerville. Where Paul's parents were married and the groom was baptized. They selected an elegant hall nearby for the reception. Perfect for the large Italian guest list and accessible to the significant Quebec contingent.
Because of their attachment to NYU and its beautiful architectural backdrop, Nicole and Paul arranged the wedding photo shoot around the hallowed halls of NYU - post-wedding ceremony. The actual shoot was very artistic and romantic. Beautiful and lyrical Vanity Fair-style photos were the result.
Overall Themes and Story
A great indie film promotes its overall theme through its look, its music, the costumes and its location.
Similarly, the bride and groom promoted the wedding themes throughout the day with many brilliant touches:
the beautiful recitation of English passages in the church ceremony together with French and Italian music; the long flowing, French lace bridal gown, with pearl-jeweled back, and chapel-length veil, recalled the "Great Gatsby era of the Roaring Twenties," supported by similarly retro- attired bridesmaids and groomsmen as Jay Gatsby types from the same era; the supporting cast of families and friends also played their part. The Quebec group glimmered with French European style. The groom's family and friends sparkled with Italian sophistication; the reception hall was transformed into a sophisticated Art Deco ballroom decorated with interesting period pieces, grand piano, chandeliers, candelabras, all personally picked out by the bride.
Perhaps the most thoughtful touch were the floral centerpieces incorporating beautifully-bound books reflecting the guests at each table. Quebec culture and history. Italian travel and art. And even the classic medical textbook "Grey's Anatomy" and other scientific tomes for the university colleagues.
Organization, organization, organization -- the delights are in the details.
If an indie film entails a thousand details, then this perfect wedding contained as many.
The bride and groom handled them all with grace and aplomb: the suppliers, the hall, the catering, photographers and the seamstresses. And no small feat, the families. The bridesmaids, who followed their lead, helped tremendously.
Friends of the bride confided to me that her extraordinary personality and individual style were imprinted throughout this perfect once-in-a-lifetime wedding.
The bride has assured that no sequel is being planned.