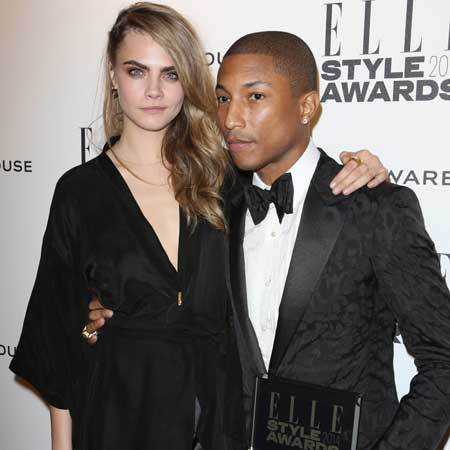 He's an international hit-maker, she's an international supermodel, so it seems only fitting that Pharrell Williams and Cara Delevingne have gotten together - musically, that is.
This weekend it was reported that the multi-hyphenate model has secretly been working on her musical debut alongside Williams for the past eight months on what will be her formal introduction into the music biz. And if the reports are to be believed, then it sounds like the pair could be gearing up for a major Beyonce-style moment!
"They're going to release the song without warning, complete with video and global launch," said a source close to the project [via Daily Mail]. "They seem to have formed a great little writing collective and apparently it's a huge song."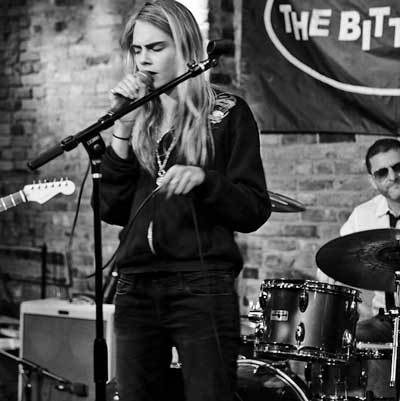 Rumor has it they've even recorded a video for the unreleased single in Paris, where Cara joined Williams onstage during his performance of "Happy" on Thursday night. She also recently posted an Instagram photo of her wearing a tee from the producer's 'i am OTHER' label.
Of course, this isn't the first time the two have hinted at a possible collaboration. At the Brit Awards in February, the hat-loving singer shared some flattering words about the 22-year-old model saying: "I think what people should probably focus in on, versus these specific projects, is on her [Cara], her spirit. And what she's up to next. Trust me. Because the films only get better, the parts only get bigger, the music only gets better, the modeling only gets better. But the spirit is becoming refined. She's becoming refined, so it's another chapter in her life."
Suffice it to say, should these rumors prove true, this is likely to be Cara's greatest collaboration to date and we for one can't wait to see what these two trend-setting personalities have in store for us!
More on Modelinia.com:
What's Trending: Gisele Bundchen & Gigi Hadid's Limitless Lashes
Look of the Week: Miranda Kerr Gives a Lesson in Transitional Dressing