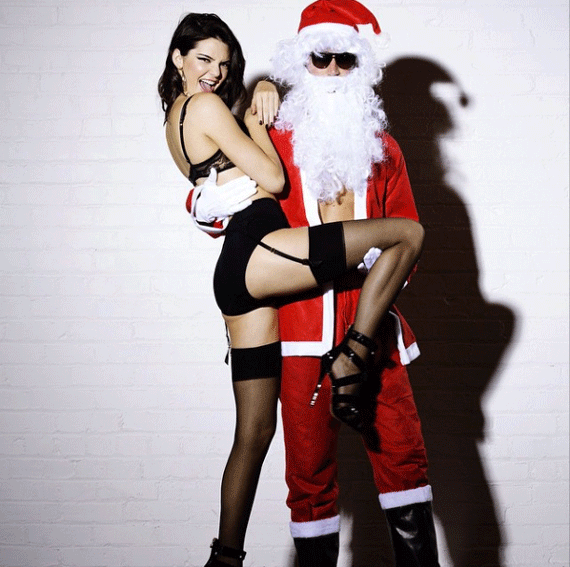 Like eating far too many sugar cookies and getting a little carried away at your holiday party, the Love Magazine advent calendar is one thing we can rely on each Christmas. But forget about the sweet chocolate-filled advent calendars of your youth because as always, Love is counting down the days until Christmas with a daily short video starring our favorite models lip-synching, dancing, and yes, stripping down to their skivvies.
In the past, the glossy has had the likes of Rosie Huntington-Whiteley, Cara Delevingne and Doutzen Kroes hiding behind their doors, and today it's Kendall Jenner's turn to shake it in the name of old Kris Kringle. Here to end 2014 with a band, the short NSFW video sees the 19-year-old dancing to Katy Perry's "California Gurls" in a black lace ensemble by Philipp Plein. Like the models before her, Kendall performs a festive strip tease, whipping off her tartan skirt to reveal sexy suspenders much to the delight of a shirtless dancing Santa. Though not as Christmas-y as videos past, there's no denying that Kendall looks beautiful strutting around in her skivvies. Whether or not it was enough to land her on Santa's nice list though, only time will tell. Judging by his smile in this video though, we'd say the odds are in her favor.
Watch the full clip below, and check Love's website each day this month for a new exclusive holiday-themed film featuring Cara and Cecil Delevingne, Gigi Hadid, Suki Waterhouse and more!
Day 8: Kendall Jenner by Doug Inglish from LOVE on Vimeo.
More on Modelinia.com:
What the Models Are Wearing to Art Basel 2014
Cara, Kendall, Poppy and More Celebrate the British Fashion Awards!